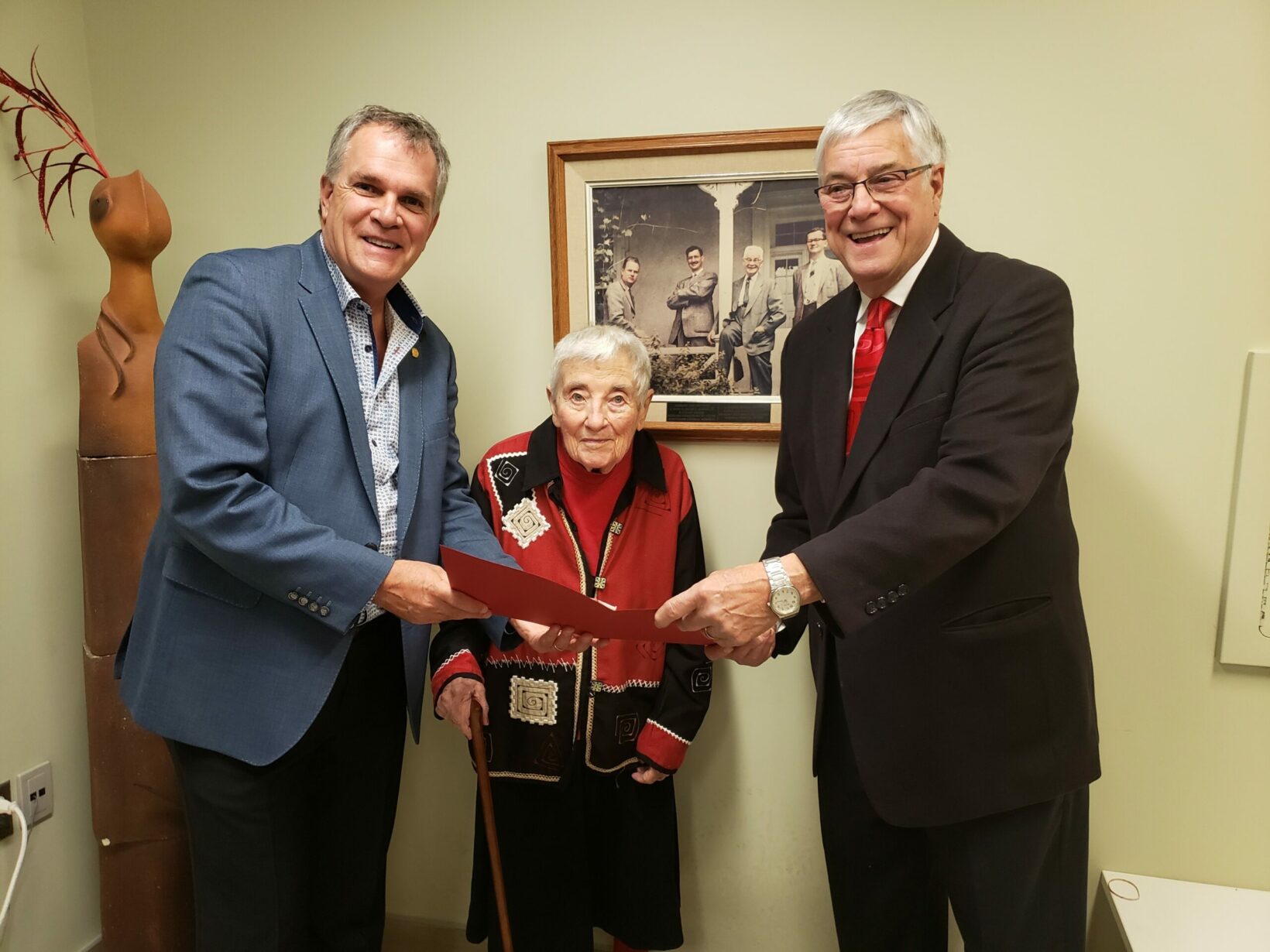 By Lisa Baum
"But till we are built like angels; With scalpel and forceps and pen; We will work for ourself and a Woman; for ever and ever, Amen!" (Harold J.G. Geggie, based on a poem by Rudyard Kipling)

So wrote Harold J.G. Geggie, MDCM 1911, in his yearbook on the occasion of his graduation from McGill's Faculty of Medicine. And his attitude of never-ending travail seems prescient as over 100 years after these words were written, his influence is still being felt in the Faculty. Only now, it's through philanthropy.

This October, the Fondation de Santé des Collines made a $20,000 donation to establish the Geggie-Stevenson Entrance Scholarship.

The goal? To encourage students interested in a career in Medicine to complete their degree at McGill's Campus Outaouais.

The new Campus, housed in a brand-new facility on the grounds of the Hôpital de Gatineau, offers McGill's four-year undergraduate medical degree in French—a first in the history of the Faculty. In August 2020, the Class of 2024 – a cohort of 24 students – will start their medical training.  One of the goals of the Campus is to open doors for the next generation of regional physicians, and to encourage more physicians to practice in the currently underserved Outaouais area.

This scholarship is not only the very first philanthropic gift to the Campus but also a fitting tribute to the life and work of Dr. Geggie.

After receiving his medical degree from McGill, Dr, Geggie began practicing medicine as an assistant to Dr. Hans Stevenson in Wakefield, a village in the Outaouais region. Although he had only planned to spend a few months in the area, he decided to stay and ultimately spent his career actively promoting rural family practice to medical students.

A pioneer in rural medicine, Dr. Geggie went on to found the Wakefield Memorial Hospital which now houses the Fondation de Santé des Collines. It is hoped that this new entrance scholarship will remove some of the barriers that may stand in the way of students studying in the Outaouais area.

According to Dr. Gilles Brousseau, Vice-Dean and Director of the Campus Outaouais, "The new Campus Outaouais, is the first satellite campus for McGill University's Faculty of Medicine, and represents an important step in our commitment to improving health care for all populations. This donation represents an important milestone for us, in that it comes from one of our regional sites and allows us to offer an entrance scholarship to an undergraduate medical student. This will encourage some of the very best students to choose the Campus Outaouais for their studies and, later, consider establishing a practice in the region."

By providing financial support to students who express an interest in practicing Medicine in the regions, the ultimate aim is to increase the number of trained physicians who would be attracted to a career in family medicine or another specialty and would ultimately practice in the Outaouais area. This is backed up by research which demonstrates that physicians who train in the regions are far more likely to  establish their practice in the area, and the new Campus will go some way to addressing the problem faced by the Outaouais region who has struggled with a shortage of trained physicians.

Lucien Bradet, Directeur General of the Fondation de Santé des Collines, commented, "We are delighted to partner with McGill University on the new Campus Outaouais. We hope that through the creation of this scholarship more students will be interested in applying to the Outaouais campus and will be trained in the day-to-day realities of rural medicine. The shortage of physicians, not just here but all over rural Canada is an issue that can only be addressed through changing how we train doctors. Our Foundation is proud to have the opportunity to honour Drs. Geggie and Stevenson in this way, and we look forward to partnering with McGill University in the future."

The first Geggie-Stevenson Entrance Scholarship will be offered to a Med-1 student entering the Campus Outaouais in summer 2020. The Campus Outaouais is a partnership between McGill University and the Centre intégré de santé et des services sociaux (CISSS) de l'Outaouais. The Quebec Ministry of Health and Social Services is financing the construction project while the Ministry of Education and Higher Education is providing recurrent funding for teaching activities.

October 18, 2019