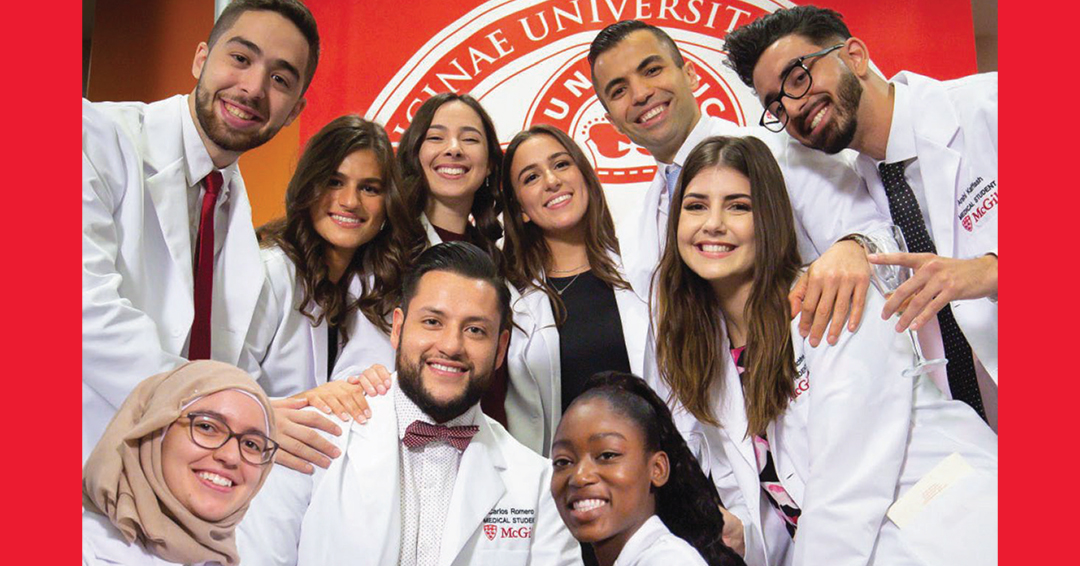 Forty-seven medical students from the United Arab Emirates spent part of their summer vacation learning about Canadian healthcare and medical education at McGill.
Initiated by the Faculty's Office of International Affairs, this new immersive online medical education experience aimed to attract international trainees while also showcasing McGill's cutting-edge knowledge in the theoretical and applied aspects of medicine, says project leader and Assistant Dean for International Affairs Dr. Howard Bergman.
"We have a great reputation, but so does Apple and it continues to do marketing. We want to make ourselves better known internationally, share our expertise and learn from others," says Dr. Bergman.
Preparations for an onsite learning experience began a few years ago but due to the pandemic, the organizing committee pivoted to a virtual platform. Working closely with the College of Medicine and Health Sciences of the United Arab Emirates University and the University of Sharjah's College of Medicine to develop the curriculum, education leads Dr. Beth-Ann Cummings and Dr. Fadi Habbab emphasized discussion and interaction.
"We wanted to give students a sense of McGill Medicine's approach from a health and population point of view, rather than how-to content," explains Dr. Bergman, adding that project co-ordinators Diana Sarai and Hermine Mesropyan worked tirelessly behind the scenes, while 12 McGill instructors stepped up to teach.
Designed to promote information exchange and collaborative education, the nine-day course – which took place July 25 to August 4 – featured 12 live 20-minute lectures with question-and-answer components covering topics such as evidence-based medicine, the link between clinical care and research, and heart and brain health. Participants were introduced to the McGill Medicine community and its interprofessional approach to patient care.
"We demonstrated through this program that we have excellent teachers who are very committed and interested in engaging with residents and learners, and helping them develop into doctors," says Dr. Cummings, Assistant Dean, Health Professions Education.
During interactive workshops, small groups discussed lessons learned from COVID-19, how doctors can empower behaviour change and how to apply for postgraduate clinical training.
"Everyone had lively discussions online; I was pleasantly surprised with how seamlessly it worked," says Dr. Habbab, an Assistant Professor in the Department of Diagnostic Radiology and Special Advisor to the Assistant Dean of International Affairs.
Students also took virtual tours of Montreal, the McGill University campus, affiliated teaching hospitals and Family Medicine community sites. A 90-minute informal networking session that enabled participants to meet McGill medical students, residents and fellows was a huge hit, notes Dr. Cummings.
"Participants spoke to actual students and residents who were experiencing the curriculum and the training, and asked them about life in Montreal, which is very important: The change from being a medical student to being a resident is huge for anybody, and it's even bigger when you're crossing an ocean to do it," she says.
During the live graduation ceremony, participants received a certificate of completion. Course presentations were recorded so students can still access them.
"This was a complex undertaking, but we had a very good team," says Dr. Habbab. "Our McGill instructors are all experienced speakers and excellent educators; the quality of the lectures was phenomenal."
Feedback from participants was overwhelmingly positive: Many noted how welcoming and supportive the interactive format was, and appreciated learning about Canadian culture and diverse medical topics. They enjoyed meeting McGill peers, and most expressed interest in pursuing post-graduate medical education at McGill.
"This program highlighted the multiple strengths of McGill, thanks to the participation of the registered students, our committee that put together the program, the team in Dr. Bergman's office, and the many professors who said, 'Yes, of course we'll teach'," says Dr. Cummings.
"People saw this as an opportunity to reach out and expand our footprint, because being known for excellence beyond our borders is so important."
Dr. Bergman hopes the program will eventually draw participants from other countries who can't visit the campus in person.
"For next year, we're looking at a hybrid approach where most students will do an online program, and some will come to McGill," he explains.
Dr. Habbab envisions the program expanding to include students from Eastern Europe and China.
"It was a great experience for me and for everyone on the team; it far exceeded our expectations," he says. "We are proud of the success of this new program, and we are already planning for the second edition next summer."