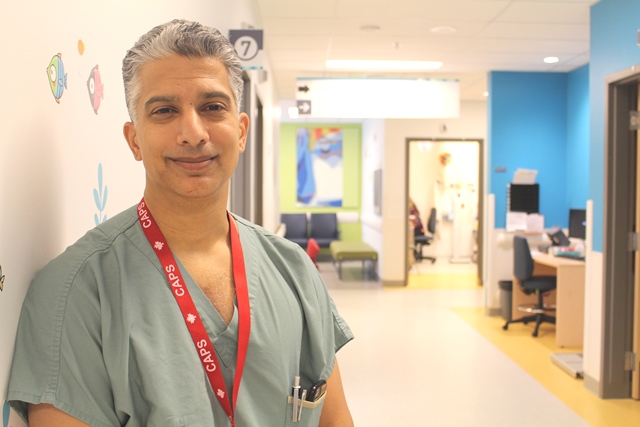 Montreal Children's Hospital
The Montreal Children's Hospital (MCH) of the McGill University Health Centre (MUHC) and McGill University Faculty of Medicine are proud to announce that Dr. Pramod Puligandla has been elected to the Pediatric Surgery Board of the American Board of Surgery. Over the next six years, he will participate in defining and setting the standards for certifying specialists in pediatric surgery across North America. He is also the first pediatric surgeon from Canada to ever be elected to this position.

"I was shell-shocked when I first got the news," says Dr. Puligandla. "This is such a unique opportunity and I am completely honoured and thankful for the tremendous support from my division. It's all starting to sink in."

The American Board of Surgery provides board certification to individuals who have met a defined standard of education, training and knowledge in the field of surgery. When asked about Dr. Puligandla's recent appointment, Dr. Kenneth Azarow, chair of the Pediatric Surgery Board of the American Board of Surgery and interim chair in the Department of Surgery at Oregon Health & Science University, says he was simply a good fit. "We had 27 finalists and deliberated for weeks, but in the end, Dr. Puligandla's background in education and critical care won us over. It also helps that he's a pleasure to work with."

Dr. Gerald Fried, chairman of the Department of Surgery at McGill University, believes this appointment is a reflection of the respect and admiration for Dr. Puligandla both nationally and internationally. "Having a seat on their Board allows him to contribute to setting a standard of practice that ensures graduating pediatric surgeons have obtained all the competencies to practice their specialty safely," he says.

Surgeon-in-chief at the Montreal Children's Hospital, Dr. Jean-Pierre Farmer, reiterates this sentiment and says Dr. Puligandla's nomination represents a recognition of his accomplishments in Pediatric General and Thoracic Surgery. "The timing is also nice since Dr. Puligandla was recently promoted to full professor in our department at McGill. Bravo Pramod!"

Dr. Erik Skarsgard, president of The Canadian Association of Pediatric Surgeons and surgeon-in-chief at BC Children's Hospital, says it is wonderful to see Dr. Puligandla's leadership in surgical education in Canada recognized. "Pramod has been a visionary innovator in surgical education for the past decade, and will bring wisdom, collaboration and the Canadian perspective to the Board at a critical stage of policy development related to education and maintenance of competence for North American pediatric surgeons," he says.

Dr. Puligandla is a full professor of Pediatric Surgery, Pediatrics and Surgery at McGill University. He is also associate chair for Perioperative Services in the Department of Pediatric Surgery. Born in Kamsack, Saskatchewan, and raised in Edmonton, Alberta, the self-proclaimed "prairie boy" earned his medical degree from the University of Western Ontario, where he also completed his general surgery residency and Masters degree in physiology. He went on to complete a pediatric surgery fellowship and pediatric critical care fellowship at McGill University and has been working in pediatric surgery and pediatric intensive care at the Montreal Children's Hospital since 2003. He is also a member of the Royal College of Physicians and Surgeons of Canada's Specialty Committee and Examination Board in Pediatric Surgery.

Related coverage
TVA | Un premier Canadien à être élu à l'American Board of Surgery

Edmonton Journal | Doctor from Edmonton making name for himself in pediatric surgery

May 10, 2018