The journey of a hemophiliac patient treated throughout his life at the MUHC and healed thanks to innovative treatments and a team of dedicated specialists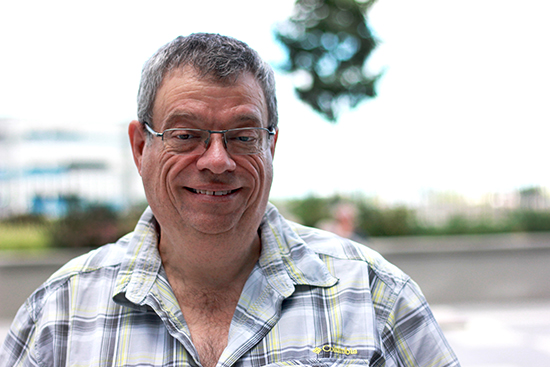 By Gilda Salomone, MUHC Public Affairs
Alain Juneau contracted HIV and the hepatitis C virus following a transfusion of blood components, one of the thousands of hemophiliacs affected by the contaminated blood scandal of the 1980s. After that, Alain, who had always been followed by Dr. Margaret Warner at the McGill University Health Centre's (MUHC) Hemophilia Clinic, needed to consult a slew of other specialists at the Royal Victoria Hospital (RVH-MUHC).

"At first I was frustrated that I'd been infected, and worried too, because it was the beginning of the HIV epidemic and many people were dying," explains the 56-year-old. "I was followed by Dr. Chris Tsoukas and Dr. Marina Klein for HIV, and the treatment was successful. Today, the virus is at undetectable levels."

Hit by hepatitis C
Alain was less lucky with the hepatitis C virus, which attacks the cells in the liver. As is often the case, he was symptom-free for almost 30 years, but in May of 2012, after a severe case of gastroenteritis, he was diagnosed with cirrhosis.

"Cirrhosis of the liver is a systemic disease, meaning it impacts other organs like the heart, the lungs, the bones and the brain," explains Dr. Marc Deschênes, a specialist in hepatology and liver transplantation and the head of the MUHC's department of hepatology. "Mr. Juneau's liver disease was very advanced. We therefore put him on the waiting list for a transplant."

According to Dr. Klein, who is research director of the Chronic Viral Illness Service the McGill University Health Centre and professor of Medicine at McGill University, Alain Juneau was one of very few patients with HIV in Canada to be eligible for a liver transplant.

"The MUHC has been leading the way in providing access to this life saving treatment for people living with HIV. Because of the success of HIV therapies, transplants can be safely offered with high success rates," she said.

Some really tough years
The period from 2012 to 2014 proved to be very stressful for Alain and his partner Lynda Bouchard.

"We had to go the hospital a lot when Alain had bouts of hepatic encephalopathy," says Lynda. "Because his liver was not eliminating toxins the way it should, he would get disoriented. We also had to go in for him to have his stomach drained because his kidneys were retaining too much salt and water."

By the summer of 2014, Alain was in really rough shape. He was extremely fatigued, sleeping 19 hours a day. He had lost more than 30 pounds and could no longer walk. According to Lynda, he was in "survival mode." Finally, during a visit to the RVH to have his kidneys drained in September, 2014, the couple received the news that they had waited for with such hope: a liver was available.

"Tears streamed down our cheeks. We could hardly believe it," remembers Alain. "The hospital personnel were so happy for us."

The transplant was a success. Thanks to his new liver, not only is Alain free of cirrhosis, he's no longer a hemophiliac.

"The blood vessels in the new liver produce endothelial cells that create enough coagulation factor that Alain is no longer a hemophiliac," explains Dr. Deschênes.

Cured of hepatitis C
Alain's hepatitis C has also been cured. The treatment that he underwent with Dr. Marina Klein before the transplant was a success.

"The drugs that have come on the market over the past five years are definitely more effective and safer than the ones they replaced," explains Dr. Klein, research director of the Division of Chronic Viral Illness at the McGill University Health Centre and a professor of medicine at McGill University. "They are able to cure more than 90% of patients in three months, all without injections or side effects, and irrespective of the seriousness of the liver disease. Studies have even showed that people with cirrhosis can benefit from them."

Alain is thankful to all of the people who helped care for him over the years, particularly to Dr. Margaret Warner and Tania Laflèche, a nurse at the Montreal Children's Hospital's (MCH-MUHC) Complex Care Service, for their support and devotion.

"When I was a hemophiliac, I had to drag around a big suitcase full of pills, medicines and syringes whenever I travelled. It was really embarrassing," explains Alain. "Today, I feel free and in better health than ever. I've started hunting and fishing again, like I used to. It's amazing to be cured."

October 6, 2016