We are pleased to announce the finalist teams for the McGill Clinical Innovation Competition (CLIC). Please join us on May 22nd for the finalist pitches and awards ceremony.

The top 5 finalists for the HAKIM FAMILY INNOVATION PRIZE and THE MARIKA ZELENKA ROY INNOVATION PRIZE are:
BETASENSE
NXTSENS MICROSYSTEMS INC.
RE3 THERAPEUTICS
SWIFT MEDICAL INC.
STOP MALARIA
TOP 2 FINALISTS FOR THE MI4 INNOVATION PRIZE:
ANTIBIOTIC SENTINEL
STOP MALARIA
TOP 2 FINALISTS FOR THE STEINBERG CENTRE SIMNOVATION PRIZE:
DENOVOGEN
FEMTHERAPEUTICS (FORMERLY KNOWN AS GYNOTECK)
To learn more about these teams, please visit the website: https://www.mcgill.ca/medicine/about/faculty-awards-prizes/clic/2018-2019-finalists 

The McGill Faculty of Medicine Clinical Innovation Competition (CLIC) was inspired by McGill alumnus Dr. Raymond Hakim with the goal of supporting members of our Faculty of Medicine community in conceiving and developing ideas with the potential to have a direct impact on Canadian or global health care.

On May 22nd at 5 p.m., five finalists will pitch their initiatives as they compete for the prestigious Hakim Family Innovation Prize and the Marika Zelenka Roy Innovation Prize before a panel of esteemed judges. A networking event and cocktail will take place as the judges deliberate, and the winning teams will be announced at the closing of the competition.

The winners of the MI4 Innovation Prize and the Steinberg Centre Simnovation Prize will also be announced during the ceremony. All prizes consist of both a monetary award and credits for services to support the development of proof of concept and preparation for commercialization or implementation. For more information on the prizes, please CLIC here.

Please RSVP as space is limited.
We sincerely hope you are able to join us for this event as we celebrate innovation in health care at McGill.

David Eidelman, MDCM
Vice-Principal (Health Affairs)

Dean of the Faculty of Medicine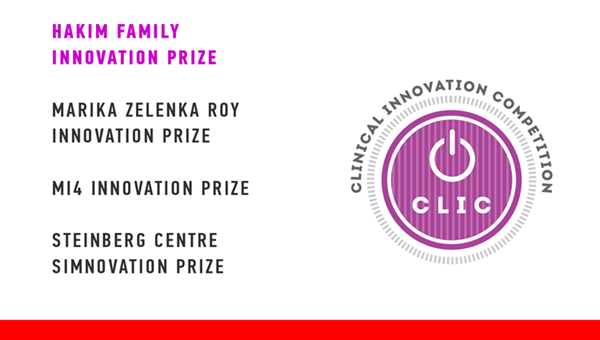 May 10, 2019