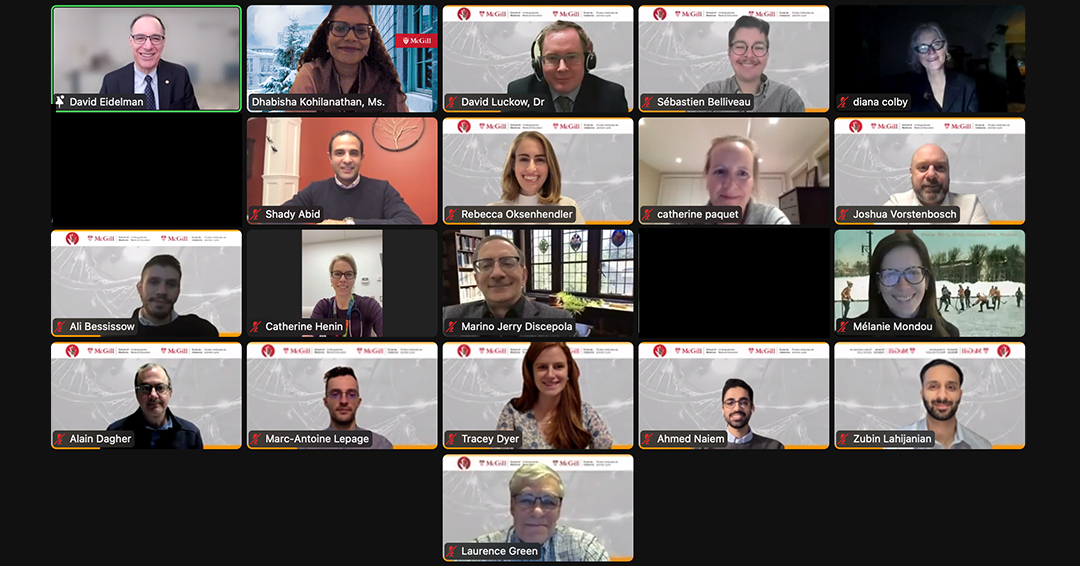 The Transition to Clinical Practice (TCP) component of the MDCM curriculum takes place during the latter half of the second year of medical school. During this time, teachers play a significant role in helping undergraduate medical students transition from principally class-based learning to active and self-directed learning in the clinical setting in preparation for the next component—clerkship (where students participate in patient care).
On Thursday, February 3, David Luckow, MD, TCP Component Director, presented the Transition to Clinical Practice Award for excellence in teaching to fifteen devoted teachers from eight different specialties.
During the intimate virtual ceremony, David Eidelman, MDCM, Vice-Principal (Health Affairs) and Dean of the Faculty of Medicine and Health Sciences applauded the award recipients and emphasized the importance of faculty participation in the student learning experience.
Given that most of the recipients are nominated by second-year medical students who have completed the TCP component, this award reaffirms just how invaluable dedicated teachers are to students throughout their medical school journey.
"Thanks to our exceptional clinical teachers, for six months we're afforded the opportunity to learn, without the responsibilities of clerks," says Sébastien Belliveau, 2023 Class President. "These invaluable teachings have a lasting impact on our training as physicians."
Congratulations to all the TCP Award recipients!
Catherine Paquet, MD, Anesthesia
Brian Tran, MD, Anesthesia
Shady Abid, MD, Family Medicine
Alexandre Elhalwi, MD, Family Medicine
Laurence Green, MD, Internal Medicine
Marc-Antoine Lepage, MD, Internal Medicine
Alain Dagher, MD, Neurology
Rebecca Oksenhendler, MD, Neurology
Marino Jerry Discepola, MD, Ophthalmology
Catherine Henin, MD, Pediatrics
Tracey Dyer, MD, Pediatrics
Ali Bessissow, MD, Radiology
Zubin Lahijanian, MD, Radiology
Joshua Vorstenbosch, MD, Surgery
Ahmed Ashraf Abdel Wahed Naiem, MD, Surgery