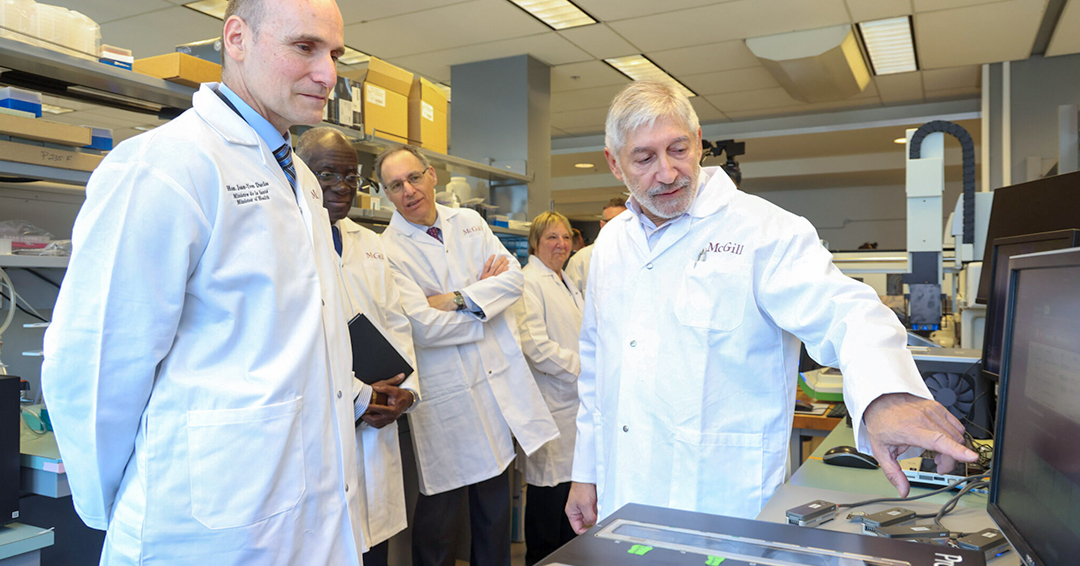 Tour of McGill's cutting-edge genomic research institute sets stage for rare disease funding announcement
On March 22, the Honourable Jean-Yves Duclos, Canada's Minister of Health, toured the Victor P. Dahdaleh Institute of Genomic Medicine, meeting with senior McGill genomics researchers, who shared insights into their work, notably in relation to developing treatments for rare diseases.
Bartha Knoppers, Director of the Centre of Genomics and Policy (CGP) and Canada Research Chair in Law and Medicine, was joined by Martha Crago, Vice-Principal (Research and Innovation) and David Eidelman, Vice-Principal (Health Affairs) and Dean of the Faculty of Medicine and Health Sciences, in welcoming Minister Duclos and Emmanuel Dubourg, federal member for Bourassa, upon their arrival at McGill's modern, cross-disciplinary research facility at 740 Dr. Penfield Avenue.
A centre of excellence for genome-based science
Knoppers and her colleagues, CGP Research Director Yann Joly and CGP Executive Director Ma'n Zawati, highlighted their team's work on the ethical, legal and social aspects of genomics research and its application to developing treatments for rare diseases. In particular, Knoppers drew the visitors' attention to the Centre's efforts in relation to data sharing at the international level, noting that developing effective policies for sharing medical, environmental and genetic data of patients with rare diseases was critical to making advances in research and, ultimately, improving patients' quality of life.
"In particular, policies should reinforce the right of all children to the highest attainable state of health," Knoppers said.
The tour continued with a visit to the Advanced Genomic Technologies Laboratory, where Ioannis Ragoussis, Head of Genome Sciences and Professor of Human Genetics, gave the Minister a detailed rundown of the high-throughput genetic sequencing technologies and cutting-edge techniques used to pinpoint genetic mutations associated with rare diseases and other disorders, including cancer.
Next, Vincent Mooser, Canada Excellence Research Chair in Genomic Medicine and Professor of Human Genetics, introduced his multi-disciplinary research team and spoke about their work using the latest developments in molecular genetics to support the discovery and development of new medicines.
"There are around 6,000 rare diseases, 5,000 of which are genetic," Mooser said. "But there are treatments for only 100 of them. There's an enormous need there, and an enormous amount of suffering – that's what we aim to tackle."
Using the McGill Genome Centre's genetic sequencing capabilities, Mooser and his team are aiming to find therapeutic targets for two rare diseases in particular: Ehlers-Danlos syndrome and congenital lactic acidosis. As Mooser explained to the special guests, both conditions represent significant unmet medical needs, with the latter known to be particularly prevalent in the Saguenay–Lac-St-Jean region of Quebec.
"We will be recruiting patients [with lactic acidosis], sequencing their genomes, and analyzing the function of certain genes by modifying them with CRISPR technology," Mooser said.
Funding for patient care and research
The Genome Centre tour visit was followed by a press conference in the atrium of the Bellini Life Sciences Building, where the Minister announced new federal government funding to facilitate patient access to medications for rare diseases and to advance rare disease research.
McGill's Interim Principal Christopher Manfredi welcomed the announcement, saying: "For McGill University, the adoption of the National Strategy for Drugs for Rare Diseases means increased support for cutting-edge research, particularly in genomic medicine, a growing field that is uncovering the cellular origins of rare diseases and opening the way for the development of innovative therapies."