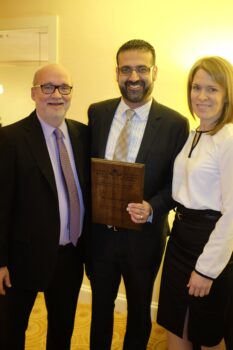 Dr. Farhan Bhanji, Associate Professor of Pediatrics and member of the Centre for Medical Education, Faculty of Medicine, McGill University, is the 2016 recipient of Paediatric Chairs of Canada's (PCC) Paediatric Academic Leadership – Clinician Educator Award. The award was presented in recognition of Dr. Bhanji's multiple leadership roles in medical education at the local, national and international levels.

Dr. Bhanji is always seeking to find the "teaching moment" that rewards learners, as the PCC notes in its attribution of this award. . He has previously been honored with the annual Kaplan award for the top clinical teaching faculty voted on by the Pediatrics Residents as well as the New Educator Award from the Canadian Association for Medical Education.

Dr. Bhanji has served as the Director of the Fellowship in Health Professions Education at McGill University as well as the Fellowship in Pediatric Emergency Medicine. He is the interprofessional lead for Simulation at the Montreal Children's Hospital, serves as the education lead in Resuscitation for the Heart and Stroke Foundation of Canada and is the Co-Chair of the Education, Implementation and Teams taskforce of International Liaison Committee on Resuscitation (ILCOR). He is also the immediate past Chair of the Education Committee for Emergency Cardiovascular Care at the American Heart Association (the committee that oversees PALS, ACLS, BLS and other resuscitation courses / programs) – which trains over 17 million people per year worldwide.

A CanMEDS Clinician Educator and the Associate Director of Assessment at the Royal College of Physicians of Canada, Dr. Bhanji has transcended the discipline of Pediatrics in his leadership role at the Royal College.

"No individual is successful in isolation," says Dr. Bhanji, reflecting on being selected for this award. "I have been fortunate to have amazing mentors who have supported me and provided opportunity throughout the years, and to them I am truly indebted. I have great colleagues at the Montreal Children's Hospital, at the Centre for Medical Education and in Simulation at McGill, at the Royal College and around the world in volunteer and research activities I am part of, who reciprocally push each other to constantly get better. And I have phenomenal junior colleagues that truly inspire me every single day – by constantly challenges our long held beliefs, it is this group that makes doing all this work so much fun."

An active researcher with over 125 peer reviewed abstracts and manuscript publications, Dr. Bhanji has (co-) supervised over 15 residents and Masters students in Medical Education/Simulation research. He was the inaugural recipient of the Richard and Sylvia Cruess Faculty Scholar in Medical Education at McGill (Educational Scholarship) and served as a Visiting Professor at the Medical Education Development Center of Gifu University, Japan from January to March 2013. He is a frequently sought after speaker and has delivered over 150 National and International invited presentations.

Congratulations Dr. Bhanji!

November 8, 2016