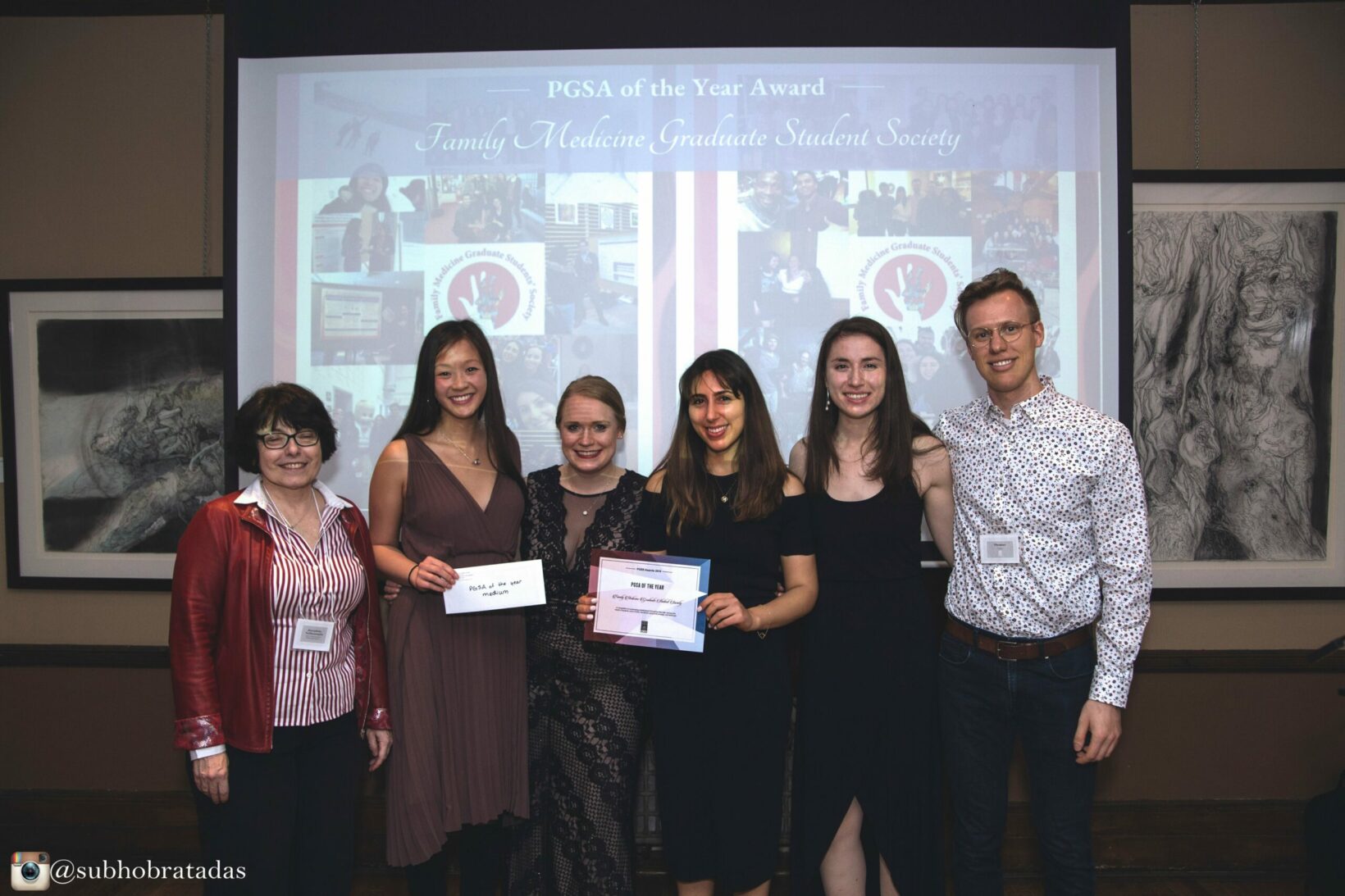 McGill's Family Medicine Graduate Student Society (FMGSS) was recently recognized by the Post Graduate Student Society (PGSS) of McGill University awarded both the Post Graduate Student Association of the Year Award and the Best Academic Event Award. The awards were presented during the 2018 PGSS Awards Night on April 12, an event that aims to recognize students, student groups and student-run events that have proven themselves to be outstanding within PGSS. The awards were presented by Dean Josephine Nalbantoglu of Graduate and Postdoctoral Studies. For their achievements, the FMGSS will be engraved on a plaque at the entrance of Thomson House.

"On behalf of the FMGSS, we are thrilled to be recognized by PGSS for our accomplishments and efforts over the past year," says Nickoo Merati, President of FMGSS. "I would like to take this opportunity to thank our Chair Dr. Howard Bergman and Director Dr. Gillian Bartlett for their continuous support, and of course thank my fellow FMGSS executive members for their tireless dedication and outstanding contributions to student governance over the past year. It has been an honour to work with our student body, and I look forward to the continual successes of our inspiring graduate students."

PGSS Student Association of the Year Award 
The Post Graduate Student Association of the Year Award recognizes a student association that has made outstanding contributions throughout the year, has shown itself to be constantly active, continually self-improving, and persistently serving the needs of students within PGSS, the McGill community at large, and Montreal.  The FMGSS received this award in recognition of the substantial contributions it has made to its student body. Although singular in its name, the FMGSS represents over 20 graduate departments in medicine (including cardiology, oncology and, emergency medicine) who do not have their own student council. "Our work serves to protect the rights of our students by promoting their personal and professional growth, and providing them with the necessary academic and social support needed to succeed in their research endeavours and beyond," explains Sophia Siedlikowski, FMGSS representative to PGSS. Continues Thomas Bertrand, Vice President of FMGSS Internal Affairs "Our most significant achievements this year were successful workshops for funding applications at the masters and doctoral levels, the creation of a dedicated textbook reserve at the Jewish General Hospital, extensive collaboration with the McGill Association of Students in Healthcare (MASH), and contributions to the emerging graduate student position within the Faculty of Medicine council." This year, the FMGSS also created a VP Community Service position, solely dedicated to further building community partnerships.

Best Academic Event Award
The Best Academic Event Award recognizes an outstanding academic event and program planning by the student association, which encourages students to engage and interact with a wider community, demonstrates passion for the discipline, and takes initiative to create new opportunities.

The FMGSS was recognized with this award in advance of their 4th Annual Family Medicine Research Symposium. The event will include 30 student oral presentations, a keynote presentation from a leading international speaker, and a panel presentation to discuss a wide range of career options. New this year, FMGSS partnered with the McGill Journal of Medicine to peer-review all abstracts received, and publish the top 15 student abstracts in a special June 2018 conference proceedings issue. "This is an unparalleled opportunity for a student-led research day, and gives students and research assistants an opportunity to build their publication list," notes Stephanie Long, Vice President of FMGSS Academic Affairs. Kayte Andersen, Vice President of FMGSS Communication, said "the conference symposium has already received registration requests from students in other Faculty of Medicine departments, the Faculty of Dentistry and Faculty of Engineering, and the general public. The extra-departmental interest speaks to the important reach of this event throughout McGill, and the FMGSS looks forward to welcoming these external attendees to learn more about primary care through this symposium." To help with the costs of the symposium, successful grant applications were put forth to the PGSS and the Faculty of Medicine.

Congratulations to the FMGSS!

April 27, 2018