McGill study suggests frequent family time protects mental health among adolescent victims of online bullying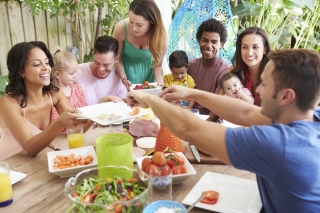 Sharing regular family meals with children may help protect them from the effects of cyberbullying, according to a study by McGill professor Frank Elgar, Institute for Health and Social Policy. Because family meal times represent social support and exchanges in the home that benefit adolescents' well-being, Elgar suggests that this family contact and communication can also reduce some of the distressing effects of cyberbullying.

"One in five adolescents experience cyberbullying," says Elgar, who is also a researcher at the Douglas Mental Health Institute, "Many adolescents use social media, and online harassment and abuse are difficult for parents and educators to monitor, so it is critical to identify protective factors for youths who are exposed to cyberbullying."

The study, published today in the journal JAMA Pediatrics, examined the role of frequent family meals in reducing the impacts of online bullying on adolescent mental health. The researchers surveyed 20,385 adolescents in the state of Wisconsin. They measured exposures to cyberbullying and traditional (face-to-face) bullying and a wide range of mental health outcomes, including depression, anxiety, substance use, self-harm, suicidal thoughts, and suicidal attempts.

"We found that emotional, behavioural, and substance use problems are 2.6 to 4.5 times more common among victims of cyberbullying," says Elgar an associate professor in the Faculty of Medicine's Department of Psychiatry, whose research centers on social inequalities in health and family influences on child mental health. "And these impacts are not due to face-to-face bullying; they are specific to cyberbullying"

The authors found that cyberbullying victimization relates more strongly to these problems in adolescents that have fewer family dinners, which suggests that family contact and communication reduces some of the distressing effects of cyberbullying.

"The results are promising, but we do not want to oversimplify what we observed," says Elgar, "Many adolescents do not have regular family meals but receive support in other ways, like shared breakfasts, or the morning school run.

Elgar also puts forth that parental involvement and supervision may go a long way to helping victims of cyberbullying, "Checking in with teens about their online lives may give them tools to manage online harassment or bullying that can easily go undetected."

The research was funded by the Social Sciences and Humanities Research Council and Canada Research Chairs programme.

Related coverage
New York Daily News

Philly.com

Reuters

The Globe and Mail
The Conversation
Business Insider
Epoch Times | Kids with cellphones more likely to be bullies – or get bullied

Journal Métro | Les enfants impassibles devant la cyberintimidation, selon une étude

TV/Radio
The National
 (interviewed) – CBC Television, September 1, 2014
Andrew Carter morning show
 (interviewed) – CJAD 800 (Montreal), September 8, 2014
Family dinners may help kids cope with cyberbullying
 — Fox News (US), September 2, 2014
How family meals can ease online bullying
 –
TV3.ie
(Ireland), ‎September 3, 2014‎
Study Shows Family Dinners Can Help Kids Deal With Cyberbullying 
– WTAJ CBS News, September 3, 2014
How to protect kids from cyber bullying
 –
indiatvnews.com
 (India)- ‎September 2, 2014‎
Eating dinners with family can protect teens from cyberbullying
 — ABP News (India), ‎September 2, 2014‎
Cenar
 en familia reduce los efectos del ciberbullying
 — Hispan TV (Iran), September 2, 2014
Cenar
 en familia protege del ciberbullying
 —
ABC.es
(Spain), September 2, 2014
North America:
Family Dinners Protect Against The Effects of Cyberbullying
 – TIME, ‎September 1, 2014
Family dinners may help kids cope with cyberbullying
 (interviewed) – Reuters, September 1, 2014
Family dinners can act as protective buffer against cyberbullying: study
 (interviewed) – Globe and Mail, September 1, 2014
Family dinners may lessen the effects of cyberbulling: study
 – New York Daily News, September 2, 2014
Family Dinners May Help Kids Cope With Cyberbullying (STUDY)
 – Huffington Post, September 2, 2014
Family Meals May Defuse Cyberbullying's Impact, Study Says
 – U.S. News & World Report – ‎September 1, 2014‎
Family Dinners Can Counteract Effects Of Cyberbullying
 – The Onion (satire)-September 4, 2014
Study Says Family Meals May Defuse Cyberbullying's Impact
 – The Coloradoan, September 7, 2014
Author Insights: Family Dinners May Buffer the Effects of Cyberbullying
 – news@JAMA, September 2, 2014
Regular Family Meals may help Teenagers get support from Family: Study
 — Maine News Online, September 2, 2014
Family Meals May Defuse Cyberbullying's Impact, Study Says
 —
Philly.com
, September 2, 2014
Family Meals May Protect Kids from Online Bullying, study finds
 — 
Canada News, September 2, 2014
New Study Shows that Regular Family Meals Reduce Effects of Cyberbullying in Teens
 – The Utah People's Post, September 2, 2014
Family dinners protect kids from cyber-bullying
 — Vancouver Desi – ‎Sep 1, 2014‎
Regular family meals may reduce effects of cyberbullying in adolescents
 — Salem Leader (Indiana, USA) – ‎Sep 3, 2014‎
Family dinners may help kids cope with cyberbullying
 — Bangor Daily News – ‎Sep 2, 2014‎
International:
Family meals help children beat bullies, study finds
 – The Telegraph (UK), September 2, 2014
Family meals can protect against cyberbullying
 – The Times (UK), ‎September 1, 2014‎
Family dinners are good for teenagers' mental health and may 'combat the effects of cyberbullying' – Daily Mail (UK), September 2, 2014
How family meals can ease online bullying
 — Sunday World (UK), ‎September 3, 2014‎
Family dinners can help protect kids from cyberbullying: Report
 – Times of India, September 2, 2014
Regular family meals reduce effects of cyberbullying in teens: Study
 — Delhi Daily News – ‎September 2, 2014‎
Las comidas familiares reduce los efectos del cyberbullying
 — Noticias Universia, September 2, 2014
Cenar
 en familia protege a los jóvenes del cyberbullying
 — Azteca Trends (Mexico), ‎September 2, 2014‎
Waarom
 familiemaaltijden belangrijk zijn voor tieners
 — Het Laatste Nieuws (Belgium), September 2, 2014
Cyberbullismo
: vittima 1 adolescente su 5, ma la soluzione è semplice
 — 
DiariodelWeb.it
, Septe,mber 2, 2014
Cyber-bullismo emergenza sociale, colpisce 1 ragazzo su 5
 —
ANSA.it
, (Italy) Septe,mber 2, 2014
È emergenza cyber-bullismo, colpisce un ragazzo su cinque
 — La Stampa (Italy), – ‎Septeber 2, 2014‎
Cyberbullismo
: vittima 1 adolescente su 5, ma la soluzione è semplice
 —
DiariodelWeb.it
, Septeber 2, 2014‎
Pasti in famiglia per prevenire il cyberbullismo
 — HealthDesk, Septeber 2, 2014‎
Makan
 Malam Bersama Tangkal Efek Cyberbulling
 —
Inilah.com
(Indonesia), September 2, 2014
Regular family meals reduce effects of cyberbullying in teens: Study
 — Delhi Daily News (India), September 2, 2014
Waarom
 familiemaaltijden belangrijk zijn voor tieners
 — Het Laatste Nieuws (The Netherlands), September 2, 2014
Les moments passés avec les proches protège de la cyberintimidation
 —
Techno-science.net
(France), September 4, 2014
Daarom
 is samen eten goed voor je kroost
 — Gazet van Antwerpen (Belgium), September 4, 2014
Ne négligez pas les repas en famille
 – Bluewin (Czech Republic), September 4, 2014
Family Meals Likely to Reduce Impact of Cyberbullying
 — Austrian Tribune (Austria), September 2, 2014
Eating with your family is good for mental health
 — Dorset Echo, September 7, 2014
Family meals cut cyberbullying effects
 — 
Irish Health, September 6, 2014
Keep Cyberbullies Away
 — 
The New Indian Express, September 6, 2014
Family Dinners Protect Kids From CyberBullying
 —
Siliconindia.com
 (India), ‎September 3, 2014‎
Family dinners may help kids cope with cyber-bullying
 – The Star Online (Mylasia), September 6, 2014
Family Dinners Good for Teens' Mental Health
 – Fars News Agency (Iran) – ‎September 2, 2014‎
Regular Family Meals Can Protect Kids From Cyberbullying
 – China Topix (China), ‎September 2, 2014‎
Others:
Regular family meals may reduce effects of cyberbullying in adolescents
 – Medical News Today, September 2, 2014
Family dinners reduce effects of cyberbullying in adolescents
 – Medical Xpress, September 1, 2014
Eating dinners with family can protect teens from cyberbullying
 – Business Standard, September 2, 2014
Another Positive Effect of Eating Dinner Together as a Family
 –
TheBlaze.com
, September 2, 2014
Family dinners reduce effects of cyberbullying in adolescents
 –
ECNmag.com
, September 2, 2014
Cyberbullying: Family Dinners Can Help Adolescents Cope, Researchers Say
 – Headlines & Global News, September 2, 2014
Family Dinner with Teen Provides Protection from Cyberbullying
 –
PsychCentral.com
, September 2, 2014
Family Meals May Defuse 
Cyberbullying's
 Impact
 – HCPLive, , September 2, 2014
Family dinners good for teens' mental health, could protect from cyberbullying
 – EurekAlert, , September 2, 2014
Family Meals May Defuse 
Cyberbullying's
 Impact, Study Says
 — HealthDay, September 2, 2014
Family meals protect teenagers from the effects of cyberbullying
 — Dumb-Out, September 2, 2014
Regular Family Meals Could Have Mental Health For Victims Of Cyberbullying
 — RedOrbit – ‎14 hours ago‎, September 2, 2014
Family Dinners Lower the Effect of Cyberbullying in Adolescents
 — Science World Report, September 2, 2014
Family Meals May Protect Kids from Online Bullying
 — Counsel & Heal, September 2, 2014
Cyberbullying: meals with family protect against the negative effects
 — Techsonia, September 2, 2014
How family meals can ease online bullying
 – Sunday World, September 3, 2014
Family Meals Could Protect Teens from Cyberbullying, Improve Mental Health
 — University Herald (US), September 3, 2014
Family meals may lessen impact of teen cyberbullying
 —
Examiner.com
, September 3, 2014
Family meals could reduce effects of teen online bullying
 — The Christian Institute, September 2, 2014
Family Meals May Protect Kids from Online Bullying
 — Counsel & Heal – ‎September 1, 2014‎
Family dinners protect kids from cyber-bullying
 — Zee News, September 2, 2014
Family Meals May Defuse 
Cyberbullying's
 Impact
 — Monthly Prescribing Reference, September 2, 2014
Family dinners may protect kids from cyberbullying
 — Free Press Journal, September 2, 2014

Having regular family meals can fight cyberbullying in teens
 — iStreet Research, September 1, 2014
Protect your kids from cyberbullying with regular family dinners
 – World Magazine, September 4, 2014
Family meals could protect kids from cyberbullying
 — Daily Digest, ‎September 1, 2014‎
Family Meals May Defuse 
Cyberbullying's
 Impact
 – HCPLive, September 2, 2014‎
Family-time may help kids cope with bullying
 —
Health24.com
 – ‎Sep 2, 2014‎
Family dinners may help protect teens from cyberbullying, also be beneficial for …
News-Medical.net
,  ‎September 1, 2014‎
Family dinners good for teens' mental health, could protect from cyberbullying
 — Science Codex – ‎September 1, 2014‎
Protect your kids from cyberbullying with regular family dinners
 — World Magazine September 4, 2014
September 5, 2014<