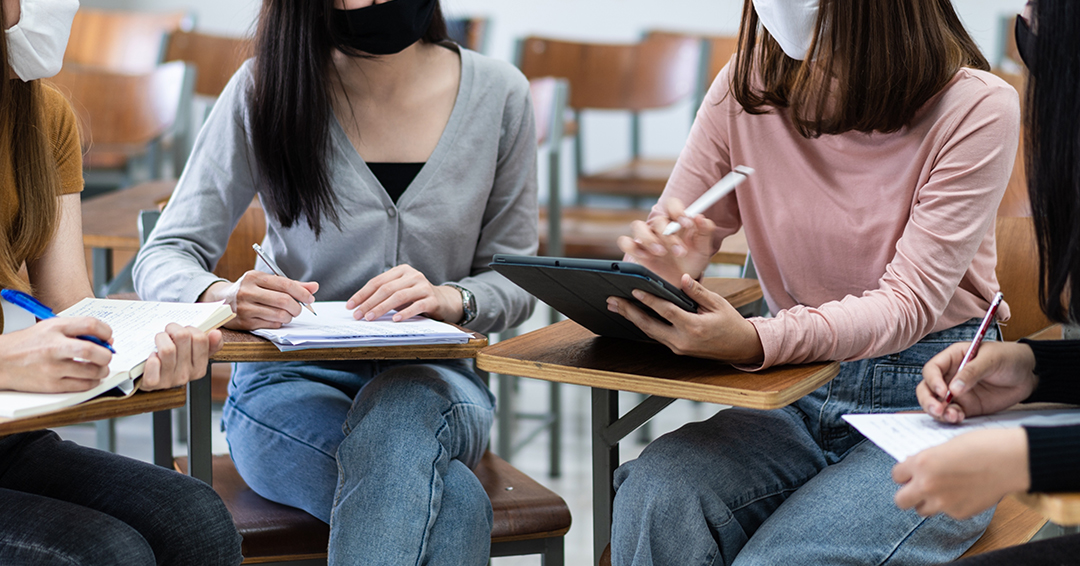 Overseen by a dedicated team at McGill University's Faculty of Medicine and Health Sciences – including Dean David Eidelman – journal clubs are giving students the tools they need to evaluate and apply scientific literature 
Given the volume and complexity of the biomedical research published each year, it can be tough for medical students to figure out which studies are clinically significant and which ones aren't. The McGill Faculty of Medicine and Health Sciences' revamped offering of journal clubs aims to cultivate medical students' biomedical research analysis skills – and help them with clinical decision making later on.
"The primary goal of journal clubs is not to teach us how to conduct our own research, but to determine whether or not we are being presented with high-quality, reliable evidence when we encounter research papers," explains Jakob Lafon, a second-year medical student.
With two years of research experience at the Research Institute of the McGill University Health Centre (RI-MUHC) under his belt when he entered McGill's Undergraduate Medical Education (UGME) program, Lafon played a teaching and mentoring role in his cohort, at least half of which had limited exposure to research. At the same time, he has gleaned helpful insights of his own. He points to his most recent journal club, which focused on gene therapies for spinal muscular atrophy, for emphasizing the circular relationship between basic and clinical science in neurology, his area of interest. "Ideas can flow from the basic science workbench to the bedside, but they can also go the other way when confronting conditions without treatment," he says.
Students were already active in journal clubs through select Fundamentals of Medicine & Dentistry (FMD) courses, Transition to Clinical Practice (TCP), clerkships, and a final course called "Putting It All Together." This academic year, Prof. Terry Hébert, in his capacity as the UGME Theme Leader for Basic Science, Critical Thinking and Knowledge Translation, along with Dr. Simon Wing and Prof. David Ragsdale led the process to make journal clubs an integral component of the new INDS123 Research Fundamentals (RF-1) course. This means medical students are now required to participate in five different journal clubs during the first year and a half of their program before continuing on to RF-2.
In each journal club, a group of 10 to 15 students tackles two research articles: one with a basic science focus and one with a clinical application. Students are expected to read and digest the material before their two-hour journal club meeting, where the faculty tutor supervising the group makes a brief presentation before inviting sub-groups of students to unpack different sections of the paper for their peers. Every few months, the group of students rotates to a new club and tackles two new papers.
By analyzing the strengths and weaknesses of an article, identifying gaps in knowledge and making connections between basic research and clinical practice, students begin a lifelong process of integrating new research into their thinking. Instead of relying on newsletters within their disciplines to summarize new literature, they move forward in their careers with confidence in evaluating the literature on their own.
According to Dr. David Eidelman, Vice-Principal (Health Affairs) and Dean of the Faculty of Medicine and Health Sciences, the flood of misinformation surrounding the COVID-19 pandemic painfully illustrates the need for physicians to receive adequate training in the fundamentals of research. "If you don't have the right skills, you're at the mercy of the last rumour you heard," he explains. "That is what is happening when physicians cite flawed papers to justify prescribing Ivermectin or hydroxychloroquine for COVID-19."
Prof. Hébert, Dr. Wing and Prof. Ragsdale co-teach INDS123 and have worked tirelessly to recruit enough faculty tutors to oversee existing journal clubs. Last fall, they were delighted to have succesfully recruited the Dean to serve as a tutor for all five journal clubs under the umbrella of INDS123. "By getting involved, the Dean is sending a powerful message to students that he believes these journal clubs are vital for their education—and so should they," says Prof. Hébert.
Through journal clubs, faculty tutors play an active role in challenging students' thinking. Mathew Carias, a fourth-year medical student who had earned a PhD in medical biophysics prior to entering the UGME program, remembers a journal club meeting in which he criticized the selected paper. "The paper presented the results of a clinical trial that, in my opinion, actually failed," says Carias. "Our faculty tutor, Simon Wing, ran with this line of thinking and asked us to think of alternative uses and applications for the drug being tested. That turned the meeting into a valuable learning opportunity."
As Prof. Hébert and his colleagues work to expand the number of journal clubs in the Faculty of Medicine and Health Sciences, they are spurred along by the positive, constructive feedback they have received from students. "We use this feedback to guide us in selecting papers that engage the intellect and spark the imagination," says Prof. Hébert. "Journal clubs will continue to evolve, but we're moving in the right direction."