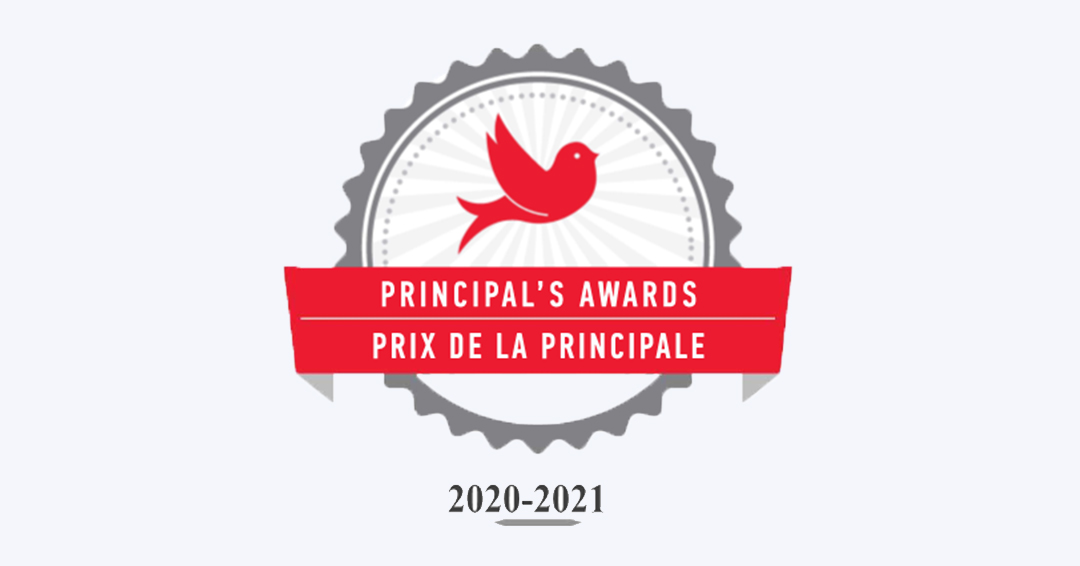 This year's Principal's Awards for Administrative and Support Staff Award Nominees, for the 2020-2021 academic year, include many familiar names to those of us who work in the Faculty of Medicine and Health Sciences.
Please check out the nominees below and wish our colleagues the best the next time you see them!
Go team FMHS!
Management & Excluded: 
Christina Raneburger
Diane Weidner
Jacqueline Courtney
John-Charles Wilson
Julie Lane
Paola Colapelle
Teresa Alper
Thu Thao Nguyen (Vanessa)
Clerical:
Chantal Grignon
Efstathia Papadopoulos Jessica McCaffrey
Juliet-Ann McArthur
Martina Portaro
Marylin Linhares
Mohammad Shahin Khan
Technical, Library Assistants, and Nursing:
Jeannie Mui
Team Projects:
Comparative Medicine Animal Resource Centre Team (CMARC): Lori-Ann Burgess, Philippe Laroche, Bill Carroll, Pacholo Libarnes, Subibe Choudhury, Jose Mateus, Kirsten Erskine, Jeffrey Miles, Holly Esak, Joseph Nacario, Veronica Marianna Ferraro, Jarrod Nichol, Chris O'Hare Freire, Jeremie Smith, Gianfranco Galardo, Julian Vargas, Anna Jimenez and Karen Zwicker
COVID-19 Virus Sequencing Project: Tania Abou Younes, Marlon Amersi, Anthony Bayega, Raul Baldin, Alexander Belisle, Ariane Boisclair, Mathieu Bourgey, Brent Brookes, David Bujold, Elizabeth Caron, Shu-Huang Chen, Corrine Darmmond, Haig Djambazian, Ksenia Egorova, Andras Frankel, Jose Hector Galvez Lopez, Romain Gregoire, Edouard Henrion, Peter Ho, Senthilkumar Kailasam, Sally Lee, Francois Lefebvre, Pierre Lepage, Lena Li, Terrance McQuilkin, Spyridon Oikonomopoulos, Antoine Paccard, Pierre-Olivier Quirion, Sarah Reiling, Anne-Marie Roy, Marie-Michelle Simon, Janick St-Cyr, Paul Stretenovich, Tony Tir and Patrick Willett
Eagle Spirit Science Futures Camp Team: Alex Allard-Gray and Joel Grant
Équipe du Campus Outaouais: Sarah Abdelhadi, Léa Levert-Gagnon, Patrice Boileau, Christine Ménard, Alain Boulet, Michèle Pellerin, Mélissa Brazeau, Anne Jean Pollock, Gilles Brousseau (Vice Dean), Marie-Ève Race, Sophie Fletcher, Vanessa Reber, Pascale Joseph, Camilo Roumer, Andrea Laszlo, Stéphanie Roy, Olivier Larocque, Olivier Sammon, Michel Leblanc, Andy Shabani, Marie-Pier Leduc and Natacha Thibault
Undergraduate Medical Education Team: Montreal Campus and Campus Outaouais: Sarah Abdelhadi, Kate Allan, Lynn Aversa, Ana Berges, Dominique Blais, Patrice Boileau, Candice Bonadie, Alain Boulet, Mélissa Brazeau, Sandra Cardoso, Maria Cecere, Carolyn Ann Cichon, Nathalie Coutu, Sophie Fletcher, Rami Ghazzaoui, Susanne Gomes, Jean Francois Gravel, Monica Gutierrez, Xinli (Lilyana) Huang, Peter Imperioli, Timothy Johns, Pascale Joseph, Maryna Kalachova, Alexandra Karabatsos, John Kuchyna, Olivier Larocque, Andrea Laszlo, Marie-Pier Leduc, Anna Lee, Hugo Lemay, Léa Levert-Gagnon, Tamara Lutz, Chanel Manzone Pilon, Juliet Ann McArthur, Jessica McCaffrey, Allison McKenzie, Christine Ménard, Alexandra Mylonakis, Elizabeth Newcomb, Ann Nguyen, Sonia Pardisi, Michèle Pellerin, Janice Eileen Penney, Loris Pilot, Olivia Pipe, Anna Jean Pollock, Farhad Saboohi, Olivier Sammon, Andy Shabani, Tracy Smith, Marie-Ève Race, Vanessa Reber, Camilo Roumer, Stéphanie Roy, Natacha Thibault and John Charles Wilson.