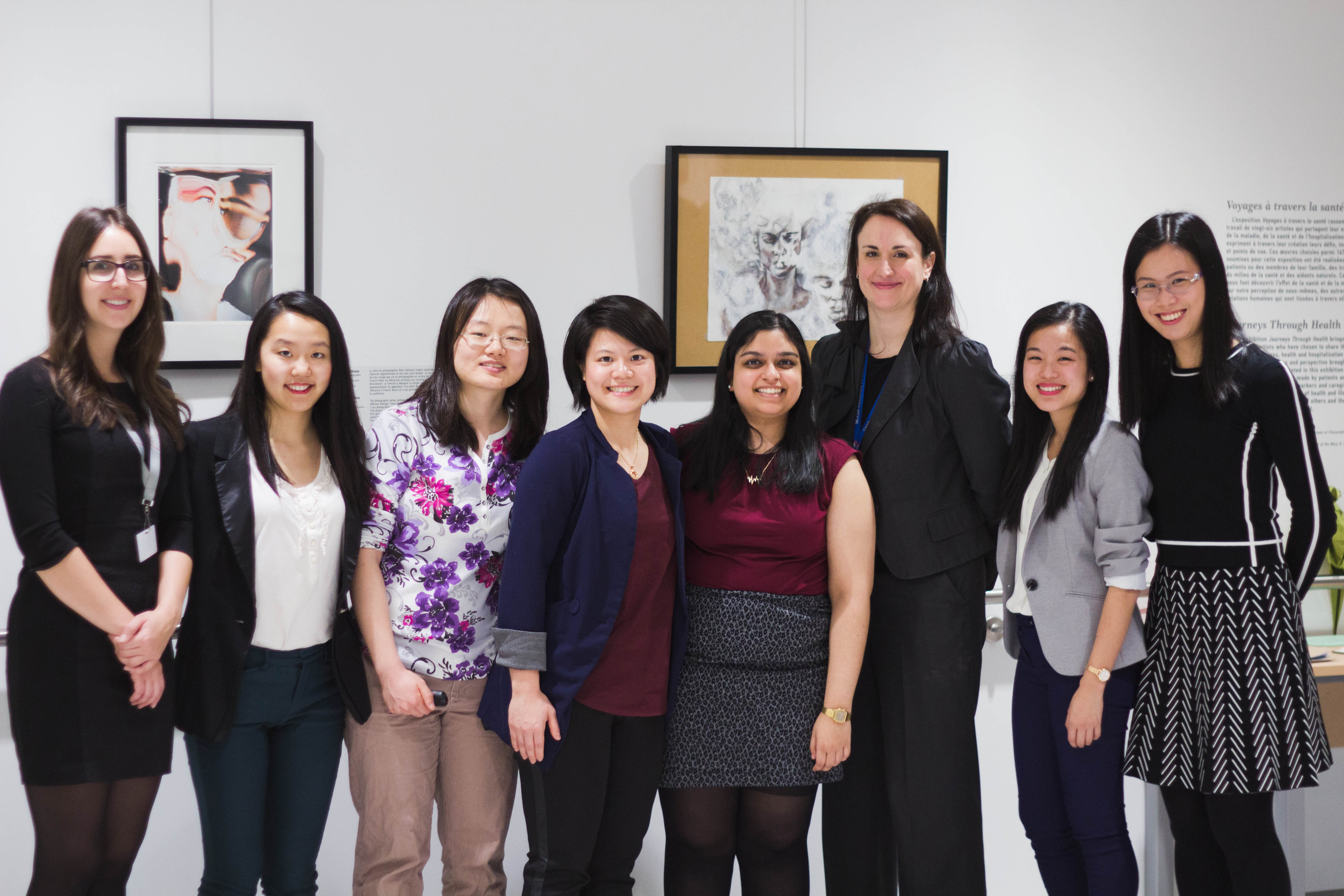 The "Journeys Through Health" Art Exhibition was recently selected as a finalist in the Arts, Lettres et Culture category of the 2017 Forces AVENIR award. The exhibition was spearheaded by a subcommittee within the Medical Student Society (MSS) Humanities and Arts in Medicine (McHAM) – a student group that strives to integrate arts, humanities and medicine. The first exhibition was held from March 2016 to October 2017 at the newly constructed Royal Victoria Hospital (Glen site), and featured artworks from patients, family members, health care workers and students. It is the first time in Montreal that a student group collaborated with a health care institution to organize an art exhibition dedicated to the community.

On October 4th, Tianwei (Ellen) Zhou, Jiameng Xu, Laurence Laneuville and Eunice You – McGill medical students and McHAM members – travelled to Quebec City with Dr. Christopher Buddle, Dean of Students at McGill, to present their project at the Forces AVENIR gala and receive the $2,000 award.

 An example of collaborative success
The "Journeys Through Health" Art Exhibition is an example of broad collaboration. The inaugural exhibition was organized by a team of dedicated students who liaised with numerous community organizations to elicit submissions across Montreal. In addition to receiving funding from the MSS's Strategic Planning and Community Involvement Committee Fund and from the Office of the Dean of Students, the group partnered with Ms. Karine Raynor and Alexandra Kirsh from the RBC Art and Heritage Centre of the McGill University Health Centre (MUHC) to have the art displayed at the new Royal Victoria Hospital.

Each artwork was accompanied by the artist's narrative, explaining its inspiration and meaning. "We want to humanize the experience of illness and the physical space of the hospital grounds. To achieve that, we created this reflective space for everyone involved in health care to share their experiences and to learn from each other's perspectives," explains Ellen Zhou, who led the application to the Forces AVENIR award.

The vernissage for the exhibition welcomed over 100 guests and attracted broad media attention. "We were highly encouraged by feedback from artists and visitors who hoped that the project would continue," continues Ellen. "With support from MUHC and Forces AVENIR, we plan to widen our collaborations, increase the number of displayed artworks, and expand the exhibition to the Montreal General Hospital in two years."

Looking ahead, this community-focused exhibition will create a new theme annually.

The "Journeys Through Health" Art Exhibition is currently seeking submissions (due June 16, 2018) for the second edition with the theme "Renaissance". The vernissage is expected to be in September 2018.

For more information or to inquire about submissions, please contact: journeysarthealth@gmail.com.

Click here to view a video with stories from some of the exhibition's artists

December 4, 2017