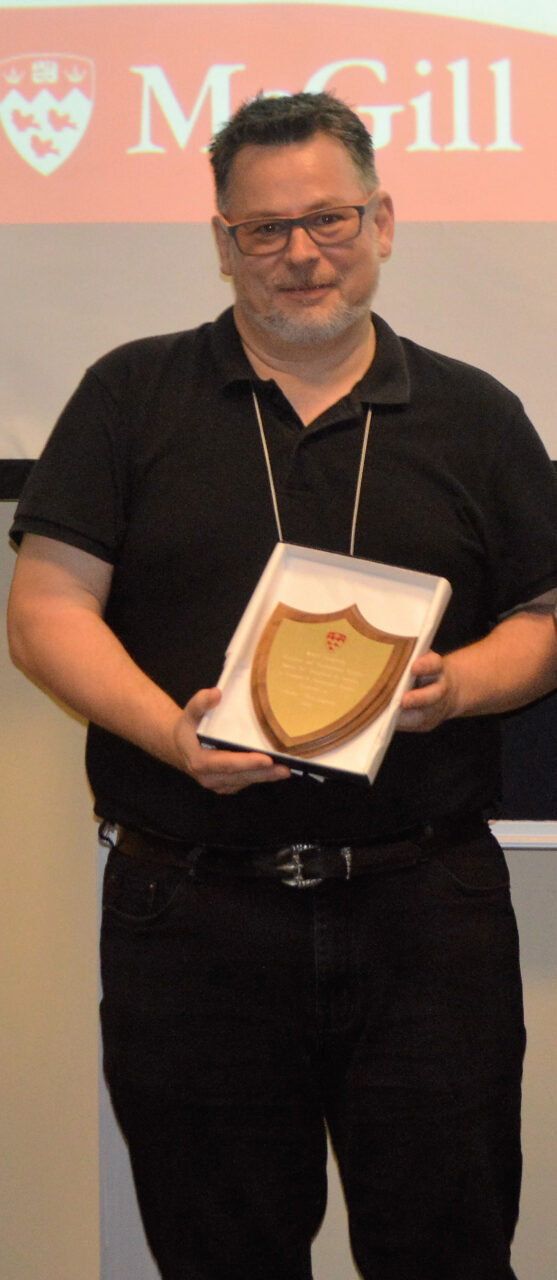 André Yves Gagnon, Student Affairs Administrator in the Department of Epidemiology, Biostatistics & Occupational Health at McGill University's Faculty of Medicine is the 2017 recipient of McGill's Award for Excellence in Service to Graduate and Postdoctoral Studies. The annual award is given by the Dean of Graduate and Postdoctoral Studies to acknowledge outstanding contributions to graduate and postdoctoral education at McGill by members of the administrative and support staff of the University. André was presented with the award during a ceremony held on June 19.

André Yves started working at McGill in 1988 as an information clerk in what was then the Department of Languages and Translation of the Centre for Continuing Education. This was his first exposure to Student Services and he learned a great deal from his two years in the position, providing information and services to a clientele with limited knowledge and understanding of English or French. This experience helped him develop his listening skills, and a facility in explaining rules and regulations, often having to find different ways and vocabulary to be understood by the students. He then served as Course Secretary for six and a half years for the same department.

His first exposure to graduate student services was in 1997, when he started working at the School of Communication Sciences and Disorders at the Faculty of Medicine. For four years at the School, he was the resource person for all students, guiding them from admission to graduation, and everything in between. Those years were also a great learning experience as he touched all parts of graduate studies. However, he was curious to learn other aspects of McGill and accepted a position in the Office of the Associate Dean, Research at the Faculty of Medicine. After a truly enriching experience working with the Associate Dean and Faculty Researchers for six years, André came to the realization that his true love was working with students and he decided to return to a position where he felt his abilities would best serve the University.

He has been in his current position since January 2007, working with a small dedicated team of Graduate Coordinators, overseeing all aspects of the graduate student affairs office in the Department of Epidemiology, Biostatistics & Occupational Health and thoroughly enjoying the daily contact with graduate students and faculty members. With the move towards the McGill School of Population and Global Health, he is looking forward to working with a growing team of students' affairs staff to serve an increasing number of students and programs.

"McGill attracts some of the most brilliant student minds in the world, and I am proud to play a small part in this by providing them with the best service I can," says André of being recognized with this award.

Congratulations André Yves!

June 20, 2017