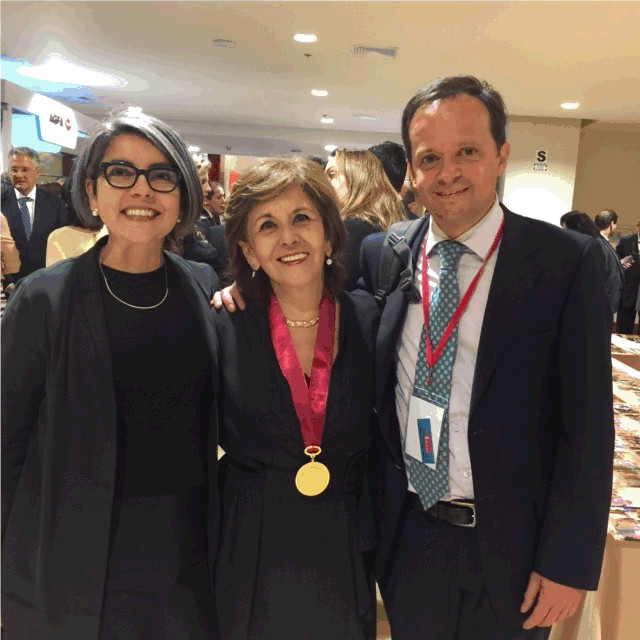 Dr. Raquel del Carpio-O'Donovan, Professor of Radiology, Director of CME-Visiting Professor Program and Program Director for the Neuroradiology Residency Program at McGill University was recently awarded the Gold Medal by the Peruvian Radiology Society and the Interamerican College of Radiology (CIR) for her contribution to the education in Radiology in Peru and Latin America. The award was presented during the CIR meeting in Lima, Peru on September 9th.

The CIR is an organization with members from 24 different countries including Spain and Portugal. The most recent meeting covered all radiology subspecialties. Dr del Carpio-O'Donovan organized  the academic program for the section of Neuroradiology. Dr. Maria Cortes and Dr. Carlos Torres were in attendance and also presented at the CIR conference.

Dr. del Carpio-O'Donovan is also the Radiologist-in-charge at the Montreal General Hospital.

Outside of McGill University, Dr. del Carpio-O'Donovan is the Latin American Coordinator for the Global Outreach Program (Educational Committee) ISMRM and the Canadian Representative to the Inter American College of Radiology.

She is an active lecturer who has travelled vastly in the last years as an International RSNA VP (China), International Radiological Society (Morocco), ISMRM (Peru, Argentina and Mexico), Interamerican College of Radiology (Colombia and Chile). In the last few years she lectured in Iran, Argentina, Australia, Mexico, Nicaragua, Panama. In 2013, Dr. del Carpio-O'Donovan travelled to Vienna Austria for the ISMRM teach the teacher project launched that same year which has allowed young radiologists to visit recognized academic institutions and return to their countries to teach their peers.

Dr. del Carpio-O'Donovan's greatest interest is the teaching of Neuroradiology and spreading the highest standards of practice into emerging countries. She has trained several generations of Residents in Radiology and mentored close to 200 international radiologists who come to train with her as fellows, observers and residents, in the Neuroradiology section of the McGill hospitals for the last 20 years. She has also been recognized as Teacher of the Year and is the only Radiologist on the Honor List for Educational Excellence at McGill.

Recently, Dr. del Carpio-O'Donovan received an award as one of the "10 Most Influential Hispanics in Canada" mostly for her efforts in helping radiologists from overseas to acquire skills and work practices similar to those applied in Canada. She has also been distinguished with the Royal College Mentor of the Year (Quebec) award. In 2013, Dr. del Carpio-O'Donovan received the QMA Award, Quebec Medial Association, Teaching Clinician Award.

Dr. del Carpio-O'Donovan has authored/co-authored over 40 articles and 7 book chapters, 140 presentations (proffered papers and exhibits) and has given to date, 201 invited lectures (nationally, internationally and as a visiting professor).

Congratulations to Dr. del Carpio-O'Donovan for her continued support and  contribution to education in Radiology both locally and abroad!

September 16, 2016