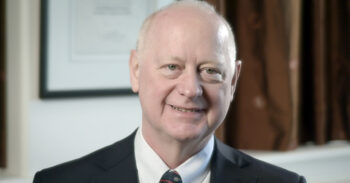 We are pleased to announce a three-year extension to the appointment of Dr. Guy Rouleau as Director of The Neuro (Montreal Neurological Institute-Hospital), effective January 1, 2023, as approved by McGill University's Board of Governors at its meeting of February 10, 2022, and by the Board of Directors of the McGill University Health Centre (MUHC) at its public meeting of May 13, 2022.
Dr. Rouleau was first appointed Director in 2013 and reappointed in 2018. He has brought exceptional leadership skills to The Neuro and is widely considered a pioneer in both research and clinical care. During his service as Director, Dr. Rouleau improved access of care for patients with neurological disorders and supported the growth of clinical programs. Consequently, The Neuro made strong clinical advances. For example, the Neurocritical Care Unit, created in 2021, is one of the most active and essential elements of the hospital, seeing the majority of all patients admitted to The Neuro. Dr. Rouleau led the recruitment of more than 40 world-class faculty members and clinicians to The Neuro and an additional 20 faculty to the Department of Neurology and Neurosurgery. He helped the institute attract new philanthropic funding, including two transformational gifts to create a new research centre and establish a framework for Open Science at The Neuro and beyond, thus increasing the institute's research visibility.
One of Dr. Rouleau's most important contributions has been guiding The Neuro toward an institutional policy of Open Science – the sharing of data and samples with the greater scientific community to increase the potential for medical breakthroughs. In 2016, he co-founded the Tanenbaum Open Science Institute, designed to advocate and facilitate Open Science practice across Canada and the world. Launched in the summer of 2021, a major component of The Neuro's Open Science practice is the Clinical Biospecimen Imaging and Genetic Repository, one of the largest biorepositories of neurological disorders in the world.
The quality of Dr. Rouleau's own research and clinical work has also been an asset to The Neuro, McGill University and the MUHC. He and his team have identified genes causing neurological and psychiatric disorders, including autism, amyotrophic lateral sclerosis, hereditary neuropathies, epilepsy and schizophrenia, as well as provided a better understanding of the molecular mechanisms that lead to these disease symptoms.
An Officer of the National Order of Québec and the Order of Canada, and a Fellow of the Royal Society of Canada, Dr. Rouleau has also been the recipient of a Canada Gairdner Wightman Award in 2020 for his outstanding contributions as a clinician-scientist and leader in health care and research. In 2021, his international peers also elected him the first vice-president of the World Federation of Neurology.
Please join us in congratulating Dr. Rouleau on the extension of his term.  We wish him and The Neuro continued success.
Sincerely,
Suzanne Fortier
Principal and Vice-Chancellor
Dr. Pierre Gfeller
President and Executive Director – MUHC