Diane B. Wayne's workshop on Simulation-Based Mastery Learning in medical education focuses on thematic, sustained and cumulative efforts
By Diane Weidner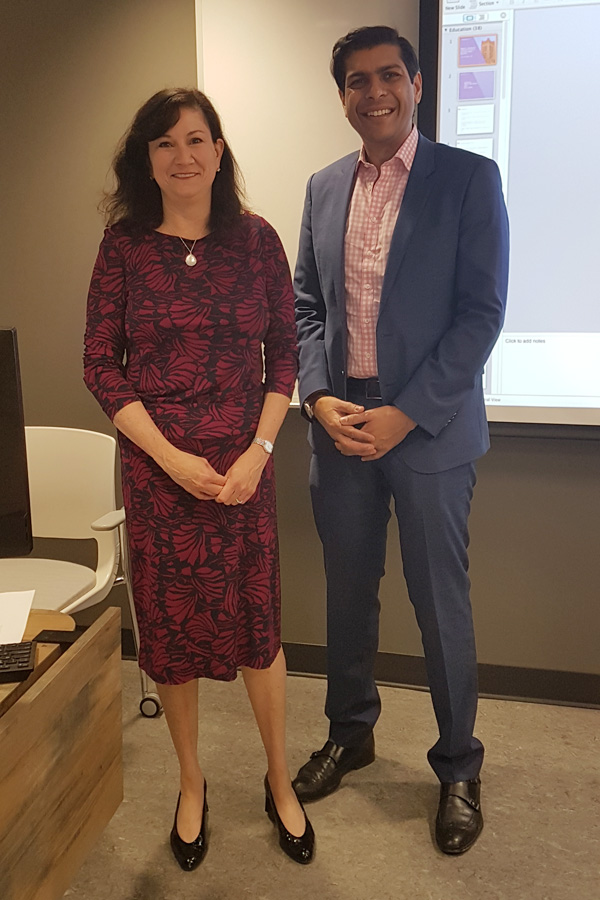 When Dr. Rajesh Aggarwal, Director of the Steinberg Centre for Simulation and Interactive Learning (SCSIL) at the McGill University Faculty of Medicine, was looking to invite a visiting professor to speak to the McGill community about simulation and patient safety, he turned to Dr. Diane B. Wayne, Vice-Dean for Education at the Northwestern University Feinberg School of Medicine.  "Dr. Wayne and her group are one of the very few who have demonstrated the impact of simulation-based training on clinically relevant outcomes, and even more so, the return on investment (or value) of simulation in health care environments," says Dr. Aggarwal. "This is ground-breaking work, and to have the opportunity for us at McGill to enrich our simulation program in this manner is timely, worthwhile and tremendously impactful."

On May 16, Dr. Wayne spoke about the use of medical education to improve the quality of patient care during Medical Grand Rounds at the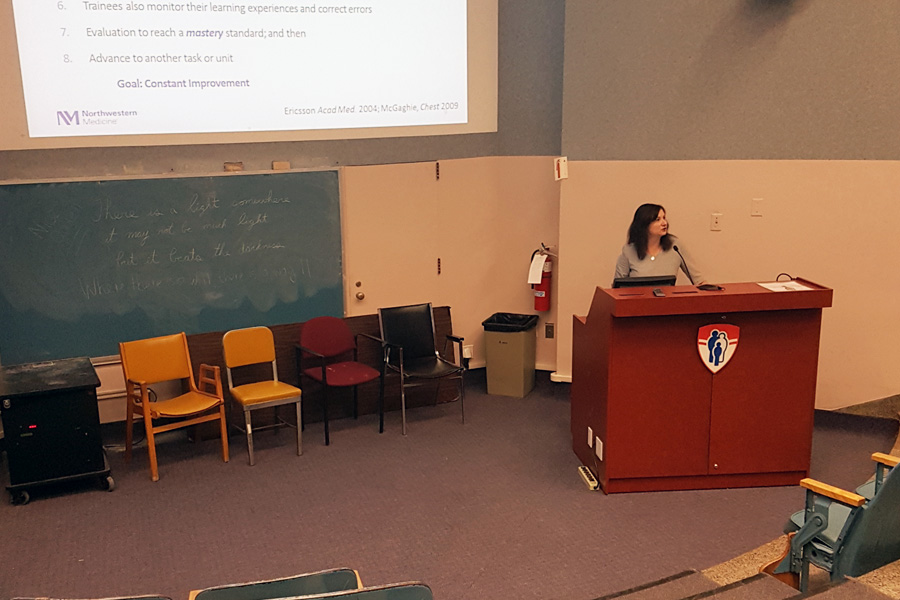 Montreal General Hospital. She explained the advantages of Simulation-Based Mastery Learning (SBML) with deliberate practice, and emphasized that simulation is not designed to replace traditional training, but rather to be viewed as an adjunct to smooth over gaps and make sure that everyone is on the same page. Simulations allow medical learners to practice clinical skills under safe, controlled and forgiving circumstances, undergo formative assessment, and receive feedback with the goals of acquiring and maintaining clinical competence. "This is hard work and it requires lots of mental energy and full concentration," emphasizes Dr. Wayne. "You've got to make it hard, and you've got to make it sweaty." The amount of time needed to reach mastery standards for a unit's educational objectives varies among learners, so some trainees may require additional training to reach competency.

Strong evidence to support SBML
With over 100 research studies bearing her name, Dr. Wayne and her team have spent the last twelve years employing SBML education and researching the results through competency assessments of students, residents and fellows.  The results are convincing. During her years as Director of the Internal Medicine Residency Program at McGaw Medical Center of Northwestern University, she implemented rigorous simulation-based training in Central Line Insertion for Internal Medicine and Emergency Medicine residents.  By employing mastery learning methodology, arterial punctures and Central Line-Associated Bloodstream Infection (CLABs) were reduced by an impressive 85%. This positive impact on patient care and reduced length of stay translated into significant cost savings for the hospital, with a return-on-investment of 7 to 1.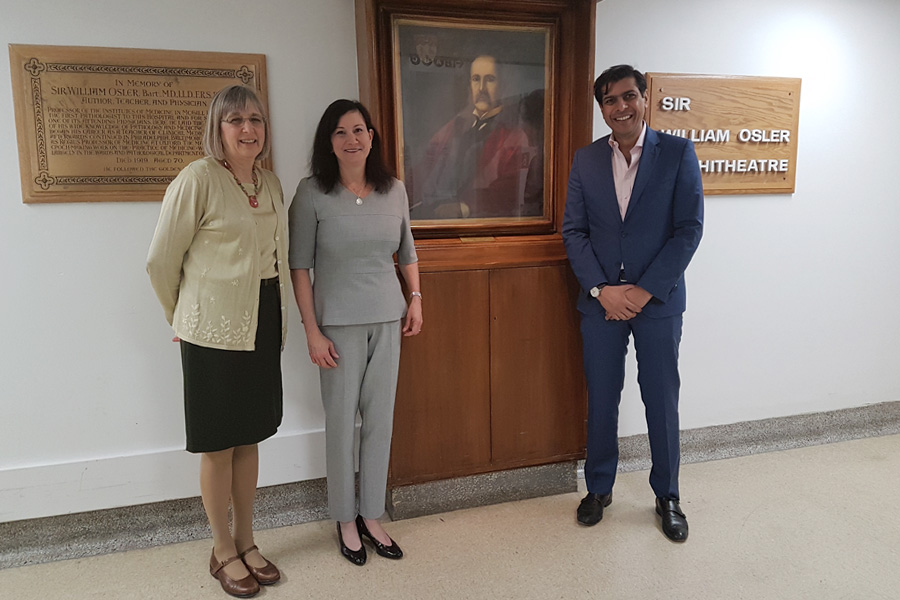 Dr. Wayne's expertise in simulation-based research left a lasting impression on the medical faculty and staff who attended her Grand Rounds presentation. "The 'gold standard' for medical education interventions is improvement in patient outcomes," emphasizes Dr. Joyce Pickering, Associate Chair of Education for the McGill Department of Medicine and Executive Associate Physician-in-Chief at the McGill University Health Centre.  "Unfortunately, this is almost never studied in medical education research–until Dr. Wayne. She has convincingly demonstrated improvements in patients' morbidity, mortality and cost of care by systematically requiring mastery of skills by physicians in training.  This is so important–all training programs need to be using this."

Producing maximum learning outcomes
During her visit to Montreal, Dr. Wayne had the opportunity to visit the SCSIL and to lead a mastery learning workshop for McGill faculty. When implementing a mastery learning approach, the key question to ask is: "How can we design an educational environment that produces maximum learning outcomes among all trainees?" The answer is to create and implement a set of educational conditions, a curriculum and assessment plan that yields high achievements among all learners. "To be successful, you need to invest time and energy into developing a program that is thematic, sustained and cumulative," explains Dr. Wayne. During the practical workshop, participants went through the steps required to design a SBML curriculum, from defining the focused learning objectives and curriculum to deciding on the type of simulation best suited to achieving these objectives. The importance of determining defensible minimum practical standards to achieve educational and clinical outcomes was also discussed.  And lastly, Dr. Wayne emphasized the need to create a chain of evidence to support the theory that this rigorous education translates into positive patient outcomes. "Innovation makes us all better," she stated. "It is my goal to encourage others to use this model to improve patient outcomes." Thus far, her research focus has been primarily on clinical skills, but she plans to focus future research on how SBML can be used to maximize communication and teamwork skills.

The Visiting Professorship in Simulation and Patient Safety Program was sponsored by the McGill Medical Class of 1975, who set out to pursue an impactful project that would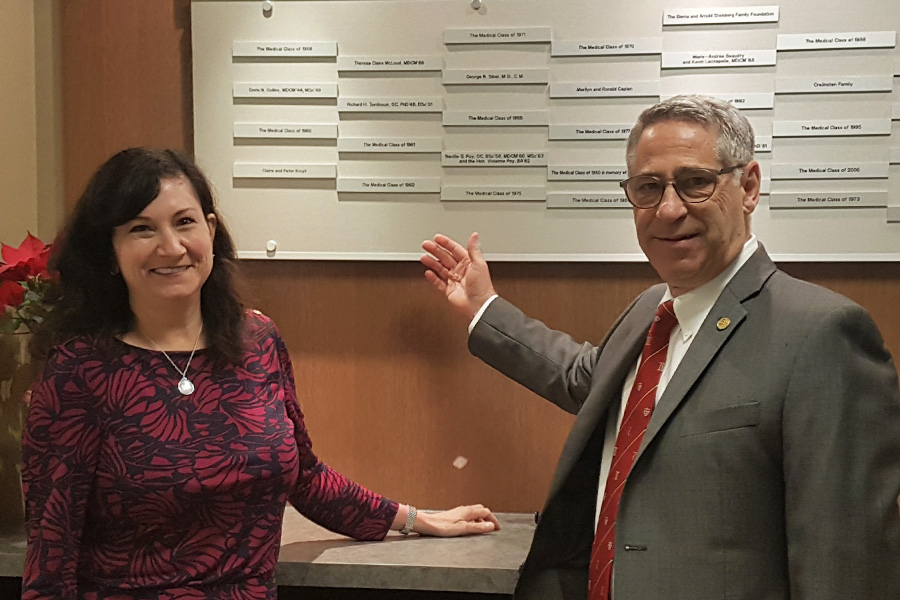 mark their 40th class reunion. Dr. Gerald Fried, Edward W. Archibald Professor and Chairman at the McGill University Department of Surgery and Surgeon-in-Chief at the McGill University Health Centre, was part of the group that led this effort. He participated in the Mastery Learning Workshop and was happy to share his feedback: "Medical education has evolved dramatically over the past decade as the use of simulation has increased the engagement of the learner and the effectiveness of the learning experience. Dr. Diane Wayne is a renowned champion of the concept of mastery learning. This concept is predicated on the establishment of a measurable goal for the learning experience and making the learning episode goal–based rather than time-based. She has taught us how effective this approach to learning is by demonstrating the transfer of learning to improved clinical care. As a member of the class of 1975, I am delighted that our inaugural medical simulation lecturer was so inspirational."

Thanks to the generosity of the class of 1975, the SCSIL and McGill community can look forward to welcoming more visiting professors sharing their innovative approaches and research to simulation and patient safety in the coming years.

Learn more about the Steinberg Centre for Simulation and Interactive Learning: www.mcgill.ca/medsimcentre

Learn more about Dr. Diane B. Wayne and her ground-breaking research: http://www.feinberg.northwestern.edu/faculty-profiles/az/profile.html?xid=13878

June 2, 2017