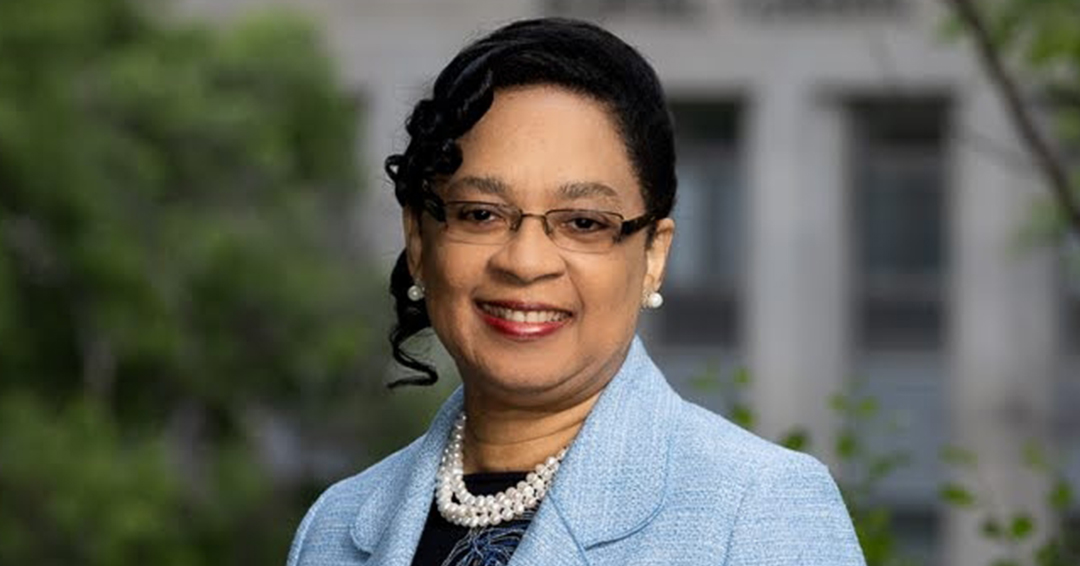 Dr. Anita Brown-Johnson honoured with David Johnston Faculty and Staff Award
Healthcare leader, family physician with care-of-the-elderly expertise, volunteer, mentor, patient advocate, humanitarian, philanthropist—all words that apply to Dr. Anita Brown-Johnson (MDCM'88, PGME'90).
She describes herself as "the product of humble beginnings, ingrained with deep appreciation and respect for equity, diversity and inclusion since early childhood."
On June 7, 2022, Brown-Johnson received the David Johnston Faculty and Staff Award at the McGill Alumni Association's Honours and Awards banquet, in recognition of her longstanding volunteer service.
Chief of Family Medicine at the McGill University Health Centre (MUHC) and Assistant Professor of Family Medicine at McGill, Brown-Johnson has devoted her life to community service, advocacy for vulnerable populations and philanthropic initiatives. "These have been part of my DNA for as long as I can remember," she says.
The seed is planted for a lifetime of service
Born in Montreal, she was raised in Jamaica by her paternal grandmother, who instilled in her the values of integrity, respect and kindness. Even from a young age, Brown-Johnson was aware that "we are all interconnected in every way." She notes her worldview was influenced by Jamaica's motto, "Out of Many, One People," which reflects the nation's multiracial roots.
Brown-Johnson recalls how she came to be interested in medicine. When her Grade 9 teacher asked about her career aspirations, she quickly replied "a nurse and a math professor." A nurse, because she was keenly aware of the needs of older persons, living with her grandmother. A math professor, because she adored the subject, and was already tutoring her classmates.
"Have you considered becoming a doctor?" her teacher asked. In fact, Anita had never met a physician—the community's primary health care was provided by nurses. But her teacher had planted a seed.
After high school, Anita returned to Canada to re-join her parents. She was the first graduate of Concordia University's Science College in 1983, then completed a year of doctoral studies in molecular biology and genetics at McGill before enrolling in the MDCM program in 1984. By now, she had realized that the field of medicine could fulfill so many of her passions, from teaching and mentoring to scientific research and delivering patient care.
"The inherently unique value of each human being"
Brown-Johnson credits her experience as a McGill student with further shaping her inclusive worldview. She met colleagues and made friends from many countries, cultures and backgrounds, reinforcing her "belief in the inherently unique value of each human being."
After medical school, she did a two-year family medicine residency at the Montreal General Hospital before serving as sole physician to the population of Waskaganish, a small Cree community on the shore of James Bay in Northern Quebec, from 1990 to 1992. She was then appointed to the CHSLD de Gaspé, where she provided medical services to older adults for more than eight years and was appointed Chief of Medicine.
Recruited by McGill in 1999, Brown-Johnson is an assistant professor in the Department of Family Medicine and an associate member in the Department of Medicine, Division of Geriatrics, as well as in the Faculty of Dental Medicine and Oral Health Sciences. Nominated Fellow of the College of Family Physicians of Canada in 2005, she was appointed Chief of Family Medicine at the MUHC in 2021, following seven years as Associate Chief.
"Thanks to McGill, 'Out of Many, One People' would be my mantra for life," notes Brown-Johnson, "whether working for improved care of the elderly, leadership development for at-risk youth or socio-culturally responsive health care."
An advocate for humanity
The David Johnston Faculty and Staff Award is presented by the McGill Alumni Association to a faculty or staff member who is an exemplary ambassador for the University.
"I was overjoyed," says Brown-Johnson of her reaction upon learning she had been selected. She notes the award is named in honour of the Rt. Hon. David Johnston (LLD), who served as Principal of McGill University from 1979 to 1994 and Governor General of Canada from 2010 to 2017. "I've been a longstanding fan and admirer of his leadership and commitment to service," she says.
These are traits for which she herself is admired at McGill.
In 2021, Brown-Johnson was the recipient of a prize named in honour of Dr. Haile T. Debas (MDCM'63, DSc), a leader in the global health movement, which recognizes faculty who manifest the ideal of equity and anti-racism through practical action.
"Both awards are well deserved," says Dr. David Eidelman (MDCM'79), Vice Principal (Health Affairs) and Dean of the Faculty of Medicine and Health Sciences. "We are privileged at the Faculty to have benefited from Dr. Brown-Johnson's vision, enthusiasm and commitment to service. She has gone above and beyond, playing a leading role in our equity, diversity and inclusion (EDI) initiatives, including spearheading efforts to support the Black medical student experience from application to graduation. She is a true leader, helping to set a new standard of excellence for our third century."
Brown-Johnson is a passionate advocate for EDI across multiple fronts. A founding member of the Dr. Kenneth Melville McGill Black Faculty and Staff Caucus, she serves on its Advisory Committee and has been a Provostial delegate for Black hires since January 2021. She contributed to the development of McGill's Action Plan to Address Anti-Black Racism, a pan-University initiative launched in September 2020.
A longstanding mentor to students of all backgrounds, Brown-Johnson now serves with the McGill Black Alumni Association's Mentorship Program, launched in January 2021. She was also instrumental in launching the Black Candidate Pathway to encourage Quebec residents who self-identify as Black to apply to the undergraduate medical education program at the School of Medicine.
In addition, Brown-Johnson is a member of the Faculty Advisory Board at the Faculty of Dental Medicine and Oral Health Sciences, where she co-chairs the EDI committee. Dr. Elham Emami, Dean of the Faculty, says, "I feel lucky to have the support and advice of Dr. Brown-Johnson in regard to strategic and action plans on matters related to EDI. From outreach to philanthropy and research, her contributions make significant differences. She is a true example of a leader. She always acts with integrity, values teamwork, gives you hope and energy, and advocates with courage for humanity."
For her part, Brown-Johnson says, "It is heartening to observe the commitment of McGill's leadership to engage in the critical consultations—and, at times, uncomfortable conversations—to learn and better understand the experiences of students, faculty and staff who identify as Black, Indigenous or members of other equity-seeking groups."
A cumulative impact far beyond the Roddick Gates
In the wider community, Brown-Johnson has contributed in numerous ways to supporting education, at-risk youth and diversity initiatives. With her husband, Dr. Dexter Gregory Johnson (BSc'84, DDS'89), an oral and maxillofacial surgeon, she has funded two longstanding scholarships for nursing and post-graduate studies. She also supported access to pre-kindergarten education for orphans as well as post-graduate studies at the University of the West Indies and the University of Technology, Jamaica.
She was president of the Quebec division of the Duke of Edinburgh International Award, a leadership program for youths aged 14 to 25, and served as a national director until this year and now serves on the local Council. She has forged collaborations between the University and local community organizations, such as the Black Community Resource Centre. She sat on the Board of Directors for the Indigenous Health Centre of Tiohtià:ke and serves as its MUHC liaison, and is on her third term as Regional Department of General Medicine (DRMG) delegate on the MUHC Board of Directors, where she co-chairs the Committee for Action on Inclusion, Diversity and Equity/C-AIDE.
"Every one of us has a role to play"
For Brown-Johnson, "education is key" in her overarching mission to facilitate transformative change and reduce chronic health disparities in Black, Indigenous and other equity-seeking communities.
"Not only does representation matter, it is also key to a healthier, stable, more productive society," she says.
In reflecting upon her career, Brown-Johnson is grateful for the support of her husband and their two children. Thanks also go to her parents for their encouragement and vision, as well as to her "mentors, dedicated colleagues and talented students," who, she says, continue to inspire her.
And she has never forgotten her grandmother, who inspired in her the guiding principle that all human beings are equal.
Brown-Johnson notes that the experience of the COVID-19 pandemic highlighted the reality that we all depend on each other. "From the nanny to the cook to the taxi driver, every one of us has a role to play."