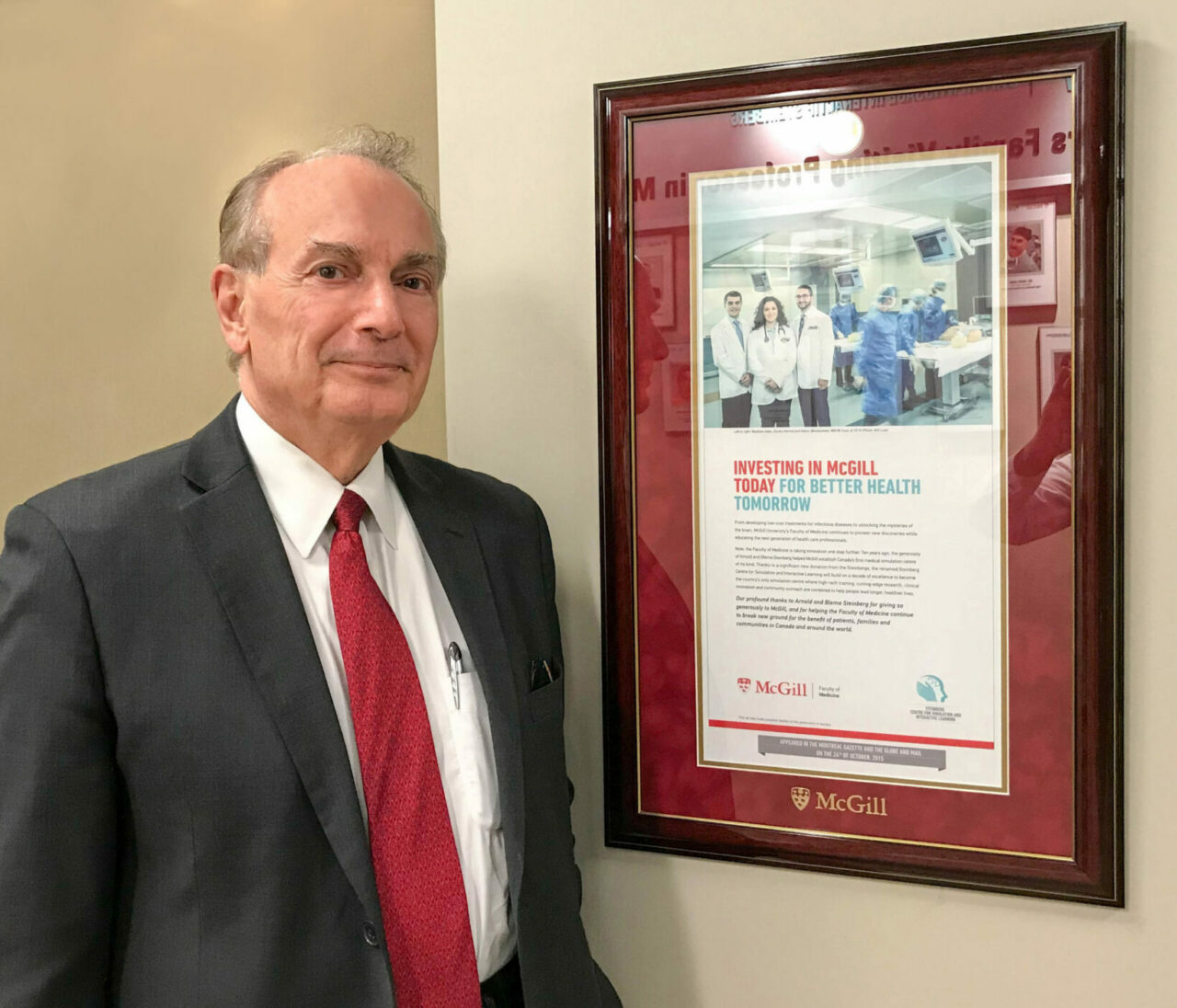 By Diane Weidner, Steinberg Centre for Simulation and Interactive Learning

Dr. Raymond Hakim is no stranger to successful innovation. As a research scientist working at Hydro-Quebec in the early 1970s, he was part of a team that accomplished the remarkable feat of transmitting electrical power at a very high voltage (750 KV), a first of its kind worldwide. With a Ph.D. in engineering from the Massachusetts Institute of Technology, even then he was harnessing the power of innovation to bring about impactful change. But when he shared this exciting news with his family, his mother responded, "That's great, but I didn't really notice a difference."  This was a turning point in Dr. Hakim's career. "I went into engineering because I loved precise answers and solutions to problems," he explains, "but I chose to pursue a career in medicine to make a difference in people's lives."  This bright and determined young man went on to complete his MDCM degree at McGill University in 1976 and his residency in internal medicine in 1979 at the Royal Victoria Hospital.

Fast-forward to present day and you will see an esteemed physician who has built a distinguished career in the field of nephrology.  In addition to his current role as clinical professor of medicine in nephrology at Vanderbilt University, Dr. Hakim was the co-founder and chief medical officer at Renal Care Group, Inc., an organization that provided dialysis services to patients with chronic kidney failure and operated 425 outpatient dialysis facilities in 33 states, performing more than four million dialysis treatments annually. It's safe to say that he made a real difference in many lives. "I was able to collaborate to significantly improve patient outcomes, but this required team effort and leadership," he explains.  Dr. Hakim's approach to successful innovation is to find out what the problem is and to work as a team together to solve it.  He also stresses the importance of persistence, remaining open-minded, and striving to do your very best. "What my parents taught me, and what I learned at McGill, is that you can always do better."

Major innovations in health care
Dr. Hakim has witnessed major innovative changes in health care during his career, including the introduction of statin drugs to reduce the risk of cardiovascular disease, the adaptation of laparoscopy,  stem cell research, targeted therapy for cancer and the integration of artificial intelligence, to name a few. In his field, he is excited by innovative developments in portable dialysis machines and implantable dialysis technology, as well as better transplantation therapy. But this forward-thinking physician wants to encourage even greater innovation. "There are many new innovative ventures taking place in California, and I noticed that a number of people at the forefront of these ventures were McGill graduates.  I wanted to encourage this entrepreneurship at McGill in Quebec," says Dr. Hakim.

With this goal, he approached the McGill Faculty of Medicine to create the Hakim Family Prize for Clinical Innovation in Health Care under the auspices of the McGill Clinical Innovation Competition (CLIC).  Launched in 2017, CLIC aims to inspire members of the Faculty of Medicine community to conceive and develop promising ideas that could have a direct and positive impact on Canadian or global health care.  The CLIC prize was largely inspired by Dr. Gerald Fried, McGill Chair, Department of Surgery, who created the successful Surgical Innovation program and competition.

Overwhelming interest in innovation at McGill
By the February 2018 CLIC submission deadline, 41 high-quality cross-faculty proposals were received, pointing to a high degree of interest from the community. "We were pleasantly surprised by the scope of interest generated by this competition," expressed David Eidelman, Vice-Principal (Health Affairs) and Dean of Medicine. "This will propel the Faculty of Medicine to establish sustainable mechanisms that support innovation and entrepreneurship, so that we can take these great ideas and translate them into practical applications."

All of the submissions were carefully screened by a panel of twelve judges, leaders in their respective fields with backgrounds in clinical care, academia, industry, engineering and business, including distinguished McGill Alumni. The Faculty of Medicine is beholden to the judges, who demonstrated great enthusiasm and rigor while providing careful and thoughtful analysis of many different types of proposals received.

Five finalists, listed below, have been identified and will present their proposal to the judges during a CLIC event on May 22, 2018.  Winners will be announced at the close of the competition.  The 1st place winner will receive the prestigious Hakim Family Prize for Clinical Innovation in Health Care of $50,000, of which $10,000 is a monetary award and $40,000 is a credit for the development of proof of concept and preparation for commercialization or implementation, depending on the nature of the submission.

"I only wish there were more than three prizes!" exclaimed Dr. Hakim. "I encourage others to support this competition, or to develop similar programs and initiatives that will recognize and drive innovation."  Thank you, Dr. Hakim, for spearheading this initiative and for supporting the revolutionary power of innovation in health care.

For more information about the competition and prize, CLIC here.

And the finalists are… 
The Faculty of Medicine is grateful to all of the contributors for the time and energy they have devoted towards exploring new mechanisms that improve health outcomes and patient care, and extends hearty congratulations to the five finalists for their outstanding proposals.  Here is a brief introduction to the teams and their exciting projects. To learn more, follow the Faculty of Medicine Facebook page to view their pitch videos in the week leading up to the contest. 

3D Printed Porous Hip Stem
This novel 3D printed porous hip stem will enhance bone retention following total hip replacement.

Michael Tanzer, MDCM, Professor of Surgery, McGill University

Sajad Arabnejad, PhD, Mechanical Engineering, McGill University

Burnett Johnston, M. Eng., MDCM 2019

Damiano Pasini, Professor, Mechanical Engineering, McGill University

 aifred health
This proposal is based on a personalized treatment of depression using artificial intelligence. 

Eunice You, MDCM 2020, Researcher (aifred health)

David Benrimoh, MDCM 2016, Chief Executive Officer (aifred health)

Robert Fratila, Chief Technology Officer (aifred health)

Marc Miresco, Assistant Professor, Psychiatry, McGill University

Sonia Israel, Director of Scientific Partnership (aifred health)

Kelly Perlman, Director of Research (aifred health)

AIM-Brachy
This team has developed the next generation of high dose rate brachytherapy technology for targeted cancer treatments.

Gabriel Famulari,
PhD Candidate, Department of Physics, McGill University
Fady Rayes
, Director of Product and Business Development, Pega Medical Inc.
Shirin A. Enger
, Principal Investigator, Assistant Professor, Gerald Bronfman Department of Oncology, Associate Member, Medical Physics Unit and Associate Member, Department of Physics / Biological & Biomedical Engineering, McGill University; Principal Investigator, Cancer Research Program, RI-MUHC
nplex biosciences
This team has developed a platform for truly scalable protein detection using advances in DNA nanotechnology.

Milad Dagher
, PhD Candidate, Department of Biomedical Engineering, McGill University
Jeffrey Munzar
, Postdoctoral Fellow, Department of Biomedical Engineering, McGill University
David Juncker
, Professor and Chair, Department of Biomedical Engineering, McGill University
 Saccade Analytics
A totally novel application of existing virtual reality (VR) goggles to analyze eye and head movements and, based on this analysis, generate health metrics. 

Henrietta Galiana
, Professor, Biomedical Engineering, McGill University; Science Officer
Isabel Galiana
, PhD candidate, Economics, McGill University; Chief Executive Officer
Samuel Collins
, B.Eng, Chemical Engineering, McGill University; Product Lead
Francisco Galiana,
Professor Emeritus, Electrical and Computer Engineering, McGill University; R&D Lead
May 18, 2018