By Sophie Lorenzo, Rossy Cancer Network

Nurses are uniquely positioned to have an impact on the quality of patient care. In oncology in particular, nurses not only provide patients with complex medical care, they also offer crucial psychosocial support and education at a difficult time in patients' lives. Studies have shown that increased nursing specialty certification is associated with improved patient outcomes and decreased adverse events in acute care settings.

The Rossy Cancer Network (RCN) felt that nursing certification was an important avenue to pursue in order to support its goal of improving the quality of care for individuals with cancer at McGill-affiliated hospitals (including the McGill University Health Centre (MUHC), the Jewish General Hospital and St. Mary's Hospital Center).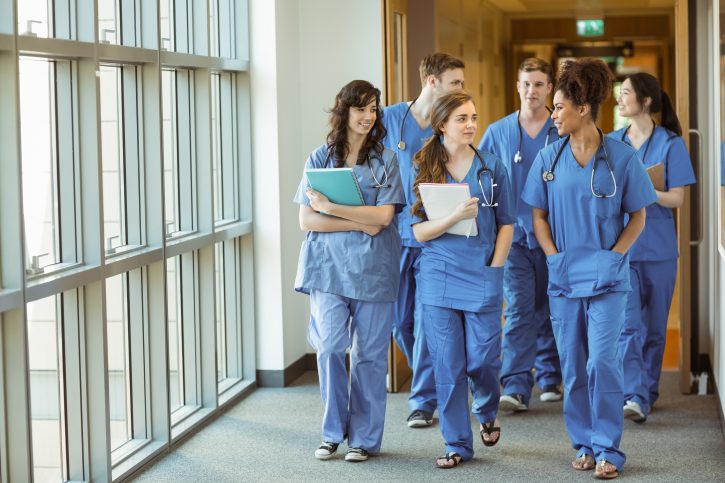 Reaping the benefits of certification

"Looking at the data, it is clear that every time nurses are certified every outcome – whether it's medical, biological or psychosocial – improves. Line sepsis decreases, patient satisfaction increases, even narcotic use decreases; so the impact of nursing certification is phenomenal," explains Dr. Ari Meguerditchian, Cancer Quality & Innovation program lead for the RCN.

After assessing that there were no oncology-specific programs in place, Dr. Meguerditchian and the three oncology nursing directors from the RCN partner hospitals worked to develop a new series of bursaries to support nursing staff in optimizing their skill sets. The benefits were clear from the first year the bursaries were offered.

"The skills enhancement grants offer an opportunity to stabilize our nursing teams at a time when we are facing challenges with staff retention. We found that offering oncology certification helped to engage staff in the delivery of high quality cancer care,'' says Erin Cook, Clinical Administrative Coordinator, Oncology, Co-Director of the Segal Cancer Centre at the Jewish General Hospital. "This engagement is a motivation to stay in cancer care at a time when there are limitless opportunities for growth in nursing. Nurses felt that they were valued and that they were supported in their careers."

The third round of Nursing Skills Enhancement Grants just wrapped up in December 2019 and will provide bursaries to 89 nurses across the three partner hospitals. Of those, 37 will go towards Canadian Nurses Association (CNA) certification or re-certification in oncology or palliative care, along with a preparatory course.

In total, over the past three years, the RCN has awarded over 260 bursaries, including 100 for the CNA certification exam. In 2018, the RCN's efforts were recognized by the Canadian Nurses Association, which awarded the RCN an honourable mention in the CNA Employer Recognition category for exemplary, sustained support of the certification program.

Tackling challenges with new skill sets
In addition to certification, the bursaries have a second component: oncology specific training. These highly specialized courses enable junior staff who don't yet have the experience required for certification to benefit from professional development. In the most recent edition, the specialty courses were greatly expanded from four to a dozen courses, which are offered along with a stipend to compensate for time dedicated to the classes.

Nurses were quick to see the benefits of growing their skills. "Once the skills enhancement bursaries were established, we found that the next year nurses started taking ownership of their professional development by submitting proposals for the courses based on their own needs assessment. This was the case for the Canadian Vascular Access Association certification course, which has proved to be very popular," explains Manon Allard, Associate Director of Access to Hospitalization for the CIUSSS Ouest-de-l'Île-de-Montréal, which includes St. Mary's Hospital Center.

The classes are provided by an accredited institution, like the de Souza Institute, and offered online, to allow nurses to fit skills training into their busy schedules. In 2019, a leadership skills course was added to empower nurses in embracing their role as leaders and managers.

"We know that working in cancer in the current system puts a lot of pressure on staff. We chose to add the course on Addressing Compassion Fatigue and Managing Grief and Loss among Health Care Professionals to support nursing staff by giving them tools that may help them deal with the pressures they face, so that they can in turn better care for their patients," explains Christine Bouchard, Clinical Administrative Coordinator, Cancer Care Mission in the Cedars Cancer Centre of the MUHC.

Other new courses helped give nurses the tools to manage symptoms such as pain, to empower patients in navigating the complex health care system, and to discuss their concerns around sexual changes related to their cancer and treatment.

"We also decided to bring back a popular accreditation course for bone marrow transplant because this helps fulfill our objective of better quality care, but it also supports the hospitals' accreditation requirements," explains Dr. Meguerditchian. "And the RCN's goal is always to support our partner institutions in delivering the highest quality care."
---
For more information on RCN Nursing Skills Enhancement Grants, visit https://mcgill.ca/rcr-rcn/grants/cqi-edu/nursing

The Rossy Cancer Network (RCN) is a partnership of McGill University's Faculty of Medicine, the McGill University Health Centre, the Jewish General Hospital and St. Mary's Hospital Center. The RCN's mission is to improve cancer care quality and the experience of individuals with cancer navigating the health care system. We do this by measuring and reporting on health care performance, driving quality improvement initiatives, funding research and education and connecting health professionals across the McGill network. #fundingexcellence #unitingcare
February 18 2020