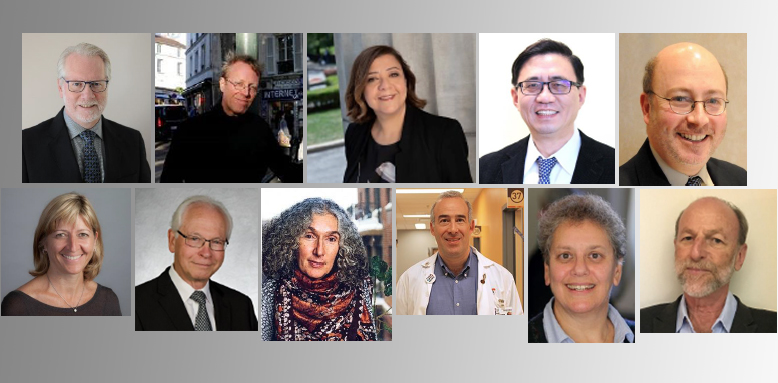 11 McGillians, representing the Faculties of Medicine and Dentistry, were among the 49 Canadians recognized for their leadership in the health sciences through their election as new Fellows of the Canadian Academy of Health Sciences (CAHS), one of the highest honours for individuals in the Canadian health sciences community. The new Fellows were formally inducted during a ceremony as part of the CAHS Annual Meeting on September 19 in Ottawa. Elections are based on a nominating and peer review process that seeks to recognize those who are marked by a record of substantial accomplishment.

The 11 newly elected Fellows from McGill are:

Charles Bourque
: Dr. Charles Bourque is a Professor of Neurology and Neurosurgery at McGill University and a senior scientist in the Brain Repair and Integrative Neuroscience Program at the McGill University Health Centre. His team investigates the molecular and cellular mechanisms by which the brain monitors body hydration. Dr. Bourque has identified the mechanisms underlying osmoreception, revealed how the brain's central clock contributes to body fluid homeostatis, and showed how dietary salt can increase blood pressure by affecting the brain's osmoregulatory networks.
Alain Brunet:
Alain Brunet is a scientist-practitioner at the Douglas Institute and Professor of Psychiatry at McGill University. His research team was the first to show in a patient population that one could treat a psychiatric disorder by selectively blocking the reconsolidation of specific memories. The applications of this finding to date include the treatment of post-traumatic stress disorder, addiction, and adjustment disorders. This brief treatment method was taught as an emergency measure to 200 clinicians in France who, in turn, successfully treated hundreds of victims in the aftermath of the terrorist attacks that took place in Paris (2015) and Nice (2016).
Elham Emami
: Dr. Emami is a clinician-scientist, professor, and the first female Dean of the Faculty of Dentistry at McGill University. She has professional training in Prosthodontics, an MSc in Science, a PhD in Biomedical Sciences, and postdoctoral fellowships in Public Health and Epidemiology. Emami's interdisciplinary research program advances theoretical and practical knowledge with the goal of decreasing the burden of poor oral health in the Canadian population. Recipient of several career awards, she serves on various national and international executive, advisory and editorial boards, and has a strong track record of service to the community in the field of Dental Science
Zu-hua Gao
: Dr. Zu-hua Gao has been the Chair of Department of Pathology at McGill University and Chief of Pathology at McGill University Health Center since 2012. During his tenure, the department's academic performance and international reputation have excelled. Dr. Gao is recognized as an international authority in undergraduate, graduate and postgraduate medical education. He has edited 3 extremely popular textbooks; Clinical Skills Review, Gross morphology of Common Diseases and Pathology Review and Practice Guide. As a distinguished scientist in cancer and transplant immunology research, Dr. Gao has published 139 peer reviewed articles and received over 20 prestigious research awards.
Leonard Levin
: Leonard A. Levin, MD, PhD, FRCSC is Chair of Ophthalmology and Visual Sciences at McGill University. Dr. Levin's research is devoted to understanding how diseases of the optic nerve result in loss of connections between the eye and the brain, finding ways to prevent and reverse that damage, and translating those findings to treating people with eye disease. He also addresses the challenges associated with bridging the gap between what is discovered in the laboratory and what is effective in patients, and is developing novel techniques for solving this problem.
Carmen Loiselle
: Dr. Carmen G. Loiselle, (Ph.D., Nursing & Psychology) is Full Professor in the Faculty of Medicine at McGill University. She holds a Research Chair in psychosocial oncology, is CoDirector (Academic) of the Segal Cancer Centre and Scientific Director at Hope & Cope. An internationally recognized expert in person-centred cancer care, she has received over $43 million in research funding and has published 140 scientific works. An exceptional and generous mentor to trainees and colleagues, she led a 12-year CIHR-funded research training initiative in psychosocial oncology that provided stipends for promising trainees pursuing transdisciplinary cancer research at six participating Canadian Universities.
Errol B. Marliss
: Dr. Marliss is an exemplary, widely-collaborative MD clinician-scientist in the areas of obesity and diabetes. His group is internationally recognized for showing that abnormal protein metabolism in these diseases accompanies that of glucose, and how to correct it. An amino acid "metabolomic signature" in these states predicts diabetes risk. Brain research during a weight reduction diet identified signals associated with success. A rat type 1 diabetes syndrome he discovered gave insights into the human disease. He has been a dedicated physician, nutrition teacher, committee member, and exceptional mentor to many trainees and junior faculty, most of whom became successful academics.
Cécile Rousseau:
After medical school, as a young family doctor, Cécile Rousseau worked with Mayan communities in the war torn Guatemala. Her subsequent clinical and research career has been dedicated to understand, and prevent the effects of organized violence on children, families and communities. She focused first on refugee mental health, uncovering the complex interactions between pre-migratory and post-migratory factors through numerous studies; she confirmed the pertinence of eco-systemic approaches for refugee care, which led her to develop school-based prevention programs for refugee children. Consulting to governments, she presently implements clinical and prevention programs to address the sensitive issue of violent radicalization
Kevin Schwartzman
: Dr. Kevin Schwartzman is Director of the Respiratory Division at McGill University. He is Chair-Elect of the Tuberculosis Section of the International Union Against Tuberculosis and Lung Disease. He is a clinician-investigator and awardwinning educator (Canadian Association for Medical Education). His research assesses the impact and costeffectiveness of public health programs combating and preventing tuberculosis, in Canada and abroad.
Linda Snell:
Linda Snell is Professor of Medicine & Core Faculty, Centre for Medical Education, McGill University, and Senior Clinician Educator at the Royal College of Physicians and Surgeons of Canada. She is active in teaching, education leadership and education research, and has served in education and clinical leadership roles at McGill, nationally and internationally. She has been an invited speaker in medical education across Canada and worldwide. Her current interests include: competency-based education; advanced training for clinician-educators; teaching & assessing the CanMEDS competencies, particularly Professional, Leader and Scholar; leadership in medical education; and education scholarship. Dr Snell practices general internal medicine.
 Howard Steiger:
Dr. Howard Steiger directs Quebec's only large-scale, specialized eating-disorders program—the Douglas Institute Eating Disorders Continuum (EDC). Under his leadership, the EDC has earned regional, national and international recognition for its clinical services, research and teaching. Responsible for 170 articles and chapters, Dr. Steiger is Associate Editor of the Journal of Eating Disorders, has served as Co-President of Quebec's "Body Image Charter" (CHIC), and has occupied leadership roles in all main international associations concerned with Eating Disorders. Through his research and advocacy work, Dr. Steiger has had a global influence upon theory, policy and practice in the Eating Disorders field.
Congratulations to all the new Fellows!

 With files from the Canadian Academy of Health Sciences
September 20, 2019