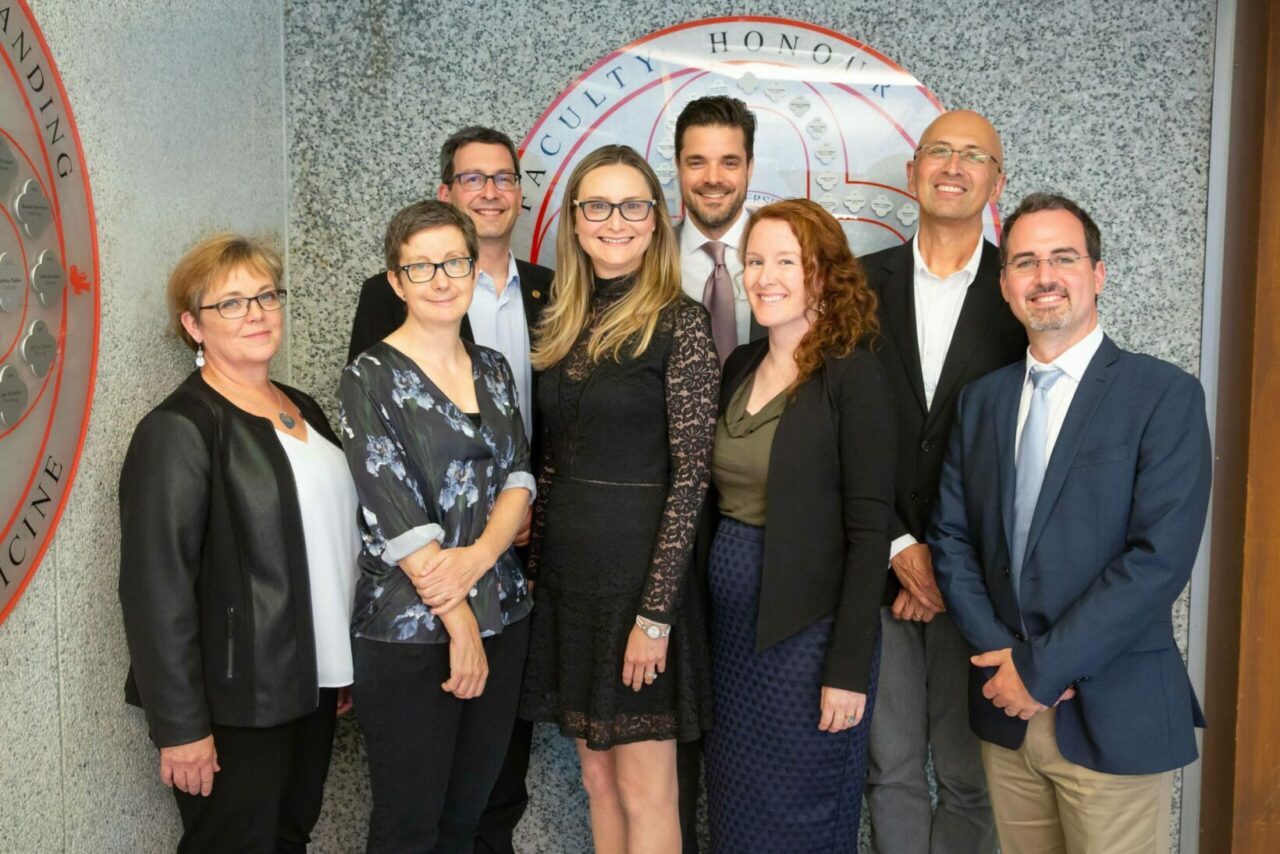 By Philip Fine

Dr. Mark Smilovitch remembers an event that helped shape him as a physician and clinical teacher. As a cardiac resident he had been asked to examine a patient who had recently undergone bypass surgery. He presented to his clinical supervisor what he thought was a complete picture of the patient. He was then asked a simple question: "Do you know what this man does for a living?" The young resident went back to the patient and found out the man worked at a zoo and regularly carried 50-pound bags of food to feed the elephants. The patient suddenly opened up, talking about how worried he was about keeping his job.

Today, Smilovitch sees the value of that question about the man's occupation. "It was a window to better understand. And it was a lesson: that you have to get to know the patient as a person."

The cardiologist, Associate Professor in the Department of Medicine and member of the McGill Programs in Whole Person Care, is one of eight people named to the Faculty Honour List for Educational Excellence for 2018-2019. The list recognizes outstanding contributions to education in the areas of teaching, educational leadership and innovation, faculty development and research and scholarly activity in the Faculty of Medicine.

The recognition for Smilovitch's work is due in part to his years integrating the role of healer in the MDCM curriculum.

Dr. Samantha Gruenheid's award recognizes how, among other things, she has introduced undergraduate students to independent research. An Associate Professor in the Department of Microbiology and Immunology and a primary member of the McGill University Research Centre on Complex Traits, her Small World Initiative thrusts young scientists onto an international stage and now involves over 50 partners. The initiative, which was inspired by a similar program at Yale University, tackles the worldwide problem of antibiotic resistance. It has students designing their own strategies to isolate and identify bacteria that exhibit antibiotic activity. "They have so much more ownership. I hear them say 'my bacteria' and 'my antibiotic.' Instead of telling them what they need to know, we're guiding them to discover it."

The eight recipients regularly receive positive classroom comments. For Dr. Bernadette Nedelec, who has been a professor at the School of Physical and Occupational Therapy since 1997, her  students, in their feedback forms, call her 'amazing', 'dedicated', 'passionate', 'knowledgeable', 'inspiring', and 'caring'

Those kinds of descriptors were on full display during the introductions by Associate Dean of Faculty Development Dr. Miriam Boillat, who hosted the June 14 ceremony celebrating the accomplishments of the eight honour list members.  In her opening remarks Dr. Annette Majnemer, Vice Dean, Education, thanked recipients for their "passion, dedication and responsiveness to our learners' needs."

Speaking to Med E-News afterward, award recipient Dr. Armand Aalamian, Associate Dean, Postgraduate Medical Education, also paid tribute to the group. "Today's presentations are a celebration of how collectively we honour medical education and approach it from the heart," adding that there were many examples of innovation among his fellow awardees.

That sense of innovation has been present in the work of Dr. Geoffroy Noel, Director, Division of Anatomical Sciences, Department of Anatomy & Cell Biology and Dr. Mirko Gilardino, Associate Professor in the Department of Surgery, Division of Plastic and Reconstructive Surgery. Noel brought in innovative teaching tools, from printed t-shirts to 3-D models, while Gilardino made important contributions to the Virtual Patient program for teaching trauma to medical students.

Dr. Audrey Juras, Director of Faculty Development in the Department of Family Medicine, developed curriculum that was implemented in McGill projects in Shenzhen, China and Sao Paolo, Brazil. She gave a shout-out to what she sees as the first large-scale distance learning program, Sesame Street. "I grew up in a white, working-class neighbourhood. And here were people who were white, black, Hispanic, young and old," she says, adding that the Sesame Workshop's principles of making kids smarter, stronger and kinder, are as good as any she's seen.

Kelly Root, Assistant Professor at the School of Communication Sciences and Disorders, was recognized for her outreach in working with aphasia patients, forging speech pathology connections with the Cree Health Board and for helping students at risk of failing their internships. She has also been helping implement a competency-based curriculum at the School. She likens her taking on new projects to an improv performer who has to greet every new concept with enthusiasm in order for it to really fly.

That enthusiasm, from all the award recipients, seems to have been reciprocated by the judges, those who nominated them and the people in attendance that night.

Congratulations to all!