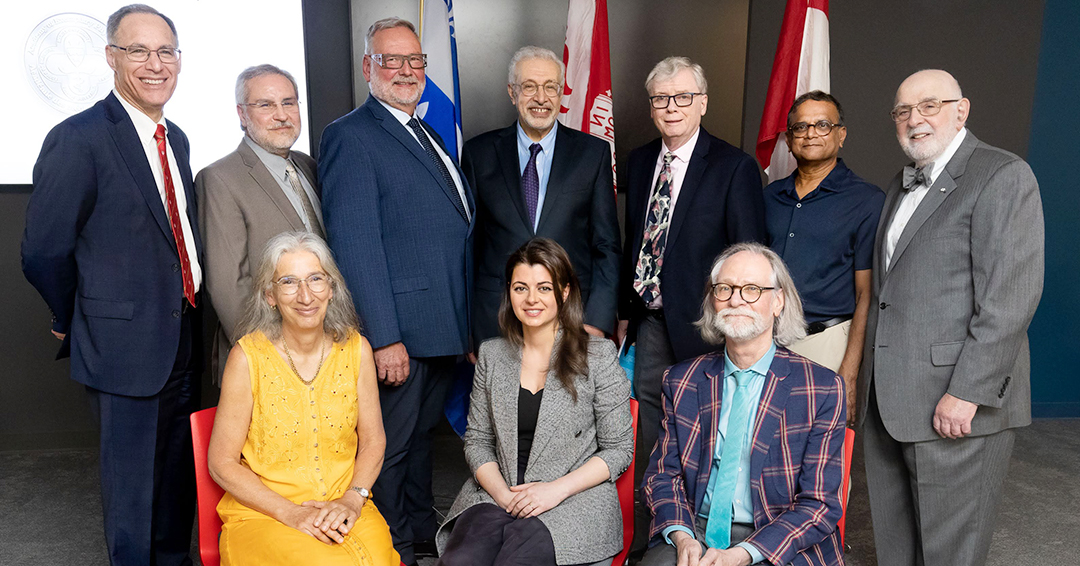 The physicians are the first to enter the new Academy, which celebrates doctors within the School of Medicine and McGill academic health network who are role models for peers and trainees 
Eight excellent doctors were honoured for their inspirational clinical work at McGill University's inaugural  Academy of Exemplary Physicians ceremony on June 15, 2023.  
The physicians are the first laureates of the Academy, a new initiative that recognizes and celebrates doctors within the Faculty of Medicine and Health Sciences' School of Medicine and the McGill academic health network who are role models for their peers and trainees.  
Hosting the ceremony, David Eidelman, MDCM, Vice-Principal (Health Affairs) and Dean of the Faculty of Medicine and Health Sciences, said the Academy "forms a platform for the 'transfer of knowledge' from each generation of students, trainees and colleagues to the next, so that we can build on our collective knowledge to ensure the best possible care for our patients."  
"It gives the Faculty the opportunity to promote the value McGill accords to clinical excellence, together with educational and research excellence, so that our students and trainees always strive for this, too," he added. 
Dr. Eidelman also expressed the Faculty's deep gratitude to "a person who strongly believes in the transfer of knowledge," whose anonymous gift to the Faculty made the establishment of the Academy possible.  
People eligible for nomination to the Academy are active physicians who hold an appointment in a clinical department and commit at least 50% of their time to clinical work.  
They must also possess clinical expertise (e.g. by demonstrating highly skilled clinical acumen, developing innovative clinical methods, exemplifying a scholarly approach to patient care, etc.) and exemplary physician attributes (e.g. by prioritizing a respectful care environment, exemplifying a masterly professionalism, demonstrating compassion and ethical presence, advocating for patients and the community, etc.) 
The physicians who were nominated by their departments and entered the Academy in 2023 are:  
David Bloom, MD, Assistant Professor, Department of Psychiatry 
David Dawson, MDCM, Associate Professor, Department of Medicine 
Nayla Gosselin-Papadopoulos, MDCM, Course Director, Campus Outaouais, Orthopedic Surgery 
Srinivasan Krishnamurthy, MD, Associate Professor and Vice-Chair of Education, Department of Obstetrics & Gynecology 
Francisco Noya, MD, Associate Professor, Department of Pediatrics 
Hélène Rousseau, MD, Department of Family Medicine 
George Shenouda, MBBCh, PhD, Associate Professor, Gerald Bronfman Department of Oncology 
Robert Turcotte, MD, Professor, Department of Surgery 
Philosophies of clinical excellence  
At the ceremony, each Exemplary Physician received a lapel pin to indicate their membership in the Academy and an autographed copy of The Language of Medicine by Abe Fuks, MDCM, Professor in the Department of Medicine and the Gerald Bronfman Department of Oncology. The laureates also presented a summation of their philosophy of clinical work. 
Dr. Gosselin-Papadopoulous said her vision was inspired by wisdom shared by her parents. "They told me, 'Nayla, when you do something, do it with love'," she recalled. 
"That's what I try to follow in everything I do, whether it's teaching or caring for my patients. I try to remind myself that I worked hard to become a physician, but being a physician is also a privilege, and I want to honour that every day." 
Dr. Rousseau told guests: "I think that within each and every one of us in the room, there is a seed to become an exemplary physician. I think that it's a passion that we can transmit to our learners." 
She also noted that being an exemplary physician also involves "caring for colleagues, whether they be physicians, trainees, nurses, the person who washes the floor and allows me to do what I can. If they are not there, I can't do my job." 
Later, Dr. Shenouda emphasized the importance of recognizing that each and every patient is a "specific and unique person".  
"We have to talk to them so they can listen to us. But more importantly, we have to listen to them so they can talk." 
Celebrating generosity, compassion and evidence-based care  
During the ceremony, attendees heard a selection of quotes from each inductee's nominators and supporters. Here are a few that were shared: 
"One of [Dr. Bloom's] most remarkable qualities is his generosity…He established a housing fund with a portion of his clinical earnings and other funds to help patients return to the community…" 
"What we were witnessing was much more than history taking but a masterpiece in effective and compassionate communication. Not only did [Dr. Dawson] gather all the clinically relevant information but did so, while making the patient feel whole, respected and understood." 
"Dr. Gosselin-Papadopoulos has also attracted attention in the past year for her avant-garde spirit, when she performed the first talus implantation in Quebec using a prosthesis that she custom-designed for her patient, based on their medical images." 
"One of [Dr. Krishnamurthy's] rarest qualities is his ability to sincerely take pleasure in the successes of those around him, despite his own admirable accomplishments. He embodies the sentiment that one doctor's success is the department's and patients' success." 
"For every consult, [Dr. Noya's] recommendations are evidence-based, and he has such a kind demeanour in interacting with colleagues, peers and, most importantly, with his patients." 
"Dr. Rousseau was instrumental in the opening and functioning of the very first La Maison Bleue in Cote-des-Neiges…dedicating herself to the care of the most vulnerable pregnant women." 
"In the academic medicine ecosystem at McGill…Dr. Shenouda is a calming voice, a dignified leader, and an inspiring colleague and friend." 
"Dr. Turcotte has brought recognition to McGill through leadership positions at the national and international levels. He has accomplished this while embodying clinical expertise and exemplary professionalism, compassion and advocacy for his patients across the province and the country." 
Congratulations to all the laureates! 
Related:
Dr. David Dawson honoured by Canadian Society of Internal Medicine 
MUHC opens Quebec's first multidisciplinary referral centre for endometriosis 
An innovative project for amputees: the arrival of osseointegration in Quebec