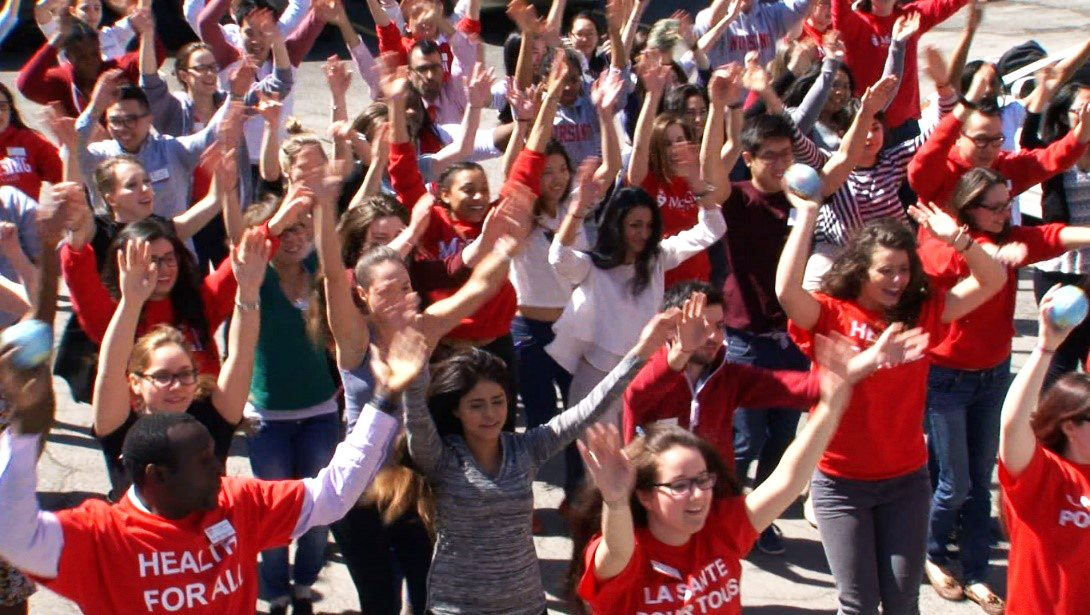 By Christina Kozakiewicz, Ingram School of Nursing

On World Health Day April 7, Jodi Tuck, like many of her nurse colleagues, will be celebrating the various ways nursing makes a difference in people's lives across the globe; in providing care, conducting research to drive evidenced-based practice forward, and effecting change in policy.

"Nurses work in hospitals across a wide range of domains, like pediatrics, or emergency care, but they also work in schools, government agencies, and penitentiaries, for example," says Tuck, faculty lecturer at McGill's Ingram School of Nursing (ISoN), Global and Indigenous Health Nursing (GAIHN) Co-Chair and in-house International Global Health lead. "Nurses advocate for health promotion, educate patients and the public on the prevention of illness and injury, and help families learn to become healthy by helping them understand the range of emotional, physical, mental and cultural experiences they encounter during health and illness."

World Health Day is an annual global health awareness day spearheaded by the World Health Organization (WHO) with the goal of drawing the world's attention to some of the major challenges and crises faced by communities around the world when it comes to health and health care delivery.

According to the WHO, of the world's 7.4 billion people and counting, half lack access to essential health services (e.g., vaccinations, pre- and post-natal care, etc.), and 100 million have been pushed into poverty due to health care costs.

Providing 90% of health care services in the world via a multitude of settings across the continuum of care, nurses play a crucial role in defining and in addressing global health challenges. This is a key reason why the ISoN is a proud member of the McGill Global Health community, which unites Interprofessional departments, schools and faculties across the University with the objective of addressing global health issues, working closely with Global Health Programs, directed by Dr. Madhukar Pai.

Specifically, the ISoN formally appointed GAIHN in 2015, as a unified front in overseeing all global health activities and initiatives within the School. GAIHN emphasizes that global health is about local and worldwide health improvement, reduction of disparities, recognizing the health disparities that exist for marginalized and vulnerable populations, including Indigenous peoples, persons in situations of homelessness and poverty, immigrant and refugee communities, and other populations experiencing health inequities.

"We created the name 'GAIHN' officially in 2015, but the activities and initiatives behind the name go back to 2002," says Tuck. "ISoN global health initiatives began before the term 'global health' was officially recognized." GAIHN was known first as the International advisory Committee under the directorship of Dr. Susan French, then transitioned to the Global Health committee in 2008 under the directorship of Dr. Hélène Ezer, and finally, evolving into GAIHN in 2015, under the Directorship of Dr. Anita Gagnon."

In tandem with GAIHN, the ISoN developed a Global Health Concentration in 2007, an enriched educational stream for globally conscious graduate nursing students, featuring curricula designed to prepare nurses for the challenges of working with diverse populations in limited resource environments. The philosophy driving the curricula stresses the importance of understanding the inherent power dynamics, equity issues and ethical dilemmas that arise through global health nursing work.

Over the years, ISoN Global Health Concentration students have been placed in designated partnership sites located in Montreal, Northern Quebec, Tanzania, Uganda, Kenya, Malawi, Thailand, India, Nepal, Haiti and Colombia. "At its core, when it comes to global health nursing, the concepts we want to instill in our students are that all humans should have access to health, security of person and many of the other rights many people in Canada enjoy so freely," says Tuck. "But I struggle with global health and international health being interchangeable terms in people's minds, because to me, the globe is under all of our feet. Inequality is inequality, regardless of geography."

To her point, Tuck works closely with ISoN assistant professor Francoise Filion, Local Global Health Co-Chair, who spearheads the ISoN's work with local communities, including looking at health inequities facing many Indigenous communities in Canada. The goal, as always, is to provide nursing education that underlines the importance of a holistic approach to community care, and incorporates the lived experience of groups and communities, the social determinants of health, cultural humility, and cultural safety.

"It takes a community to make Global Health education a reality at the ISoN," adds Tuck, referencing the many McGill Nursing faculty members who are engaged in Global Health teaching and research, from professor Franco Carnevale in the Algonquin communities of Rapid Lake and Winneway, Quebec, to professors Madeleine Buck and Lia Sanzone in the highlands of Tanzania, and many more.

"An important part of our role as educators is to make future nurses keenly aware of how health intersects with social, cultural, religious, political, gender and sexual  factors and experiences," says Tuck. "Nurses need to understand and integrate the reality of their patients in order to provide optimal care," she says.

On World Health Day—and every day—Tuck and her ISoN colleagues will continue to push for nurses to be recognized, celebrated and empowered to continue their important work in advocating for patients, but also, advocating for the profession itself, making nurses' voices heard, and their expertise valued in all the health systems in which they work.

"Nurses need to speak up more about concerns and solutions that they witness to accessing quality care," says Tuck. "We need to advance into leadership positions within provincial, national and international health organizations."

Visit www.mcgill.ca/nursing and follow on Facebook and Twitter for the latest news from the Ingram School of Nursing.

April 5, 2018