By Diane Weidner, Steinberg Centre for Simulation and Interactive Learning

"I was always interested in a surgical path within medicine because we get to intervene on patients in a meaningful way," says Dr. Marco Mascarella, a third-year resident in the Department of Otolaryngology—Head and Neck Surgery at McGill University.  He recently participated in a two-day McGill Temporal Bone Course at the Steinberg Centre for Simulation and Interactive Learning, working with cadaveric specimens under close supervision to augment his knowledge and skills in microscopic ear surgery.

Otolaryngologists are trained in the medical and surgical management and treatment of patients with diseases and disorders of the ear, nose, throat (ENT), and related structures of the head and neck.  In Canada, otolaryngologists complete a five-year residency program, and many go on to complete fellowships and subspecialty training to further develop their surgical skills and knowledge.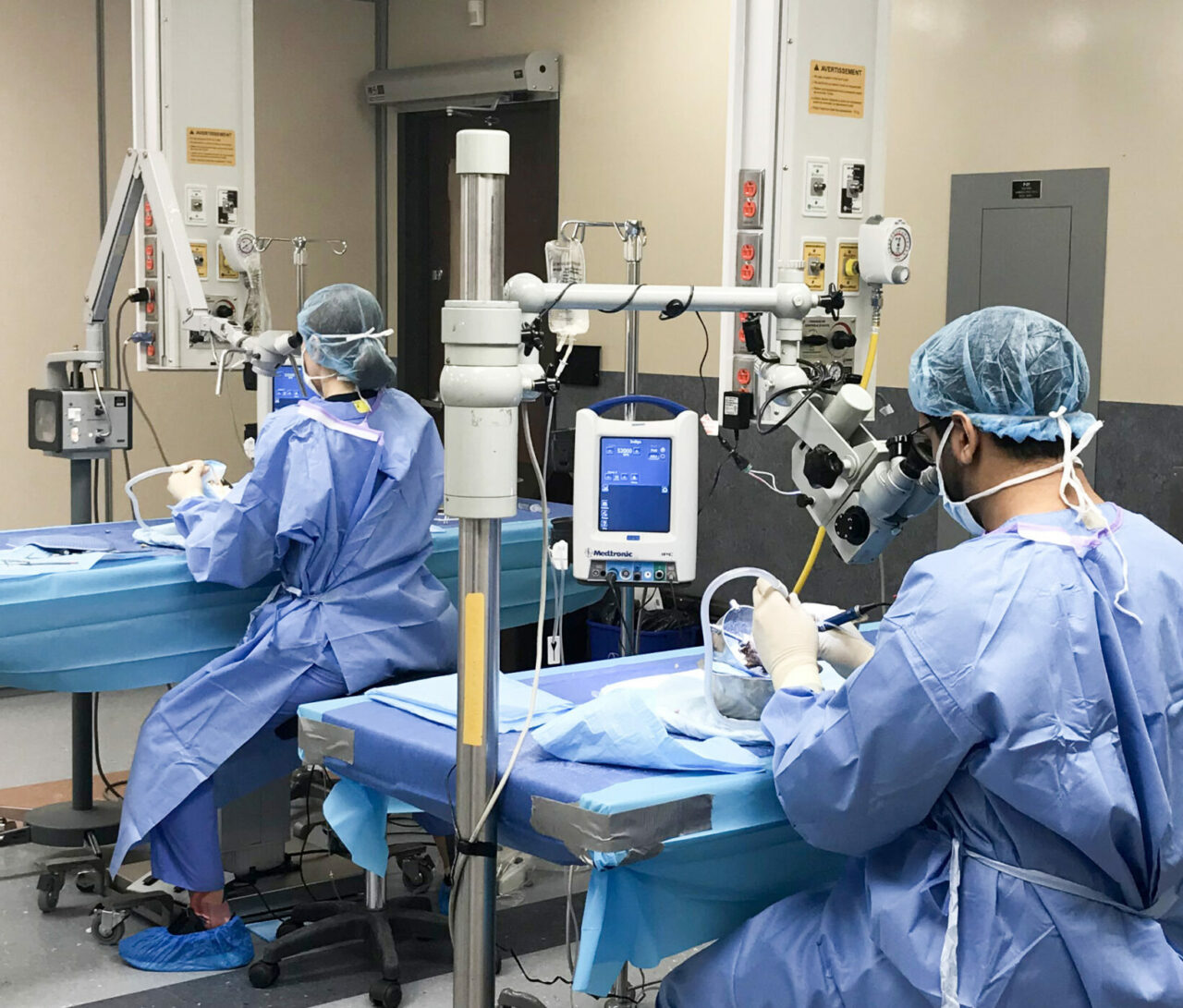 Learners take part in several simulation and cadaver workshops during their residency program training to develop their skills in a highly-immersive, technologically-advanced and safe environment. The primary objective of the Temporal Bone Course is to teach second- and third-year residents basic and advanced techniques of temporal bone dissection, as well as surgical indications and surgical techniques of the middle ear and temporal bone.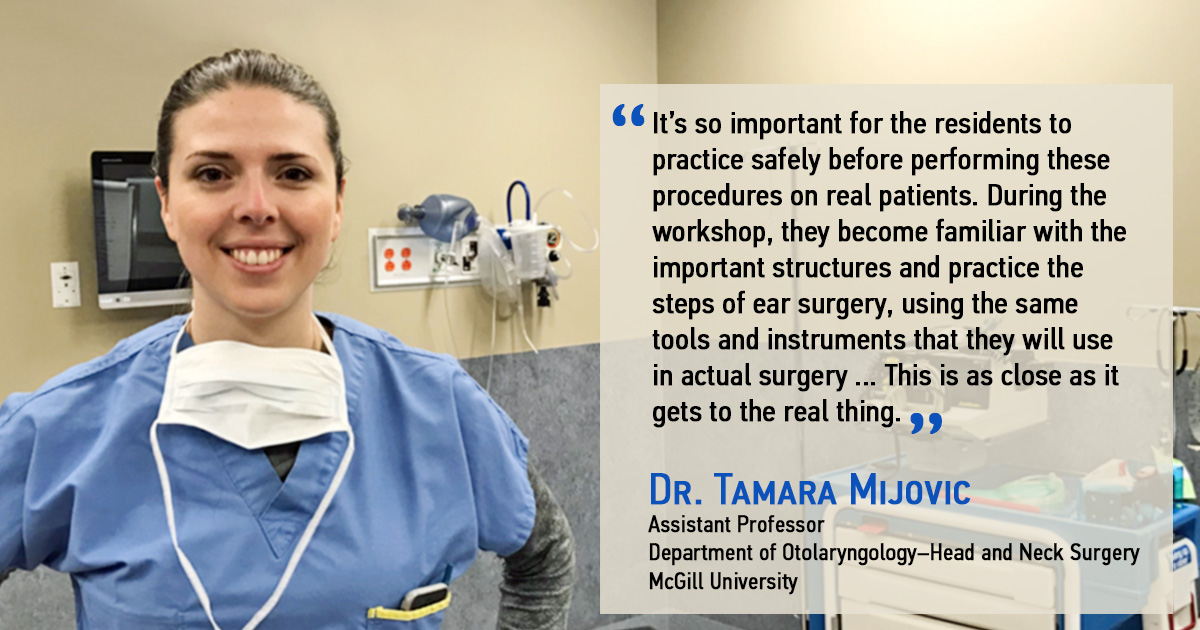 "It's so important for the residents to practice safely before performing these procedures on real patients," explains Dr. Tamara Mijovic, Assistant Professor in the McGill Department of Otolaryngology and organizer for this workshop.  "During the two-day workshop, they become familiar with the important structures and practice the steps of ear surgery, using the same tools and instruments that they will use in actual surgery. They need to know how it feels, to get familiar with the motions and develop muscle memory with the dissection and drilling. We are very fortunate to have industry sponsor support during this workshop. Medtronic brings in surgical drills and Southmedic lends us instrument sets for this workshops so that learners can practice using the same actual tools that they will be using in the OR.  Cochlear assists with sound processing implants, and we bring in the microscopes. McGill has a strong anatomy program and cadavers offer the most realistic simulation practice.  This is as close as it gets to the real thing."

There is a very high teacher-to-student ratio, allowing the residents to benefit from individual attention during the workshops.  McGill faculty members present included Drs. Tamara Mijovic, Jamie Rappaport, Robert Shapiro, and Robert Sweet. As well, Dr. Marc-Elie Nader from the University of Texas, Dr. Jane Lea from the University of British Columbia, and Dr. François Cloutier from the Pierre-Boucher Hospital were brought in to share their expertise.

"This workshop is really exciting for the residents, and it makes me more comfortable," says Dr. Mijovic. "It allows me to know what they know, and what they don't know.  When they come to the OR with me, I know what level they're at, and I can let them take on more responsibility."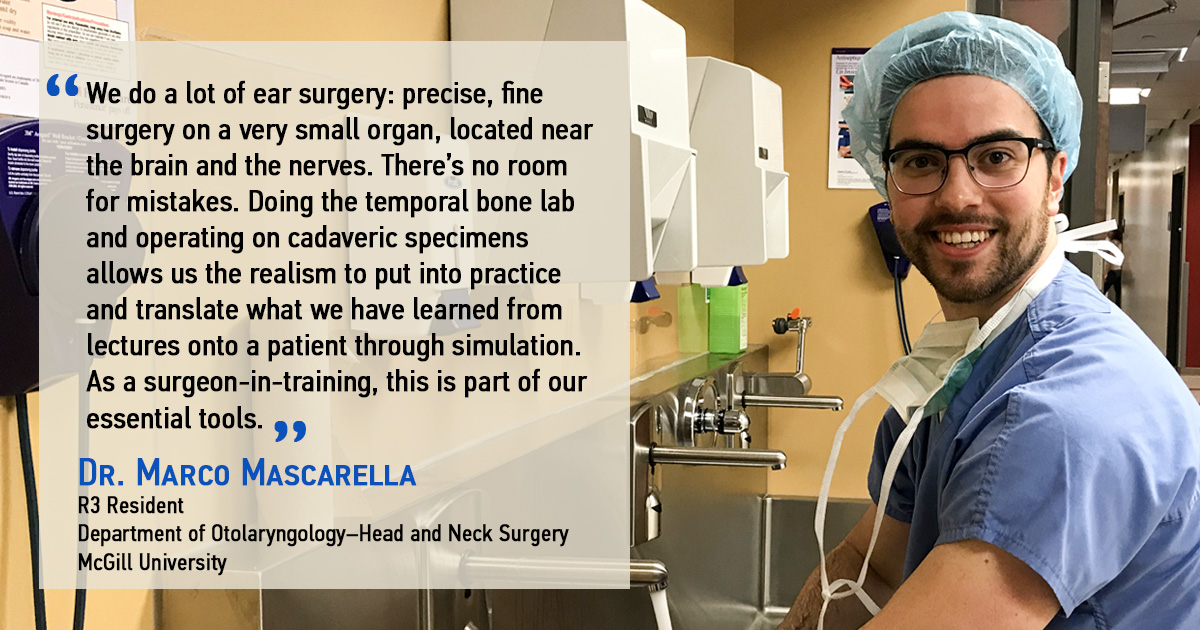 Dr. Marco Mascarella reflects on the value of this workshop: "In otolaryngology, we deal with the senses—hearing, voice, swallowing.  There are quality of life issues that we can often improve or fix through ear surgery.  This is precise, fine surgery on a very small organ, located near the brain and the nerves. There's no room for mistakes. Doing this lab and operating on cadaveric specimens allows us the realism to put into practice and translate what we have learned onto a patient through simulation.  As a surgeon-in-training, this is part of our essential tools. Honestly, it's fantastic."

February 19, 2018