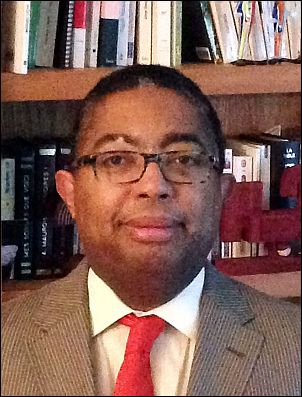 It is with great pleasure that we announce the appointment of Dr. Thierry Alcindor as the new Gastro-Intestinal Disease Site Lead for the Rossy Cancer Network (RCN) effective immediately.
The disease site teams are at the heart of the clinical focus of the RCN, bringing world-class best practices to the McGill-affiliated hospitals, while improving outcomes in cancer survival and quality of life.  Dr. Alcindor will lead one of the seven Disease Site Teams being put in place: breast, gastro-intestinal, genitourinary, gynecological, lung, malignant hematology, and head and neck.

These cross-institutional working groups will tackle a number of joint initiatives. The Gastro-Intestinal group will concentrate on integrating tumour boards, fostering the development of network-wide clinical guidelines, and will help define the needs of the RCN's IT infrastructure in order to measure treatment outcomes and drive improvement initiatives.

Dr. Alcindor obtained his medical degree at the Université d'État d'Haïti and is a graduate of the University of Oxford where he received his Master's degree in Experimental Therapeutics. After an Internal Medicine residency at the Yale-New Haven Medical Center (Yale University), he trained in Hematology/Oncology at the New England Medical Center (Tufts University). He is certified in internal medicine, hematology and medical oncology.

Since 2004, Dr. Alcindor has been practicing at the McGill University Health Centre (MUHC) where he specializes in gastrointestinal cancers and sarcomas. He is also an Associate Professor of Oncology and Medicine at McGill University. He chairs the Gastro-Intestinal and the Sarcoma Disease Sites in the Department of Oncology's Clinical Research Program that brings together medical, surgical and radiation oncologists from all the McGill affiliated hospitals.

Dr. Alcindor has been the institutional or national Principal Investigator of a number of NCIC-CTG clinical trials. He collaborates with many researchers in the McGill Academic Health Network while maintaining international research projects with cooperative groups. Involved in the creation of provincial and national guidelines on the management of digestive cancers, Dr. Alcindor keeps abreast of best practices and contributes to knowledge dissemination through teaching in the different McGill-affiliated hospitals.

His other academic activities include serving as a member of the internal scientific review committee for the Research Institute of the MUHC, as well as having been the medical oncology editor of Current Oncology, and having served on the peer review committee for the Canadian Institutes of Health Research.

Dr.  Alcindor's experience makes him well suited to be the Gastro-Intestinal Disease Site Lead for the Rossy Cancer Network. Please join us in wishing him much success in his new RCN leadership role.

Sincerely,

Wilson H. Miller, Jr., MD, PhD

Clinical Lead
Rossy Cancer Network

December 9, 2014