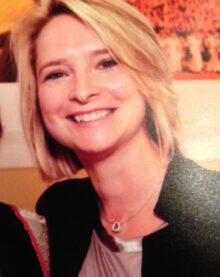 By Yasmine Elmir

Dr. Tamara Carver followed an unusual path to the Department of Family Medicine at McGill University. She completed her Bachelor's and Master's degrees at Concordia University in the Department of Exercise Science, specializing in clinical exercise physiology. After earning her PhD from McGill's Faculty of Education in 2014, she was presented with an opportunity to do her postdoctoral studies in the Department of Family Medicine. Six years later, she is the Education Lead of the Family Medicine Innovations in Learning (FMIL) Program and an Assistant Professor in the Department.

"I was initially interested in obesity in Indigenous communities for my postdoctoral fellowship, and I did not want to leave Montreal," explains Dr. Carver. Trying to determine her next step, she met Dr. Gillian Bartlett, former Graduate Programs and Research Director in the Department of Family Medicine. "Dr. Bartlett brought me in for a project for my postdoc." Dr. Carver began developing online learning, something she had never done before. "I reached out to Teaching and Learning Services (TLS) at McGill for help." She was trained by the TLS team weekly. "I brought my new set of skills back to the Department of Family Medicine and then it just developed more and more." In 2017, Dr. Carver was certified as an instructional designer, which was key to creating the FMIL program that same year, designed to promote innovation in teaching, learning and curriculum design by creating forward-thinking, interactive approaches to education and leadership in family medicine and primary care at McGill, in Quebec and around the world. The Department began offering blended-learning courses for Graduate Programs, and eventually for Faculty Development and International Programs in China and Brazil. "I had the joy of working with Dr. Audrey Juras, the former Director of Faculty Development in our Department, to design and develop this important and innovative curriculum."

"The existence of TLS and their service of training people on education technology is one of the reasons FMIL came to be. Otherwise, I would not have learned how to do this," says Dr. Carver. "I love my work and I love the incredible people I get to collaborate with. I feel blessed to have discovered a career that mixes my passions for teaching and communications with my love for technology." Dr. Carver attributes the on-going success of FMIL to the team in the Department of Family Medicine: Dr. Howard Bergman, Ms. Rachel Simmons, Ms. Devon McIntyre, Mr. Dylan Sheper and Ms. Manxi Guo. "This team makes the work possible and we sure have fun doing it."
FMIL's teaching initiatives during the coronavirus outbreak

When the COVID-19 pandemic began, the FMIL team quickly stepped in to play an important role. "It was very clear from the beginning that the need would be highest for the clinical teachers, these are the people that are on the frontline," explains Dr. Carver. The FMIL team, in collaboration with Dr. Catherine Jarvis, Director of Faculty Development, created a platform using myCourses, 'Teaching Support and Resources during COVID-19 Pandemic' to learn about teaching and medical resources, as well as telemedicine. "The clinical teachers have maybe never done this before, and in a few days, they would be asked to do so." Within this platform, teachers have access to the online module on telemedicine basics, created by Dr. Jarvis, Dr. Mylene Arseneault and Dr. Barbara Evans. "They worked with my amazing team, and in a matter of days, the online module was produced." The platform also has resources on physician wellness and aims to provide support, through online discussion forums, for clinical teachers as they face the challenging task of treating patients and being a teacher during a pandemic. "My greatest passion is to help our clinical teachers. We have the skill sets to maybe make their lives a little easier in this very scary time," adds Dr. Carver. "By using technology and innovation, we are able to use everybody's home as recording studios."

In addition, FMIL worked with Dr. Rob Carlin, the Postgraduate Education Assistant Program Director to develop the 'Academic Half-Day for Residents' course where residents have access to newly produced online modules. "This has been another exciting challenge and opportunity for my team to work with clinical teachers by providing training so that presenters could turn their presentations into an online format." In the 'Teaching Online' module, Dr. Carver's team added TLS links and also created several videos demonstrating how to record using PowerPoint, how to download Camtasia, and how to use Camtasia and Zoom to record yourself.  After creating their videos, teachers can send them back to FMIL for editing purposes. "We e-meet with every presenter and walk them through the steps to make sure they are comfortable with the technology. It is exciting."

The 'Teaching Online' module and the support from her team has also benefited Graduate Programs in the Department of Family Medicine. FMIL assisted with ensuring that the courses during the Winter 2020 semester programs were completed on time, as well as with resolving any challenges relating to the launch of the online Summer 2020 courses. Requests are handled on an individual basis from each professor; some will simply offer advice on how to use Zoom to lecture or host discussions with a small group, while others may want to know how to screen record and prepare lectures to be posted on myCourses. "We also need to plan ahead for the Fall 2020 semester in the event that it needs to be completed remotely," highlights Dr. Carver. "This is an exciting opportunity to design innovative and engaging courses using education technology so that students can complete their studies without interruption," she adds.

Dr. Carver tries to look at the silver lining in such a difficult time. "I think the part that touches me the most is how in a crisis like this, everybody comes together very quickly to help. To me, it is about the connection with people. Despite the fact that we are not physically seeing each other, we can do so much virtually. While working on all these projects I know I have made new and deeper connections with so many of my colleagues."
April 22 2020