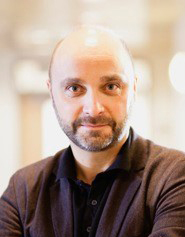 We are pleased to announce the appointment of Dr. Sylvain Baillet to the position of Associate Dean, Research, Faculty of Medicine, McGill University. Dr. Baillet takes over from Dr. Shari Baum, who was recently appointed Vice-Dean, Life Sciences. We would like to take this opportunity to thank Dr. Baum for her leadership as Associate Dean, Research, a role she fulfilled with distinction from 2014, establishing the conditions for high standards of productivity, creative thinking and service in research at the Faculty of Medicine.

Educated in France, Dr. Baillet obtained his MSc in Electrical Engineering & Applied Physics in 1994 from the École Normale Supérieure Paris-Saclay. In 1998 he completed his PhD summa cum laude in Physics at the Université Paris-Sud. Prior to joining McGill as an Associate Professor in Neurology and Neurosurgery in 2011, Dr. Baillet held academic and research posts in France and the United States. Dr. Baillet was promoted to Full Professor in 2014.

Dr. Baillet's research centres on the development of brain imaging methods and quantitative electrophysiology, with an emphasis on magnetoencephalography (MEG), an imaging tool used to map brain activity at the millisecond scale. MEG's primary applications are in systems and cognitive neuroscience research and, in the clinical setting, to evaluate brain functions before neurosurgery. A co-author of 300 publications, Dr. Baillet is also committed to the promotion of Open Science practices and the development and dissemination of open source resources for data analytics and repositories. He co-founded the Brainstorm software project for multimodal brain electrophysiology and imaging, which grew to a community of 21,000 users worldwide. In 2015 he led a Quebec Bioimaging Network strategic initiative to create the Open MEG Archives (OMEGA), the world's first open-access repository of MEG data.

Dr. Baillet founded the MEG Imaging Core at the McConnell Brain Imaging Centre of the Montreal Neurological Institute when he first arrived at McGill in 2011 and has been its Director ever since. He also served as Director of the McConnell Brain Imaging Centre from 2013 to 2017. Dr. Baillet holds a Tier 1 Canada Research Chair in Neural Dynamics of Brain Systems and has received numerous awards over the course of his career. He has trained and mentored more than 100 students and post-doctoral fellows, many of whom have gone on to high-profile appointments in academic institutions or biotech companies around the world.

As Associate Dean, Research, Dr. Baillet will be responsible for overseeing all aspects of research administration in the Faculty of Medicine, including developing and applying research policies. Working under the general guidance of the Vice-Dean, Life Sciences, Dr. Baillet will develop a strategic research plan, perform annual reviews of the Faculty's research centres and core facilities, and oversee budgets, funding, sponsorship and international collaboration MOUs related to the Faculty's research mandate.

Please join us in wishing Dr. Baillet the greatest success in his new role.
Dr. David Eidelman


Vice-Principal (Health Affairs)


Dean of the Faculty of Medicine

Dr. Lesley Fellows


Vice-Dean, Academic Affairs
March 12, 2019