Dr. Robbins will begin his mandate as Director of the Lady Davis Institute in January 2021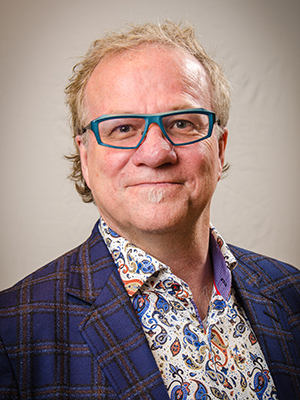 By Tod Hoffman, Research Communications Officer, Lady Davis Institute
On August 20, Dr. Lawrence Rosenberg, President and CEO of CIUSSS West- Central Montreal, announced the appointment of Dr. Stephen Robbins as Director of the Lady Davis Institute for Medical Research (LDI) at the Jewish General Hospital (JGH) in January 2021. Dr. Robbins also becomes a Professor in McGill University's Gerald Bronfman Department of Oncology, as well as an Associate Member in McGill's Department of Medicine. He will also hold the Glaxo Smith Kline Chair in Pharmacology at McGill.
"Dr. Robbins is a proven strategic leader and a renowned scientist with an established national and international reputation, and we are confident that he will enhance the LDI's already strong position as a leading Canadian biomedical research centre," said Dr. Rosenberg, who chaired the search committee.
"His career has spanned several interests, including immunology, genetics and cancer, which is particularly relevant, given that the LDI is home to more than 200 diverse scientists operating under four axes: cancer, epidemiology, molecular and regenerative medicine, and psychosocial aspects of disease."
Research focuses on pre-clinical testing for brain tumours, inflammation and metastasis
Since 2013, Dr. Robbins has served as the Scientific Director of the Institute of Cancer Research at the Canadian Institutes of Health Research. He has been at the University of Calgary since 1996, where he is Professor in the Departments of Oncology and Biochemistry & Molecular Biology at the Cummings School of Medicine. He currently leads a research program that focuses on pre-clinical testing for brain tumours, inflammation and metastasis.
"I look forward to joining the great research community at the Lady Davis Institute," said Dr. Robbins. "I am very honoured and humbled by the opportunity to lead this internationally recognized research institute with its strong history of research accomplishments, accolades and contributions to improving the health and well-being of people across Canada and beyond."
Dr. Robbins earned his Bachelor's degree in biology at York University in Toronto (1985) and his Ph.D. in microbiology and immunology from the University of British Columbia (1991). He pursued his post-doctoral work at the University of California at San Francisco (1991-1996) under Nobel laureate Dr. J. Michael Bishop. His previous leadership roles include Vice-Director (2007-2008) and Director (2009-2013) of the Southern Alberta Cancer Research Institute, and Associate Director, Research, of Alberta Health Services Cancer Care (2010-2013).
"A welcome addition to our strong roster of oncology specialists"
"We are so pleased that Dr. Robbins is joining our faculty," said Dr. David Eidelman, Vice-Principal (Health Affairs) and Dean of the Faculty of Medicine at McGill. "His research will flourish at McGill, and he is a welcome addition to our strong roster of oncology specialists."
Dr. Roderick McInnes, who has served with distinction as Director of the LDI since 2009, will continue in that role until the end of the year.
"Dr. McInnes has done an exceptional job over the past decade in reinvigorating scientific output at the LDI, recruiting a corps of dynamic young investigators, and streamlining the focus of the Institute's intellectual interests," said Dr. Rosenberg. "We are very grateful for his contributions, upon which we will continue to build for many years to come."
Since its founding in 1969, the LDI has been an integral part of the Jewish General Hospital, with strong academic links to McGill University. Its scientists are highly regarded for their cutting-edge work in basic, translational and clinical research, with a focus on bringing discoveries from the lab bench to the bedside for the benefit of patients.

August 24 2020