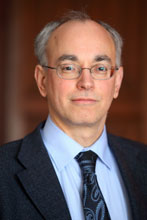 I am pleased to announce the re-appointment of Dr. Samuel Benaroya to the positions of Associate Vice-Principal and Vice-Dean of Health Affairs in the Faculty of Medicine at McGill University. Dr. Benaroya, recognized within McGill's health network for his collaborative leadership, continues to advance the Faculty's academic mission with distinction.

As Vice-Principal and Vice-Dean, Dr. Benaroya is a primary liaison with the health centres that make up McGill's hospital network on the Island of Montreal. These centres include the McGill University Health Centre (MUHC), the CIUSSS du Centre-Ouest-de-l'Île-de-Montréal and the CIUSSS de l'Ouest-de-l'Île-de-Montréal. In this role, he oversees and facilitates the integration of medical education in the clinical environment, in collaboration with Faculty leadership, the directors of professional services, and clinician and support staff on-site.

Dr. Benaroya is also responsible for coordination of the Réseau Universitaire Intégré de Santé (RUIS) McGill, a role he has expertly held for the past 15 years. RUIS McGill, created in 2003 by the Quebec government, facilitates health care delivery, teaching, research and technology assessment across seven Quebec regions. The RUIS McGill territory spans 63% of the province, from the west end of the Montérégie region to Nunavik.

In the context of RUIS McGill, Dr. Benaroya has also been instrumental in developing successful collaborations with the CISSS de l'Outaouais and its predecessors. McGill has been present in the region for more than 30 years, initially offering residency programs there, and then adding a medical clerkship program. At the request of the Quebec government, McGill is currently engaged in establishing a satellite Faculty of Medicine – Campus Outaouais – in the region, set to open in 2020.

Among Dr. Benaroya's many other leadership activities, he has been Chair of the Rossy Cancer Network Executive Committee –  a collaboration between McGill, the MUHC, the Jewish General Hospital and St. Mary's Hospital Center. He is also Chair of the University Affairs Committee for the CIUSSS de l'Ouest-de-l'Île-de-Montréal, in addition to being a member of its Board of Directors.

A two-time McGill graduate, Dr. Benaroya is an Associate Professor of Medicine and a staff physician in internal medicine at the Royal Victoria Hospital of the MUHC. In his new term as Associate Vice-Principal and Vice-Dean of Health Affairs, he will continue to oversee our collaborations with the McGill hospital network, as well as with the government agencies involved in health care, while providing expert and thoughtful council to the VP-Dean's Office and executive team.

Please join me in congratulating Dr. Benaroya on his re-appointment and in wishing him continued success.

Dr. David Eidelman, MDCM
Vice-Principal (Health Affairs)

Dean of the Faculty of Medicine

July 17 2019