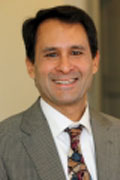 Dr. Saleem I. Razack received the 2012 Association of Faculties of Medicine of Canada May Cohen Gender Equity Award. The award serves to recognize outstanding effort or achievement of an individual, program, department or faculty in improving the gender equity environment in academic medicine in Canada.

Dr. Razack, Associate Professor of Pediatrics, Assistant Dean of Admissions, Equity and Diversity, in the Faculty of Medicine and a Core Faculty Member at the McGill Centre for Medical Education, represents the McGill Faculty of Medicine on the Special Resource Committee on Equity, Diversity and Gender for the Association of Faculties of Medicine of Canada. He has a particular interest in core competencies training, equity issues and social accountability in health professions education.

The award will be presented during the AFMC luncheon at the 2012 Canadian Conference on Medical Education on Tuesday, April 17th in Banff, Alberta.

To learn more about the AFMC awards, click here.

February 24, 2012