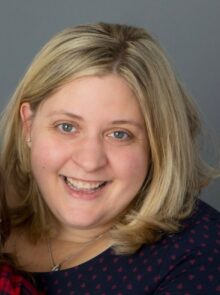 We are pleased to announce the appointment of Dr. Sabrina Fallavollita to the position of Assistant Dean, Undergraduate Medical Education (UGME), Faculty of Medicine and Health Sciences, McGill University.

Dr. Fallavollita is Assistant Professor in the Department of Medicine, McGill University and member of the Division of Rheumatology at the Jewish General Hospital (JGH). She has a wide range of experience with the UGME office and MDCM program and has served as the Transition to Clinical Practice (TCP) Component Director since July 2017. In that role, she has been responsible for ensuring the quality of educational experience in TCP and that TCP-relevant accreditation standards are maintained.

Since 2011, Dr. Fallavollita has served as JGH Site Director for the Rheumatology Program, where she is responsible for core residents and for co-coordinating Rheumatology electives and evaluations.

For the past several years, she has held various committee positions at McGill including serving as TCP Subcommittee Chair. She is a member of the MDCM Program Committee, UGME Operations Committee and the UGME Prize Nomination Subcommittee. She serves on several Undergraduate Education committees and is an academic advisor to the McGill Rheumatology Competency Committee.

Dr. Fallavollita graduated from McGill's MDCM Class in 2003, after which she completed Internal Medicine training at Queen's University in Kingston, and Rheumatology training at McGill. She obtained the Canadian Rheumatology Ultrasound Society (CRUS) Certification in Musculoskeletal Ultrasound in 2011, an area which is currently the main focus of her research activity.

As Assistant Dean, UGME, Dr. Fallavollita will report to the Associate Dean, UGME, assisting in the development, implementation and delivery of the undergraduate medical education program. In addition to helping create policies and procedures which ensure the quality of MDCM students' educational experience, Dr. Fallavollita will provide academic support for myMDCM and work with internal and external stakeholders on the UGME Program. She will continue her committee work as a member ex-officio of the MDCM Program Committee, the UGME Operations Committee, and will also chair the UGME Prize Nominating Subcommittee.

Please join us in thanking Dr. Fallavollita for taking on this new role and in wishing her every success.

Dr. David Eidelman

Vice-Principal (Health Affairs)

Dean of the Faculty of Medicine & Health Sciences

Dr. Mélanie Mondou

Associate Dean

Undergraduate Medical Education
February 4, 2021