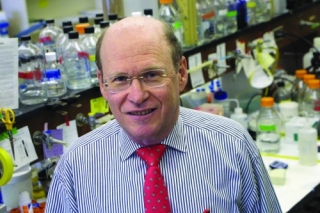 Dr. Nahum Sonenberg, a James McGill Professor in the Department of Biochemistry,was elected a Fellow of the American Association for the Advancement of Science (AAAS). Dr. Sonenberg was honoured for "major contributions in the field of protein synthesis, identifying components of the translation pathway and elucidating their mechanisms of action."

In October 2012, the AAAS Council elected 701 members as Fellows of AAAS. These individuals will be recognized for their contributions to science and technology at the Fellows Forum to be held on 16 February 2013 during the AAAS Annual Meeting in Boston, Massachusetts. The new Fellows will receive a certificate and a blue and gold rosette as a symbol of their distinguished accomplishments.

Election as a Fellow of AAAS is an honour bestowed upon members by their peers. Fellows are recognized for meritorious efforts to advance science or its applications.

See the list of new fellows elected in 2012.

Read more about this story on McGill Reporter

December 12, 2012