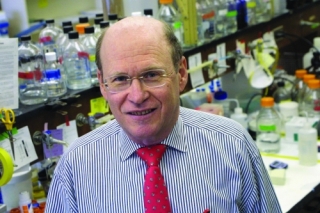 Dr Nahum Sonenberg, professeur titulaire de la Chaire James McGill au Département de biochimie, a été élu Membre de l'American Association for the Advancement of Science (AAAS). Le Dr Sonenberg a reçu cette distinction pour "ses nombreuses contributions dans le domaine de la protéinogénèse."

En octobre 2012, le Conseil a élu 701 personnes à titre de Membres de l'AAAS. Ces personnes seront reconnues pour leurs contributions à la science et à la technologie au Fellows Forum qui se tiendra le 16 février 2013 lors de la réunion annuelle de l'AAAS à Boston, Massachusetts. Les nouveaux membres recevront un certificat et une rosette bleue et or comme symbole de leurs réalisations remarquables.

Le titre de membre de l'AAAS est accordé par les pairs. Les membres sont ainsi reconnus pour leurs efforts de grand mérite afin de faire progresser la science ou ses applications.

Voir la liste des nouveaux membres élus en 2012.

Ppoursuivre la lecture de cet article, cliquez ici (McGill Reporter)

12 decembre 2012