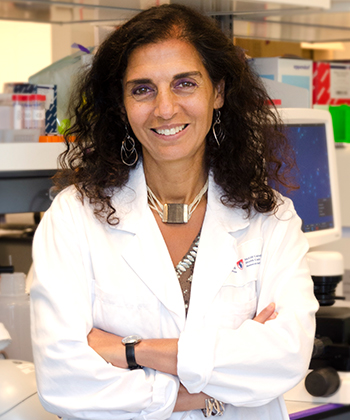 Source: University of British Columbia

Dr. Nada Jabado, Professor in the Department of Pediatrics and Human Genetics at McGill University, is among the four leading Canadian scientists in heart, brain and cancer research recognized this week by UBC's Faculty of Medicine for their scientific accomplishments, and for their potential to make further contributions in their fields.

Dr. Jabado, who is also a researcher at the Research Institute of the McGill University Health Centre (RI-MUHC), is the recipient of the seventh annual Dr. Chew Wei Memorial Prize in Cancer Research for her transformational work in treating childhood brain cancers.

"It is a great honour and a humbling experience to receive this prize," says Dr. Jabado. "Dr Chew was committed to improving outcome for cancer patients. This is what drives our daily efforts in our studies on childhood cancers at McGill and the MUHC."

The prize is valued at $50,000, making it among the most prestigious honours bestowed by a Canadian university. The recipients were chosen by a committee of international experts chaired by Dr. Robert McMaster, Vice Dean, Research, and Dr. Deborah Money, former Executive Vice Dean at the Faculty of Medicine.

Dr. Jabado is an international leader in the field of childhood brain cancers. A hematologist, oncologist and geneticist, her work has significantly advanced our understanding and treatment of astrocytomas – a deadly group of brain tumours.

Dr. Jabado's revolutionary discoveries of genetic and molecular differences between childhood and adult brain tumours and the identification of a new molecular mechanism, namely histone mutations in human disease, have accelerated new and personalized treatment options that improve the lives of many children with cancer. Dr. Jabado's research also focuses on translating her findings to better engage with children, parents and health care professionals about their condition and best therapeutic options.

Dr. Jabado received her medical degree and doctorate in immunology from the Université de Paris VI and completed her postdoctoral fellowship at McGill University. She has been recognized with several awards and distinctions, including the Atena Prize, the Canadian Gene Cure Foundation's Champions of Genetics award, the Maude Abbott Prize, and the Canadian Cancer Society William E. Rawls Prize. She was inducted into the Royal Society of Canada and the Canadian Academy of Health Sciences and has been recognized by the World Health Organization (WHO), which revised its classification of central nervous system tumours as a result of her work.

A dedicated clinician-scientist, Dr. Jabado has devoted her career to patient care and understanding the mechanisms of fatal pediatric cancers to improve lives and outcomes. As an independent investigator, she has published over 160 peer reviewed papers several of which are in high-impact journals, including Nature, Nature Genetics, and Cancer Cell and continues to inspire and teach fellow scientists, health professionals, families and donors through her work and speaking events.

The Dr. Chew Wei Memorial Prize in Cancer Research is named for a Hong Kong physician who retired to Vancouver in 1988. An obstetrician and gynecologist, Dr. Chew grew determined to improve outcomes for people with cancer. After his death in 2009, his family and friends sought to honour his goals by endowing a Faculty of Medicine prize in cancer research, as well as a chair and a professorship in gynecologic oncology.

Congratulations Dr. Jabado!

October 8, 2020