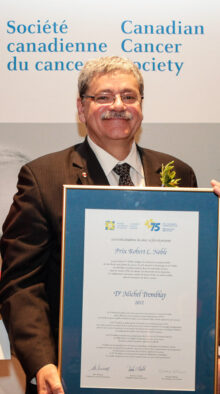 Dr. Michel Tremblay has been awarded the Canadian Cancer Society's 2012 Robert L. Noble Award.  The Robert L. Noble Prize is given for outstanding achievements in cancer research. It honours Dr Noble, an esteemed Canadian investigator whose research in the 1950s led to the discovery of vincristine, a widely-used anti-cancer drug. At the time, vincristine was one of the most effective treatments available for Hodgkin's disease.

Dr Michel Tremblay is internationally recognized for his extensive research focusing on protein tyrosine phosphates (PTPases), a family of genes that can act as cancer initiators or tumour suppressors.

Dr Tremblay has published close to 150 papers on the PTP gene family and his work has led to the establishment of two companies focused on improving treatment strategies for patients. Furthermore, his research has allowed hundreds of other scientists to develop drugs targeting this important gene family. He is is a professor in the department of biochemistry and from 2000 to 2012 was the director of the Rosalind and Morris Goodman Cancer Center at McGill University.

April 26, 2013