INTERNAL NOTICE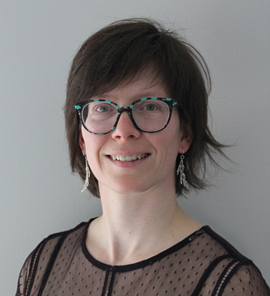 We are pleased to announce that Dr. Mélanie Mondou has been appointed Associate Dean, Undergraduate Medical Education (UGME), Faculty of Medicine, McGill University. Dr. Mondou, who is Associate Professor in the Department of Medicine, McGill University, and Geriatrician, Division of Geriatrics, Department of Medicine, McGill University Health Centre (MUHC), previously served as Assistant Dean, UGME, where she contributed to the development, implementation and delivery of the undergraduate medical program. She had been serving as Acting Associate Dean since January 6.

Dr. Mondou graduated from McGill's MDCM program in 2004. She completed her residency in internal medicine, where she was Chief Medical Resident in her final year, then did subspecialty training in geriatrics at McGill. In 2014, she obtained a Master's in Health Professions Education at Maastricht University where she did her thesis on learning collaboration during residency training. Dr. Mondou gives frequent lectures and talks on geriatric medicine issues and is the co-author of numerous abstracts and conference presentations on interprofessional education and patient-centred care.

An educational innovator, since 2018, Dr. Mondou has served as Curriculum lead on implementation of Entrustable Professional Activities (EPA) in the MDCM program, one of the milestones of Competency-Based Medical Education (CBME) in undergraduate medical education.

In the past few years, Dr. Mondou has held other UGME positions including Clerkship Component Director and Interprofessionalism Education (IPE) Course Director, as well as Course Director of the geriatric medicine clerkship course.

Dr. Mondou's clinical teaching activities at the MUHC include supervision of geriatric fellows, residents, and medical students in geriatric assessment units, consultation services and ambulatory clinics. She is also part of a team of physicians, nurses and physiotherapists that designed and implemented the geriatric medicine interprofessional ambulatory falls clinic, which uses evidence-based principles to provide early assessment and intervention plans for elderly patients at risk for falls or near-falls.

As Associate Dean, Dr. Mondou will be responsible for setting UGME strategic direction, and ensuring the program's quality, integrity and accreditation success. She will oversee all UGME activities including curriculum, Admissions, MDCM/PhD Program, and Student Affairs. She will be responsible for policies regarding assessment and promotion of students, as well as ensuring successful implementation and delivery of the MDCM curriculum and proper assessment and documentation of curricular outcomes.

Dr. Mondou will also establish and maintain collaborative relationships within the Faculty of Medicine and with its teaching partners, working closely with the Associate Dean, PGME, and act as liaison with external agencies such as the Association of Faculties of Medicine of Canada (AFMC), Committee on the Accreditation of Canadian Medical Schools (CACMS), the National Board of Medical Examiners (NBME), and the Collège des médecins du Québec (CMQ) regarding undergraduate medical education and evaluation. She will chair the MDCM Program Committee and UGME Operations Committee, and represent undergraduate medical education at faculty leadership meetings and various other meetings.

Please join us in congratulating Dr. Mondou on her new role within UGME, and in wishing her continued success.

Dr. David Eidelman
Vice-Principal (Health Affairs)

Dean of the Faculty of Medicine

Dr. Lesley Fellows
Vice-Dean, Academic Affairs

April 29 2020