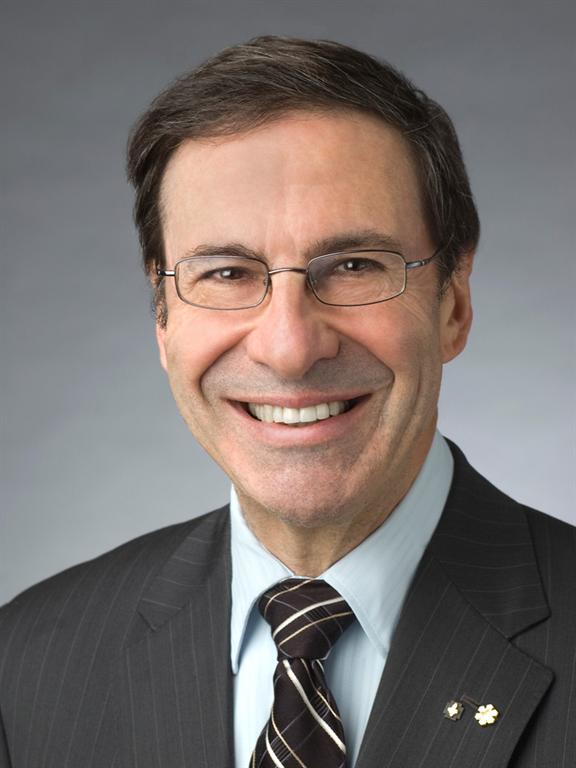 Dr. Mark Wainberg, Professor of Medicine and Microbiology and Immunology at McGill University and  Director of the McGill University AIDS Centre, was presented with the 2015 Murray Award for career achievement from the Canadian Society for Microbiologists during their conference held this week in Regina.  The award is the Society's premier award for senior researchers and is meant to provide national recognition to outstanding Canadian Microbiologists and to maintain a historical record of the achievements of these key contributors to microbiological research.

"I am deeply honoured to be the recipient of the CSM Murray Award that exemplifies scientific achievement in our field," said Dr. Wainberg. "Dr. Murray was a giant figure and it is humbling to be the recipient of an award that bears his name."

Dr. Wainberg is an internationally recognized scientist in the field of HIV/AIDS. He served as President of the International AIDS Society between 1998-2000 with responsibilities that included organization of the XIIIth International Congress on AIDS in Durban, South Africa, 2000. He was also co-Chair of the XVIth International AIDS Conference that took place in Toronto in August, 2006.

He is well-known for his initial identification of 3TC as an anti-viral drug, in collaboration with BioChem Pharma Inc, in 1989, as well as for multiple contributions to the field of HIV drug resistance. His laboratory continues to work in the field of drug development and drug resistance, and, as well, Dr. Wainberg now works on efforts to achieve a cure for HIV infection. Dr. Wainberg is an elected fellow of the Royal Society of Canada and is an Officer of the Order of Canada. He is also an Officer of the Ordre National du Québec, a Chevalier in the Legion d'Honneur of France, an Honorary Fellow of the Royal College of Physicians and Surgeons of Canada, the recipient of the Killam Prize in Health Sciences for 2012, and the recipient of the Cubist-ICAAC Award of the American Society for Microbiology for outstanding achievement in research on infectious diseases, for 2014. He is also the recipient of a number of honorary doctorates.

Dr. Wainberg is an author of over 500 research papers and 100 reviews and commentary articles that have appeared in the scientific literature, and is the corresponding author on most of these. He is co- Editor-in-Chief of Retrovirology, co-Editor-in-Chief of Journal of the International AIDS Society, and is a member of the editorial committees of multiple other journals. More than 30 students have obtained their PhD degrees under his tutelage.

Congratulations Dr. Wainberg!