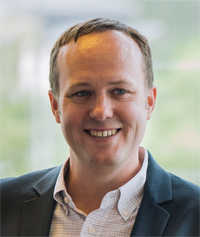 We are pleased to announce the renewal of Dr. Marc Pell's mandate as Associate Dean and Director of the School of Communication Sciences and Disorder (SCSD), McGill University, Faculty of Medicine. Dr. Pell has led the School with distinction since 2010, during which time he supervised the School's move to new facilities, led the successful recruitment of contract and tenure stream academics, oversaw a successful accreditation process, expanded community outreach activities and shepherded the development of a new strategic plan. Dr. Pell's renewal took effect September 1, 2016.

Dr. Pell joined the Faculty of Medicine in 1997, after completing his training at both the University of Ottawa and McGill. Prior to taking on the leadership of SCSD, he served as graduate program director for a number of years, during which he successfully expanded the school's doctoral program. During that time, Dr. Pell also represented the Faculty as a member of the McGill Senate and the Council of Graduate and Postdoctoral Studies, and has made long-standing contributions to the SCSD's graduate-level training program in Speech-Language Pathology.

A James McGill Professor, Dr. Pell actively supervises graduate and postdoctoral trainees and currently holds operating grants from NSERC and SSHRC. His research focuses on how humans communicate their emotions and social intentions, with special attention to the role of vocal speech cues in communicative behaviour, and how nonverbal communication is affected by acquired disease of the brain. As one of the leading investigators in these domains, he frequently presents at major conferences around the world in the areas of neuropragmatics, social and affective neuroscience, and the processing of emotion.

As Associate Dean and Director of the SCSD, Dr. Pell will continue to oversee its education and research missions and mentor faculty members, while successfully developing his own research program. He will lead the strategic planning for the School and make recommendations to the Dean on recruitment, academic appointments, promotion and tenure, as well as oversee allocation of the budget. He will represent the SCSD on the Faculty's Deanery Executive Committee and the Faculty Leadership Commons, and advise the Dean on all academic matters pertaining to the School.

Please join us in congratulating Dr. Marc Pell on this re-appointment and in wishing him and his team continued success.
Dr. David Eidelman


Vice-Principal (Health Affairs)


Dean of the Faculty of Medicine

Dr. Mara Ludwig


Vice-Dean, Academic Affairs
October 25, 2016