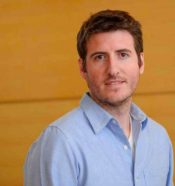 Together with the Department of Human Genetics, the Goodman Cancer Research Centre welcomes Dr. Logan Walsh from Memorial Sloan Kettering Cancer Center, in New York City.

Having completed his PhD at Western University in Cancer Biology, his research will focus on understanding the genomic basis of tumor development and treatment response. He uses both large-scale genomic analyses and experimental functional dissection to identify master regulators driving metastasis programs. He has applied this successfully to breast cancer and will pursue this advanced approach to treat lung and ovarian cancers. In doing so, a translational research approve will be used, which produces strong partnerships between clinicians and researchers of diverse backgrounds.

Please join us in welcoming Dr. Logan Walsh and wishing him continued success in his research.

Dr. Morag Park

Director, Goodman Cancer Research Centre

Dr. Eric Shoubridge

Chair, Department of Human Genetics

August 25, 2017