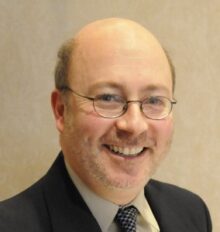 We are pleased to announce that Dr. Leonard A. Levin has been re-appointed to the position of Chair of the Department of Ophthalmology, Faculty of Medicine, McGill University, a position he has held since 2012, from which time he has also served as Ophthalmologist-in-Chief at the McGill University Health Centre (MUHC). Among the many highlights of Dr. Levin's first term are the establishment of the McGill Academic Eye Center as the new home for the ambulatory division of adult ophthalmology at the MUHC as well as the establishment of the Academic Cataract Center at the Jewish General Hospital as an outcomes research unit placed within the setting of a practicing clinical unit.

Dr. Levin is also the Riva & Thomas O. Hecht Family Chair in Ophthalmology at McGill. He was educated and trained at Harvard University, where he earned an AB magna cum laude in applied mathematics and an MD and a PhD in neurobiology. He completed his residency in ophthalmology and a fellowship in neuro-ophthalmology at the Massachusetts Eye and Ear Infirmary. During the course of his career Dr. Levin has specialized in clinical work and laboratory research related to diseases of the optic nerve and retina, with specific interests in neuroprotection and translational research, while continuing to supervise graduate students.

A Gold Fellow of the Association for Research in Vision and Ophthalmology who was listed in "Best Doctors in America"® annually between 1999 and 2013, Dr. Levin has written more than 170 peer-reviewed papers, reviews and book chapters, and has edited five books. His research has been funded by the National Institutes of Health (NIH) and the Canadian Institutes of Health Research (CIHR) since 1994, and has resulted in four patents. Dr. Levin is a consultant in pre-clinical and clinical trial design in ophthalmology, and has served as Chair of the Association of Canadian University Professors of Ophthalmology and as Chair of the Executive Scientific Oversight Committee of the USA National Eye Institute Audacious Goals Initiative. He has been recognized with numerous honours and awards, including being a two-time winner of the Retina Research Foundation's Sam and Bertha Brochstein Award.

As Chair of the Department of Ophthalmology at McGill's Faculty of Medicine, Dr. Levin will continue to lead the department in its education and research missions while providing effective mentoring for faculty members at various stages of their careers. He will develop strategic planning and oversee the budget for the department while making recommendations and advising the Dean on academic recruitment, academic appointments, promotion and tenure. Dr. Levin will oversee the undergraduate and postgraduate medical programs in the department, ensuring these activities exceed standards of excellence, while at the same time continuing to pursue his own successful research program.

Please join us in congratulating Dr. Levin on this renewal and in wishing him continued success as he embarks on a second mandate at the helm of McGill's Department of Ophthalmology.
Dr. David Eidelman


Vice-Principal (Health Affairs)


Dean of the Faculty of Medicine

Dr. Mara Ludwig


Vice-Dean, Academic Affairs
September 29, 2017