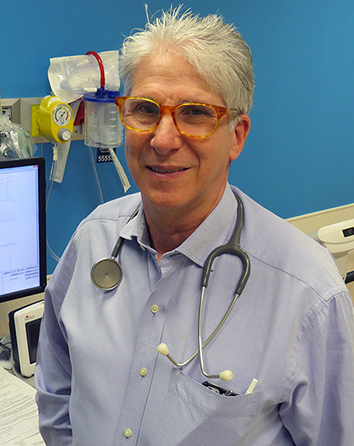 Dr. Larry Lands, Professor of Pediatrics at McGill University's Faculty of Medicine, Director of Pediatric Respiratory Medicine and the Pediatric Cystic Fibrosis (CF) Clinic at the Montreal Children's Hospital-McGill University Health Centre (MUHC) and a senior scientist at the Research Institute of the MUHC, is the 2017 recipient of the Lifetime Achievement Award in Pediatric Respirology from the Canadian Thoracic Society. This award, presented to Dr. Lands on April 27 in Montreal during the Canadian Thoracic Society's annual Canadian Respiratory Conference, recognizes his significant contributions to pediatric respirology in the domains of clinical and fundamental research and support for the education of trainees. It also recognizes his exceptional leadership and dedication to patient care.

"I am truly honoured by this recognition by my peers, and particularly to be appreciated for the mentoring that I have given to the new generation of pediatric lung specialists (and to get this so early in my career)," says Dr. Lands of being selected for this award.

Dr. Lands is consultant to the Quebec Lung Transplantation Program, where he cares for adult CF patients post-transplantation, and consultant to the Pediatric Clinic and Combined Adult and Pediatric Cystic Fibrosis Clinic in Rouyn-Noranda. He is Chair of CF Canada's Research Advisory Council, Chair of the Research Committee of the Canadian Thoracic Society, and Associate Director of the Quebec Respiratory Health Research Network. He is a member of the MUHC's Pediatric Research Ethics Committee.

His research is translational and interdisciplinary. On the clinical side, Dr. Lands is interested in improving functional capacity in chronic respiratory conditions such as CF, asthma, and sickle cell disease, using exercise and pulmonary function testing, and functional lung imaging. Dr. Lands also directs a fundamental laboratory focused on reducing lung inflammation and damage in chronic respiratory conditions, limiting the consequences of viral infection in CF and asthma, and understanding corticosteroid insensitivity in severe asthma. He is co-inventor of fenretinide as an anti-inflammatory treatment for CF. He has over 120 peer-reviewed publications. He is currently funded by the US CF Foundation, the Krieble Foundation, the Marcel and Rolande Gosselin Foundation, and the Isaac Foundation.

Congratulations Dr. Lands!

July 12, 2017