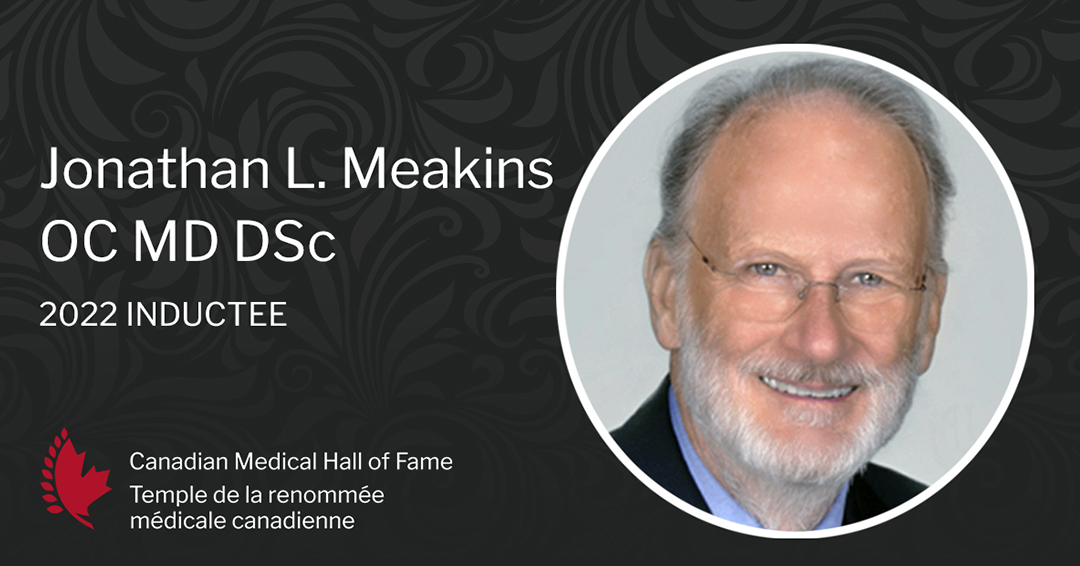 On September 29, William L. Orovan MD, Chair of the Canadian Medical Hall of Fame (CMHF), announced the 2022 inductees to the CMHF, including our own Dr. Jonathan L. Meakins, OC MD DSc FRCSC FACS.
An international leader in surgical research and innovation, Dr. Meakins has transformed surgical thinking and practice, improving outcomes for patients worldwide. A pioneer in the immunology of surgical infections, his seminal work demonstrated the relationship between weakened immune responses and poor surgical outcomes leading to significant improvements in assessment and nutritional support for surgical patients. After a career spanning nearly 30 years as an outstanding academic surgical leader at McGill University, including Surgeon-in-Chief at the Royal Victoria Hospital and Chair of the Department of Surgery at McGill, Dr. Meakins was recruited to Oxford University in 2002 as Nuffield Professor of Surgery. The only Canadian to be honoured with this prestigious appointment, Dr. Meakins provided lasting contributions through his leadership of the Balliol Colloquium, an international consortium exploring basic principles and guidelines for the introduction of innovations in surgical practice, now a basic reference to guide the introduction of new techniques and technology in surgery. Member of numerous learned societies in executive leadership roles, Dr. Meakins influenced professional surgical practice and mentored many generations of surgical residents providing a powerful role-model for academic surgeons everywhere.
Canadian Medical Hall of Fame Laureates are Canadian citizens whose outstanding leadership and
contributions to medicine and the health sciences, in Canada or abroad, have led to extraordinary
improvements in human health. Their work may be a single meritorious contribution or a lifetime of
superior accomplishments. Pioneers in their field, they are role models who inspire young Canadians to
pursue careers in the health sciences. "The Canadian Medical Hall of Fame is proud to welcome these
six individuals whose outstanding contributions to health have made Canada, and the world, a better
place," said Dr. Orovan. "Their impact is well documented, and they have earned their place alongside
our 143 Laureates.
These Canadian and international leaders will be celebrated at a ceremony held in association with The
University of Ottawa Faculty of Medicine on June 17, 2022, in Ottawa, Ontario. "As a national leader in
medical, biomedical, and public health education, and a world-class research institution committed to
social accountability, equity, diversity and inclusion, the University of Ottawa's Faculty of Medicine is
honoured to host this prestigious event celebrating leadership in advancing human health," says
Dr. Bernard Jasmin, dean of the uOttawa Faculty of Medicine. "We are excited to highlight the
achievements of these individuals who share our vision of leading innovation for a healthier world."
The 2022 Induction Ceremony is presented by the Canadian Medical Association with medical student
sponsor MD Financial Management Inc. Locally, up to 40 medical students are invited to attend the
ceremony.
"There's never been a more important time to recognize those who work in the medical profession. I'm
honored at the opportunity to salute this year's inductees," says Dr. Katharine Smart, Canadian Medical
Association President. "Their leadership and tremendous contributions to our profession is an
inspiration for today and tomorrow's profession."
Other 2022 inductees: https://cdnmedhall.ca/laureate-induction-ceremony
ABOUT THE CANADIAN MEDICAL HALL OF FAME
The Canadian Medical Hall of Fame (CMHF) celebrates Canadian heroes whose work advances health in
Canada and the world, and fosters future generations of health professionals through the delivery of
local and national youth education programs and awards. This enduring tribute to our country's rich
medical history is showcased on our virtual hall online at www.cdnmedhall.ca and in an exhibit hall in London, ON.