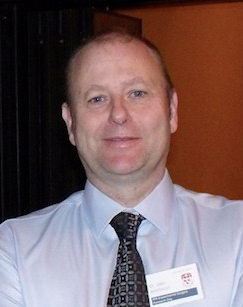 We are pleased to announce the appointment of Dr. Jake Barralet to the position of Director of Innovation for the Steinberg Centre for Simulation and Interactive Learning (SCSIL) and for the Faculty of Medicine at McGill University.

Reporting to the Director of the SCSIL, Dr. Barralet's primary role will be to position the Faculty of Medicine as a leader in clinical innovation. He will take charge of the Clinical Innovation Program within the Faculty of Medicine based within the SCSIL. The Program will be used as a core resource and platform to ensure that the principles and practice of the innovation cycle are integrated and expanded throughout the Faculty to provide McGill students and faculty members with a methodology, infrastructure, and expertise to define, solve and market clinical ideas.

The Clinical Innovation Program (previously known as the Surgical Innovation Program) was inaugurated in 2015 and is based on the concept of the Stanford model of Biodesign, where multi-disciplinary teams of surgeons, clinicians, engineers and business students define, screen and solve unmet clinical needs with the ultimate goal of improving patient outcomes. The Clinical Innovation Program was the first of its kind to be established in Canada and is supported by an NSERC CREATE award.

In the short-term Dr. Barralet will work to integrate medical technology product design into the SCSIL services to accelerate product concept development and proofs of principle, thereby fostering academic-industry interactions, graduate education opportunities and professional development. Dr. Barralet will forge partnerships with mentors, business leaders, and industry and collaborations are already developing around robotics in medicine.

Developing an open environment at McGill to foster innovation of medical technology is a means to including a wider range of academic and technological specialism in solving modern health care challenges. All faculty, graduate and undergraduate students are encouraged to take advantage of this opportunity to apply their skills and develop new ones in health care.

Dr. Barralet received his undergraduate degree in Materials Science and Engineering from Leeds University in 1990. He followed this with a PhD in Bioceramics from the University of London, completed in 1995, and Postdoctoral studies at Tokyo Dental and Medical University in 1996. He worked for Smith and Nephew developing bone graft, bandaging and spine repair technologies for three years before starting his academic career at the University of Birmingham.  In 2004 he joined McGill as Associate Professor in the Faculty of Dentistry. In 2012 he was jointly appointed to the Department of Surgery in the Faculty of Medicine and became Director of Research, Division of Orthopaedics, Department of Surgery, Faculty of Medicine, and in 2013 was named Vice-Chair of Surgery (Research), Alan Thompson Chair in Surgical Research, Department of Surgery. He is also Associate Director of the Injury Repair and Recovery Program at the Research Institute of the McGill University Health Centre, a position he has held since 2016.

Dr. Barralet's main personal research interests lie in the field of Bioceramics, and more recently on oxygen delivering scaffolds for bone repair and regenerative medicine.

Please join us in welcoming Dr. Barralet into the role of Director of Innovation at the SCSIL and the Faculty of Medicine and in wishing him every success in this endeavour.

Dr. David Eidelman
Vice-Principal (Health Affairs)

Dean of the Faculty of Medicine

Dr. Mara Ludwig
Vice-Dean, Academic Affairs

January 25, 2018