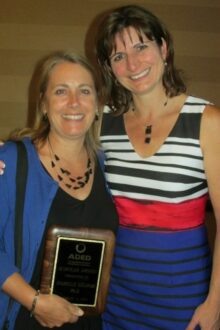 Isabelle Gélinas, Associate Professor and Graduate Program Director in the School of Physical and Occupational Therapy in McGill's Faculty of Medicine has received the 2015 Distinguished Service Award from the Association for Driver Rehabilitation Specialists (ADED). The most prestigious award presented to a non-member, Dr. Gélinas was chosen for the award for her exemplary service and support of the area of mobility for persons with disabilities, due to her contributions to clinical practice, teaching and research in driving rehabilitation.

"I am deeply touched by this recognition from the Association for Driver Rehabilitation Specialists," says Dr. Gélinas.  "I must say that my accomplishments were not done in isolation and are the result of collaborative work with colleagues in the clinical settings, in education and in research."

Dr. Gélinas is also a researcher at the Centre for Interdisciplinary Research in Rehabilitation of Greater Montreal and an associate researcher at the McGill Center for Studies in Aging.  She completed her undergraduate training in occupational therapy at the Université de Montréal in 1983.  At a time when very few occupational therapists pursued graduate studies in occupational therapy, she studied in the United States, obtaining her M.Sc. in occupational therapy from Virginia Commonwealth University in Richmond, VA in 1985. Her Ph.D. in Rehabilitation Sciences from McGill University followed in 1995, supported by a doctoral studentship from the Alzheimer Society of Canada.

Her doctoral thesis entitled "Disability assessment in dementia of the Alzheimer's type" led to a decade of innovative contributions related to identifying, measurement and intervention in the functional status of this important group. Over the years, Dr. Gélinas has developed a research program focusing on the daily activities and the contextual factors (personal and environmental) that shape the level of social participation of adults and the elderly with disability. She has been instrumental in the development and promotion of graduate on-line certificates at the School which are targeted at clinicians who seek specialized training in specific domains.

Congratulations Dr. Gélinas!