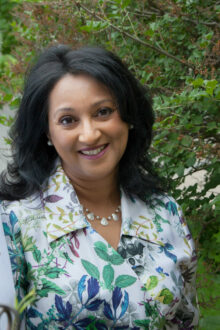 Dr. Hema Patel, Associate Professor in the Department of Pediatrics and Division Director for General Pediatrics, has been selected as the 2020 recipient of the Pediatric Chairs of Canada's (PCC) Clinical Practitioner Award. The award recognizes excellence in leadership by a clinician whose clinical practice has served as an outstanding environment for the education of trainees and the advancement of practice through knowledge translation and dissemination and leadership within the discipline.

"We work, lead and innovate for children, for families, for vulnerable populations  and in truth, this is reward in itself," says Dr. Patel. "To be recognized for this meaningful work is a privilege and honour.  Thank you."

Dr. Patel is a role model for all trainees. She has expertise in the care of children with medical complexity and led the internationally recognized program in Complex Care at the Montreal Children's Hospital for 15 years; she currently serves as the Director of the Division of General Pediatrics.  In addition, she has expertise in Time Management and Personal Effectiveness, authoring an innovative book on this topic with the Royal College of Physicians and Surgeons of Canada.  She is frequently an invited guest speaker in Canada and abroad.

Dr. Patel's leadership in education has also been recognized by her students and peers. This is evident by her selection to the Faculty of Medicine and Health Sciences' Honour Roll for Educational Excellence. She has been the Fellowship director for both the McGill University Complex Care Clinical Fellowship and the Academic General Pediatric Fellowship, directly mentoring dozens of fellows in the last decade.

Dr. Patel has received external salary support funding and external operational granting support. Her research emphasis reflects her passion for evidence-based medicine and comprises methodologically-rigorous clinical trials addressing practical challenges in ambulatory pediatrics. Her current projects are focused on medication safety in children with complexity and on the impact of coaching as a tool for parental empowerment. She is a co-investigator on two CIHR funded multi-centre national studies.

Beyond these roles, Dr. Patel has been a long-standing collaborator at the Medical Council of Canada, participating in the Pediatric Test Committee, the Blueprint Committee, and the Test Form Assembly Committee. She served on the Board of the Montreal Oral School for the Deaf for over 10 years and now is a member of the Medical Advisory Committee of the Children's Wish/Make-A-Wish Foundation. She used her experience as a powerful catalyst to forge the Quebec Coalition for Newborn Hearing Screening. She was the inaugural chair of the Special Interest Group in Complex Care at the Canadian Pediatric Society and currently serves as the President of the newly formed Section in Complex Care.

Dr. Patel has been recognized provincially through the development of a Canadian Pediatric Society (CPS) Position statement on newborn hearing screening and its inclusion on the Society's report card on the health of Canadian children. She is also a member of the Canadian Infant Hearing Task Force. Not surprisingly, Dr. Patel's Advocacy efforts have been recognized nationally by both the Garnier Award and the Victor Marchessault Award of the CPS.

She has led the development of an innovative website which provides comprehensive evidence-based care for children with medical complexity which is accessed by users worldwide:  complexcareathomeforchildren.com.

Dr. Patel will receive her award virtually at the PCC Annual Awards Ceremony to be held on Friday, December 11, 2020.

Congratulations Dr. Patel!

November 5. 2020