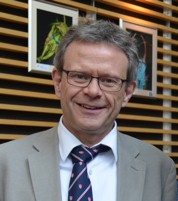 It is with pleasure that we announce the re-appointment of Gerhard Multhaup, PhD, as Chair, Department of Pharmacology and Therapeutics, Faculty of Medicine, McGill University, a position he has held for five years. Dr. Multhaup has successfully advanced the academic mission of the Department during his first term, recruiting several excellent young scientists who have made strong starts to their academic careers, overseeing the growth of the undergraduate program and leading the development of important new core facilities.

Dr. Multhaup is a pioneer in the Alzheimer research field (H-index = 78) and an expert in biochemical pharmacology and cellular and molecular neurobiology. Long-term achievements by the Multhaup laboratory include the characterization of Alzheimer amyloid peptides, Ab42-induced toxicity and the biology of the amyloid precursor protein (APP). Dr. Multhaup received his PhD in Biology from the University of Cologne, Germany, in 1986; he was appointed full professor of Biochemistry at the Free University in Berlin in 2002 and served as head of the Department of Biochemistry in the Faculty of Biology-Chemistry-Pharmacy in Berlin. He joined McGill as Chair of the Department of Pharmacology and Therapeutics in 2011 where, since 2013, he has held a Canada Research Chair in Molecular Pharmacology.

Dr. Multhaup's research is targeted at understanding the molecular, cellular and systemic mechanisms of degenerative nervous system disorders, with the ultimate goal of preventing and treating these diseases. He has published 179 peer-reviewed articles in prominent journals, such as Science, Nature, The EMBO Journal, Proceedings of the National Academy of Sciences and the Journal of Neuroscience, and he has lectured and spoken at numerous conferences in Canada, the United States, Australia, Iceland and many other European countries. He has supervised numerous bachelor's, master's and PhD students.

As Chair of Pharmacology and Therapeutics, Dr. Multhaup will continue to be responsible for the successful coordination of undergraduate, graduate and postgraduate education for the Department. He will build on his vision of enhancing the Department's reputation nationally and internationally, as well as striving for comprehensive approaches in translational research and furthering the central role the Department plays in pharmacology-related research activities across McGill.

Please join us in congratulating Dr. Multhaup on his first term and in wishing him continued success in his role of Chair of Pharmacology and Therapeutics at McGill.
Dr. David Eidelman


Vice-Principal (Health Affairs)


Dean of the Faculty of Medicine

Dr. Mara Ludwig


Vice-Dean, Academic Affairs
November 9, 2016