Dr. Gerald Fried appointed Associate Dean, Education Technology and Innovation and Director of the Steinberg Centre for Simulation and Interactive Learning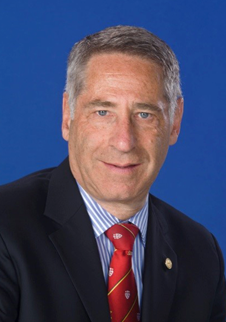 We are pleased to announce the appointment of Dr. Gerald Fried as Associate Dean, Education Technology and Innovation, and Director of the Steinberg Centre for Simulation and Interactive Learning (SCSIL), both positions within the Faculty of Medicine, effective January 1, 2020.

Dr. Fried takes over the role of Director of the Steinberg Centre from Dr. Kevin Lachapelle, the Founding Director of the SCSIL from 2006-2013 who has been serving as Interim Director since July 2017. We would like to thank Dr. Lachapelle for his visionary leadership of one of the most comprehensive medical skills simulation and learning facilities in Canada.

A graduate of the McGill Medicine Class of 1975, Dr. Fried completed his general surgery residency at McGill, clinical fellowships in gastrointestinal surgery and gastroenterology/GI endoscopy at The Ohio State University and a research fellowship in gastrointestinal physiology at the University of Texas Medical Branch, Galveston. He joined the McGill Faculty in 1980 as an Assistant Professor. He has served as the Edward W. Archibald Professor and Chair of the Department of Surgery at McGill, and Surgeon-in-Chief of the McGill University Health Centre since 2010.

In 1990, Dr. Fried established Minimally Invasive Surgery (MIS) as a clinical and academic program at McGill. He and his colleagues have built this into one of the foremost such programs in North America. They have made significant contributions to surgical education, simulation, the process of introducing innovation into clinical practice, and the development and teaching of enhanced recovery practices to leverage the benefits of less invasive surgical techniques. His surgical education research is directed at teaching and evaluating procedural skills. He and his group have developed metrics of procedural performance that are reliable and valid, which can be applied in a simulated environment and in clinical practice. His work also addresses the "learning curve", defining standards of proficiency, and transfer of training from the simulated to the clinical environment. He is interested in fostering surgical innovation through building partnerships between clinicians, engineers, computer scientists and business experts.

Dr. Fried has served as President of the Society of American Gastrointestinal and Endoscopic Surgeons (SAGES), the Canadian Association of General Surgeons, the Central Surgical Association, and the James IV Association of Surgeons (Canadian Section). He is currently Chair of the Board of Regents of the American College of Surgeons. In 2011, he was elected to the Canadian Academy of Health Sciences. In 2019, he was awarded the Meritorious Service Cross by the Governor General of Canada in recognition for his leadership in the development of Minimally Invasive Surgery in Canada.

Among his many other awards, his commitment to education was recognized with the Association of Faculties of Medicine of Canada's John Ruedy Award in 2008 for Innovation in Medical Education.

In this new mandate, Dr. Fried will report to the Vice Dean, Education and will oversee the development of novel educational technologies within the Faculty. He will lead innovation and foster educational technology expertise across the full breadth of educational activities within the Faculty of Medicine, and, through online learning, around the world.

Dr. Fried will also lead education and innovation activities at the SCSIL, where he will facilitate and expand associated research activities and further develop the interactive learning mandate of the SCSIL to include other educational technologies such as virtual and augmentative realities, gaming, and on-line learning. He will strengthen the rapidly developing network of simulation-based activity for health professionals' education throughout the University and its affiliated hospitals, including satellite simulation centres on campus and in situ, formalizing it as the McGill Health Professions Simulation Network. This will allow sharing of best practices and resources, improving efficiency and ensuring broad uptake of simulation and interactive learning technologies

Please join us in wishing Dr. Fried the greatest success in his new role.

Dr. David Eidelman
Vice-Principal (Health Affairs)

Dean of the Faculty of Medicine

Dr. Annette Majnemer
Vice-Dean, Education

November 11 2019