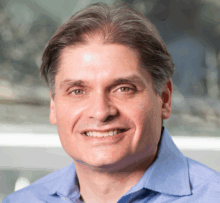 By Marie Moucarry

The Department of Surgery has announced the selection of Dr. George Zogopoulos to receive the Michal & Renata Hornstein Career Award for Surgical Excellence. The terms of this award designates it for a surgeon-scientist based at the MUHC. The committee was delighted to receive 8 outstanding submissions, demonstrating the excellence of each applicant's research program and highlighting the impressive quality, depth and breadth of research in our Department.

Dr. Zogopoulos is a hepatobiliary surgeon and clinician-scientist whose translational research program in pancreatic cancer genetics focuses on early detection and precision oncology. The award will be used to expand his research program, strengthen collaborations within the Department in precision surgical oncology, create capacity for point-of-care research interventions, support clinical trials, and expand training opportunities.

Read more on Dr. Zogopoulos
.
February 10, 2021