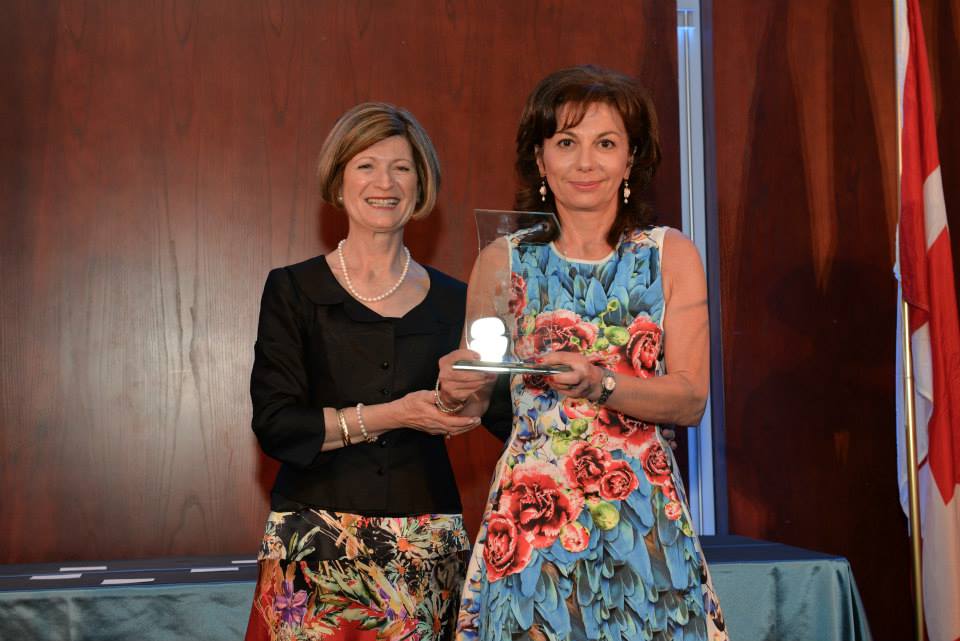 Dr. Gabriella Gobbi, Associate Professor in the Department of Psychiatry at McGill's Faculty of Medicine and Staff Psychiatrist and Researcher at the McGill University Health Center was recently awarded the Venezia Prize from the Italian Chamber of Commerce in Canada for the best collaborative scientific project between Canada and Italy.

"I am thrilled to win this award," said Dr. Gobbi. "As both a Canadian and Italian citizen, I often have the feeling of not doing enough for Italy, my native country, nor for my adopted land of Canada. This prize represents to me the possibility of achieving something important that unites the two countries and cultures, promotes cultural and scientific exchange and allows me to bring Canadian qualities to Italy and Italian qualities to Canada."

Dr. Gobbi has been collaborating with chemists Professor Giorgio Tarzia and Gilberto Spadoni, from the University of Urbino,"Carlo Bo", Professor Marco Mor and Silvia Rivara from the University of Parma, Professor Franco Fraschini from University of Milan and Professor Sabatino Maione from Second University of Naples to develop a new class of drugs that can be used to treat insomnia and chronic pain: selective melatonin MT2 receptor agonists.

This partnership, which spans 10 years, is based on strong and complementary collaboration across several areas of scientific and technological know-how. The results have generated eight joint publications, participation in more than 20 international meetings, two patents, more than $2M in grants and fellowships and multiple student and professorial exchanges. The MT2 agonists have completed the pre-clinical stage and are going into clinical-stage development.

Dr. Gobbi received her MD (1991) and her specialty in Psychiatry and Psychotherapy (1995) from the Catholic University of Rome (Italy). She also earned a PhD in Neuroscience at the University of Cagliari (Italy). She moved to McGill in 1998, where she initially worked as a post-doc with Drs. Blier, De Montigny and Debonnel.  She then joined the Université de Montreal as an Assistant Professor in 2002 and became Associate Professor at McGill in 2008. Dr. Gobbi leads a laboratory of basic science and works as a Psychiatrist at the Mood disorder clinic of the McGill University Health Center.

Dr. Gobbi's lab is interested in understanding the pathophysiology of major depression and sleep related disorders and in the discovery of new treatments for them.

Congratulations Dr. Gobbi!